Zoe in Yellow – Were I and Other People Drunk or Drugged?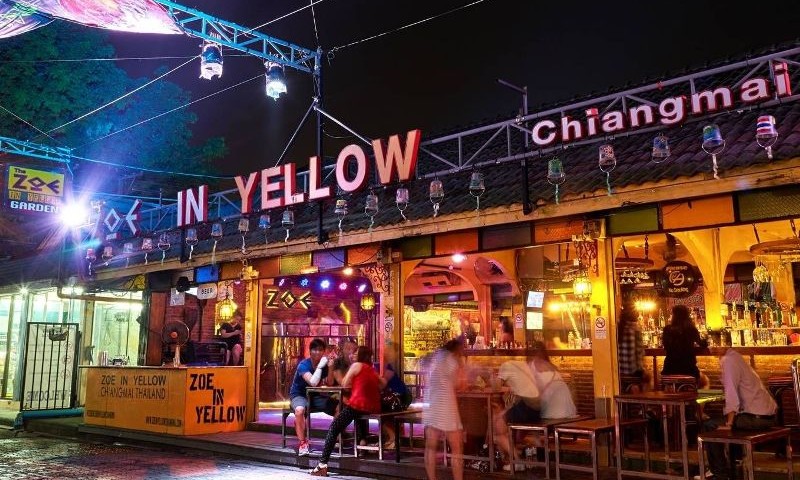 I generally like parties in Thailand. Especially I like parties on the islands like the massive New Eve Party in Koh Phangan. When I came to the north of Thailand to Chiang Mai I went to see how it looks like in the famous part of Old Town in Chiang Mai Zoe in Yellow, where every traveler under 35 years old heads. There are several bars and clubs. Area was named after the most famous bar Zoe in Yellow. From the first moment I didn't like it and I didn't stay long here. If I wanted to have fun all night long I couldn't stay here, because the entire area is closed at midnight. I was even more disappointed by this pub after reading reviews on Tripadvisor. In my opinion, there is a bad atmosphere all around, everybody is too high and staff is very unfriendly, especially in Zoe in Yellow.
The first time I was there with friends I have already traveled in south of Thailand. I had only one beer, but one of my friends drank two drinks, but it looked as if he drank 10. He could barely stand on his feet and couldn't talk. I was pretty suspicious and after this night I avoided this place while I was in Chiang Mai.
Last night in Thailand before leaving to Europe, I wanted to enjoy time with some funny people as I was alone. So I once again went to this weird place. I first drank a beer and met a group of boys. Firstly they were fine, but after drinking one small drink they seems to be more and more drunk. I thought they had drunk before. Then I met one quiet boy from Spain. He sat outside in front of me and started talking to me. Then we went to order a drink. I drank it very slowly. After drinking half of it I started feeling very strange and dizzy. I asked that guy, if he didn't think there is something inside our drinks. He looked at me and answer by moving his head the way he didn't think so. At that moment his gaze dimmed, and he fall straight down out off his chair. It looks as if he was unconscious for a second.
My condition also started getting worse. I wondered if I will stay there with people to wait what happen or I will go back to my hotel that was located only about 5 minutes walking. I looked around and I knew the answer. I have to go back to hotel! Everybody was really intoxicated! Under the influence of something, but not only in Zoe in Yellow, but also in the reggae bar at the corner and on the street. And it really didn't look like it was caused by alcohol. I just want to say that over the years I've built up some tolerance for alcohol, and I have never in my life felt like this after drinking only one beer and half a drink. Definitely it wasn't alcohol.
I just want to alert you to this popular part Zoe in Yellow in Chiang Mai Old Town. There are constantly brutal beatings of people by staff, thefts, sometimes even police raids and now this experience. I recommend you to avoid this place, and if you really want to go there, please, be careful.