Second culture shock in India and visiting Agra Red Fort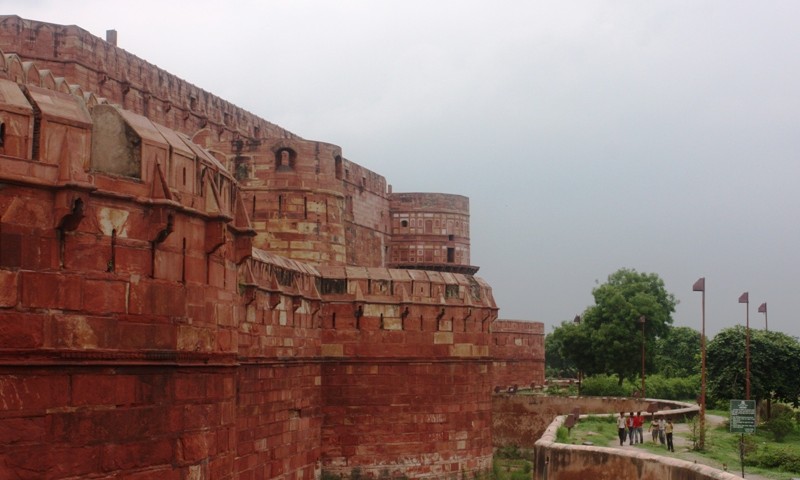 After getting over culture shock in New Delhi, we already got used to Indian culture in Himalayas. Actually, we thought we did it. From Leh in Ladack we flew back to New Delhi and bought train ticket to Agra the same day. While we were waiting at the train station I saw dying man in the parking lot. He was very sick and many flies sit on him. He was dying exactly in front of the eyes of two men. Men looked like they are from higher caste and absolutely didn't pay attention to the poor man. They did anything to save him. It was horrible sight and my culture shock started again. I came back to the platform.
We thought that our train already arrived. We asked one man if this train is going to Agra. He said yes. We got on the train, found our seats and train started its journey. I wanted to make sure if this is really our train to Agra so I asked conductor. He said: "No, No, Noo". So we ran and jumped from the moving train. Indian tried to help us and caught us after jumping. Fortunately, nothing serious happened to us. After couple of minutes our train to Agra finally came.
Train was late and we arrived to Agra late at night. We took tuk tuk to Taj Ganj – tourist area in the city of Agra near Taj Mahal and tried to find accommodation. Everything was dirty and expensive. While we were in one hotel asking for the room, big fight between Hindus and Muslims began outsite. It was night, dark and the owner of the hotel told us, that we can either go out and crossed fight or stayed in the hotel in small extremely dirty and expensive room, because he wanted to lock the main gate. We didn't have other option only stay there. It was horrible night – spending with insects, listening loud conversation of owner and his friends, and drowning in our own sweat, because there was no window in the room, no AC and temperature around 40°C.
In the morning we woke up and moved to the better friendlier hotel recommended in Lonely Planet as soon as possible. And we continued sleeping, because we were still very exhausted.
Later we went visit Red Fort, so we took cycle rickshaw. We agreed that our driver will wait us in front of Red Fort to take us back to hotel. Finally we passed gate of beautiful Red Ford and found ourselves in better environment.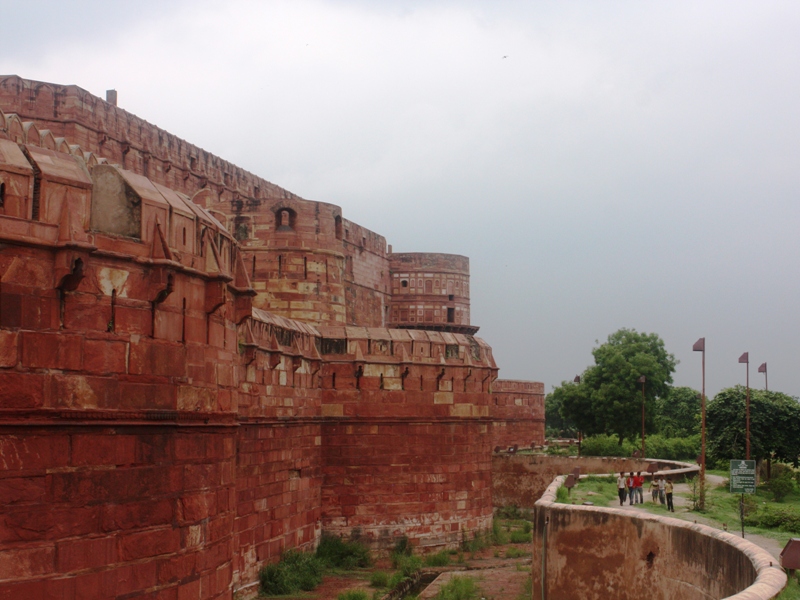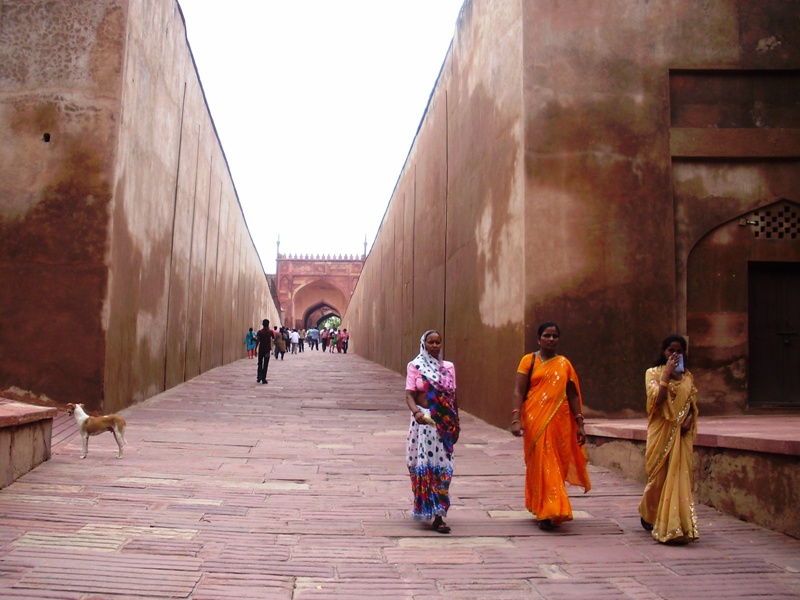 Red fort in Agra is a famous tourist place and UNESCO World Heritage site. The fort is also known as 'Lal Qila'. Agra fort, originally a brick fort, was for the first time mentioned in 1080 AD when a Ghaznavide force captured it. Sikandar Lodi was the first Sultan of Delhi, who shifted to Agra and lived in the fort. After him many of sovereigns lived here and the country was governed from here.
Akbar had it rebuilt with red sandstone, because this brick fort was in a ruined condition. It took eight years, around 1 444 000 builders worked on it. Red Fort was completed in 1573.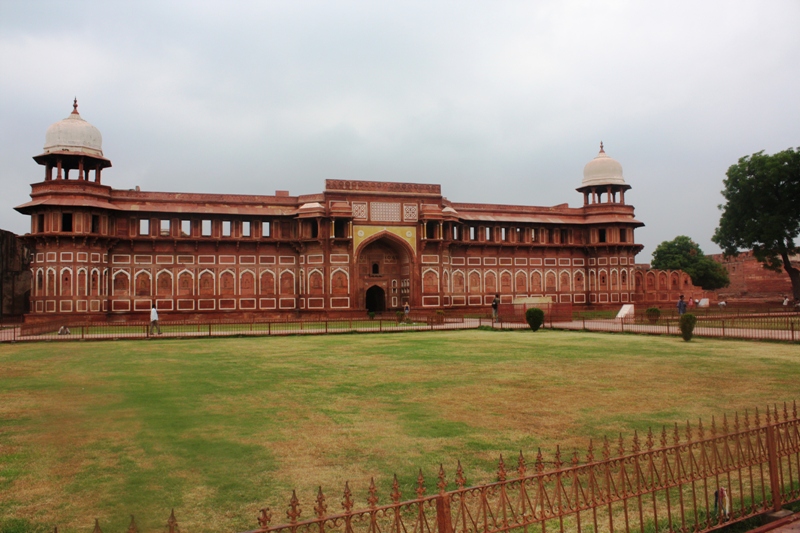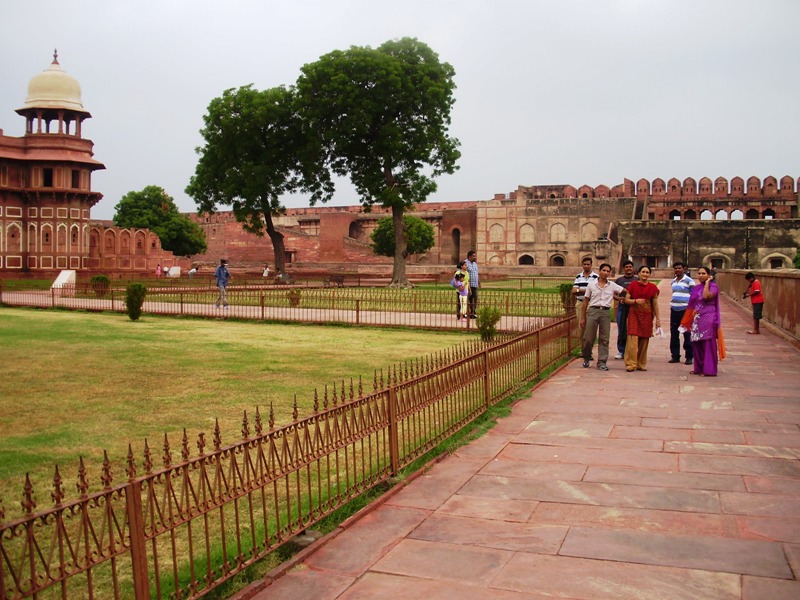 Agra red fort can be described as a walled palatial city. It has 4 gates on four sides, but tourists can only enter the fort via the Amar Singh Gate. Fort consists of a seventy feet high wall built in red sandstone and several buildings inside. In front of walls are deep moats. It said that there were many crocodiles, which protected the Fort. Tourists can see some of the most historically interesting mix of Hindu and Islamic architecture inside. The Islamic decorations here feature forbidden images of living creatures – dragons, elephants and birds. From terraces is beautiful view to Taj Mahal in distance.
The Agra Fort plays a key role in the Sherlock Holmes mystery The Sign of the Four, and was featured in the music video for Habibi Da, a hit song of Egyptian pop star Hisham Abbas.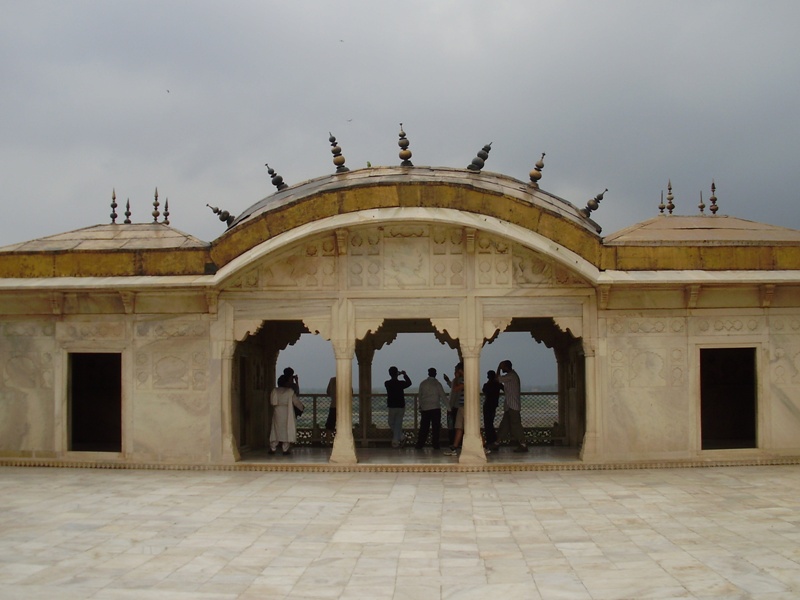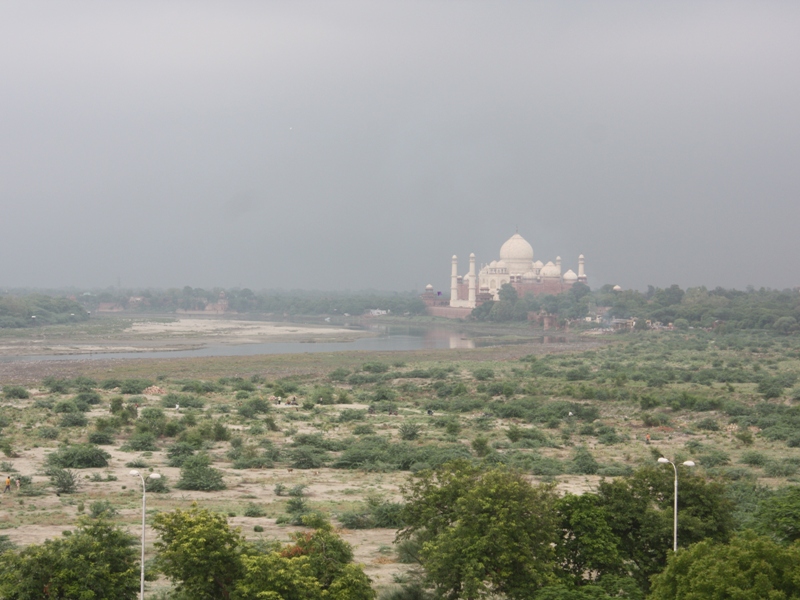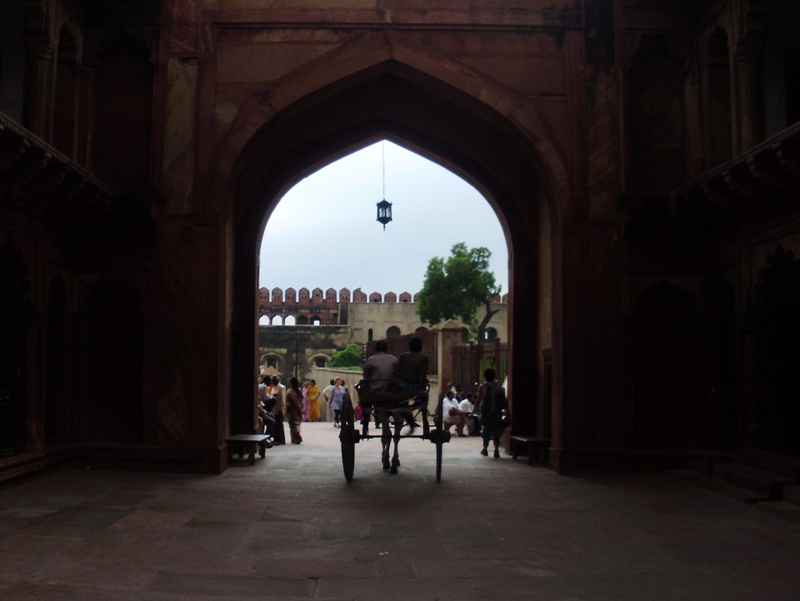 We spent in the fort few hours, but monsoon clouds were coming, so we went to find our rickshaw driver. On the way back to hotel heavy rain began, and our driver stated he will take us to one shop to look at some items. We refused that immediately because rain was very strong and we hated this kind of tricks how to get money from tourists. But he insisted on that idea, so we yelled to him, that we want to go directly to our hotel. In front of our hotel he wanted  double price from us (the price what we have already dealt with him before was already high). He stated that the price was only for one person. We gave him prearranged money and went to the hotel. We heard how he  scream something to us. I guess it wasn't nice speech. We spent only few hours in Agra, but we already had enough of this city. But the next day, early in the morning, we will visit Taj Mahal – place we came here for.