Shanti Stupa in Leh – symbol of Peace and Unity
Shanti Stupa is situated at a height of 4,267 meters and is located around 5 kilometers from Leh. Stupa is built on a steep hill facing the Leh Palace. Tourists can reach Shanti Stupa in Leh by a drivable road or on foot. We choose the second option, which means climbing up 500 steep steps to the hilltop. On the way you can see many buddhist pyramid built from stone around path.
We asked our owner of guest house and he explained us concrete details of path to the gate at the stairs. We started after breakfast, but the best time for visiting is during sunrise or sunset. You can fully enjoy the change of colors and light during the movement of the sun. That's why the stupa is open for tourists between 5:00 a.m. and 9:00 p.m. There is no entrance fee.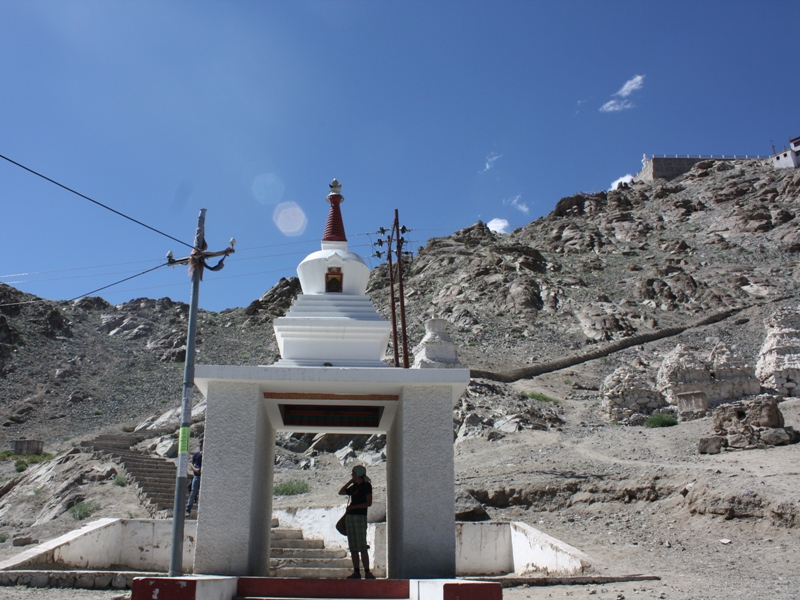 Architectural style of the Stupa is different from the Ladakhi style, that's why is very popular tourist attraction in Leh and Ladakh. Stupa has snow-white color, two levels and there are colorful reliefs on the walls of Buddha, his birth, defeating the devils, and the death of Buddha. If you visit Leh only for few days Sahnti Stupa is one of must see places.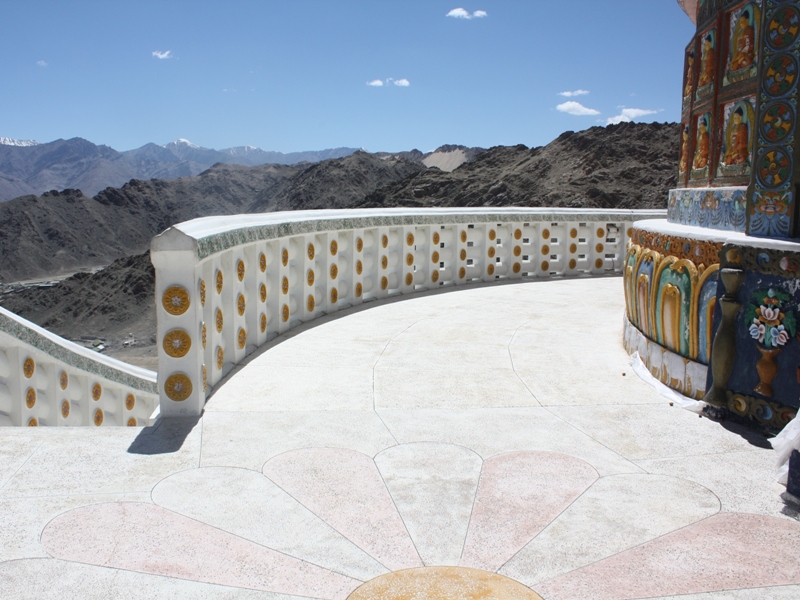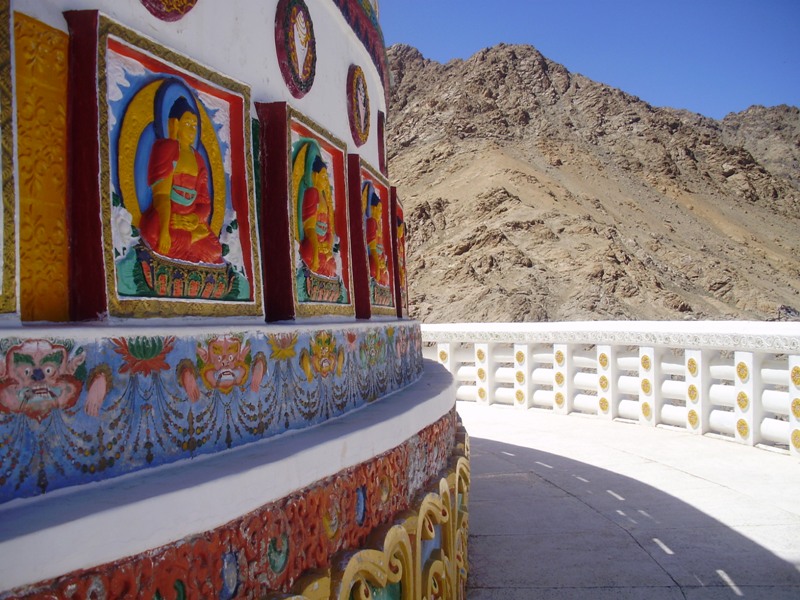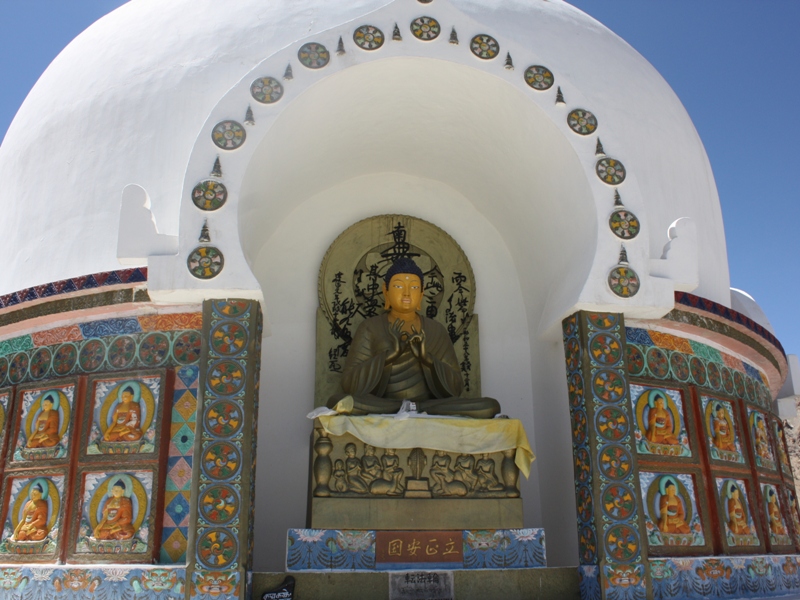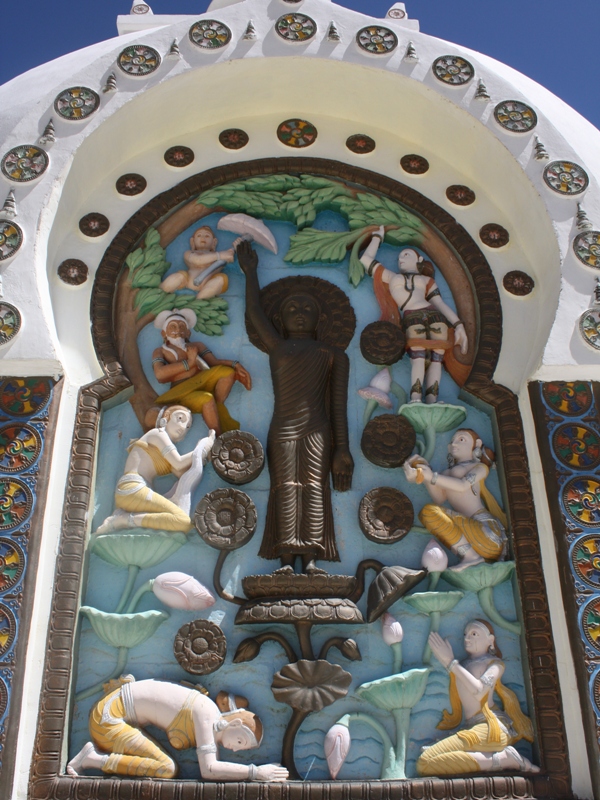 Stupa is also very popular, because on the top (especially if you go on foot) you will be delighted by amazing view on city of Leh, Leh Palace, Namgyal Tsemo, the village of Changspa and the surrounding snowy peaks of mountain.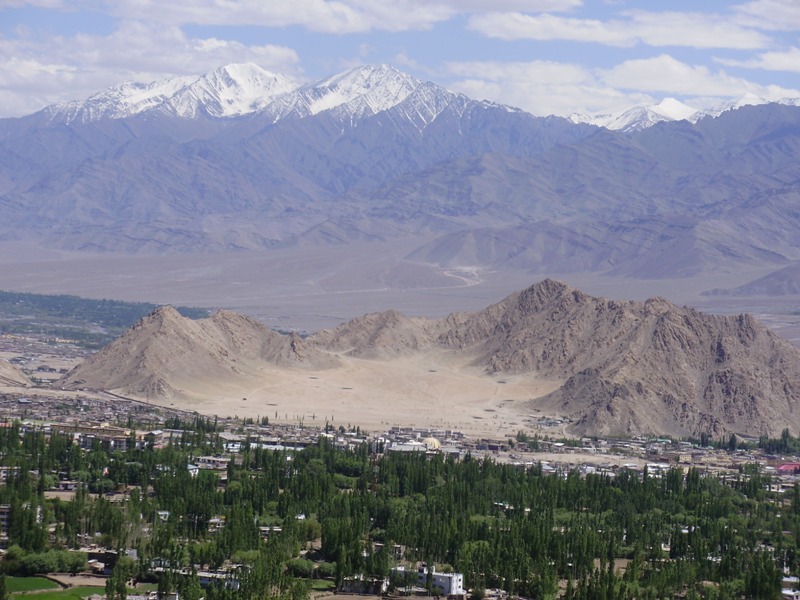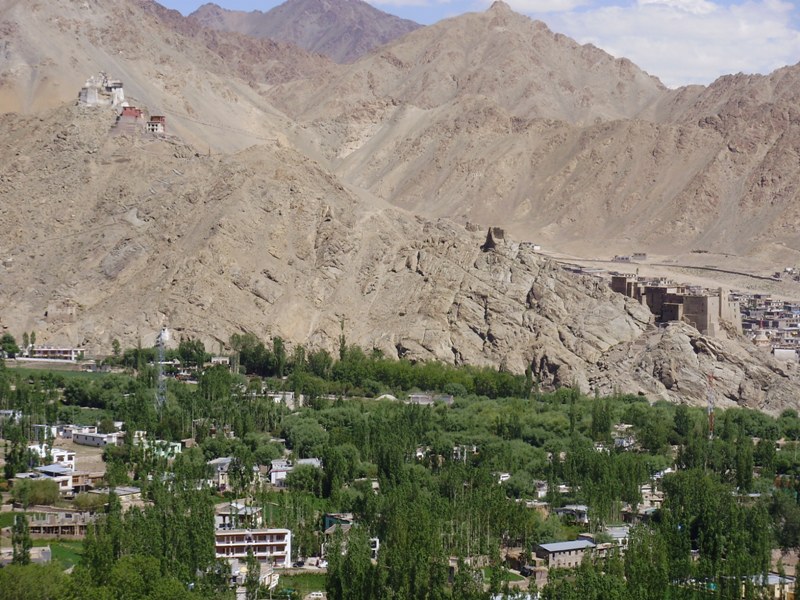 Ladakh Shanti Stupa is a symbol of Peace, Unity and Buddhist Teaching. It was built by Japanese Buddhists and Ladakh Buddhists to promote world peace. Shanti Stupa is considered a symbol of the ties between the people of Japan and Ladakh. Construction for the Ladakh Shanti Stupa started in 1983. Buddhist people in Japan and common people from India contributed financial support.
Under stupa there is crossroad and one path heads to the temple. You can visit temple as well and take rest in the chairs in front of entrance. This temple attached to the Stupa was inaugurated in 1985 by His Holiness the Dalai Lama.
Useful tips for visiting Shanti Stupa in Leh
Be sure your body adjusts to high altitudes in Leh and don't have any of symptoms of altitude sickness
Climb up the stairs slowly
When you are breathless stop for a moment
Cover your head with blanket, sun in Ladakh is very strong
Take enough water with you
Take off your shoes before you enter Santi Stupa
Visit Shanti Stupa during sunrise or sunset
Don't smoke, there is fine for smoking