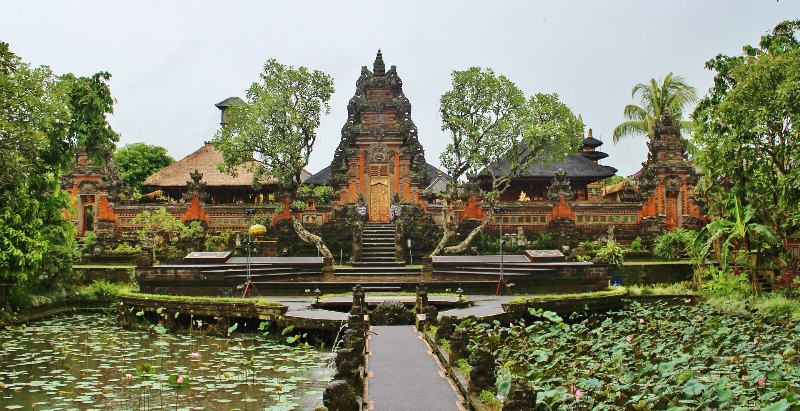 Bali is located just 2 kilometers from the eastern tip of Java and west of Lombok. This small island is home about 4 million people. Bali is a wonderful destination with spectacular beaches, hospitable Hindu people, rich culture and spirituality.
Eighty percent of international visitors to Indonesia visit Bali, but outside peak seasons – August and September, New Year and Christmas – Bali is quiet place and good discounts on accommodation are often available. Because of this large number of tourist coming to island every year Bali adapts travel possibilities as flights, boats, ferries and buses for easier access to Island.
How to get to Bali by plane
Most visitors arrive at Ngurah Rai International Airport also called as Denpasar International Airport. The airport is actually located in Tuban between Kuta and Jimbaran. It is only 30 minutes away from Denpasar – capital of Bali. Denpasar International Airport is 3rd busiest international airport after Jakarta and Surabaya in Indonesia. You can take cheap domestic flight from another city in Indonesia or you can take international flights directly to Denpasar.
Domestic flights:
Citilink – Jakarta
Garuda Indonesia  – Jakarta, Mataram, Surabaya, Semarang, Makassar, Yogyakarta
Air Asia Indonesia – Bandung, Jakarta, Yogyakarta
Lion Air – Jakarta, Yogyakarta, Menado, Makassar, Surabaya
Mandala Airlines – Jakarta
Merpati Nusantara Airlines –  Bandung, Bima, Ende. Jakarta, Kupang, Lauanbajo, Mataram, Maumere, Surabaya, Tambolaka, Waingapu
Sriwijaya Air – Jakarta
Trans Nusa –  Bima, Ende, Kupang, Labuanbajo, Mataram, Ruteng, Sumbawa, Tambolaka
Wings Air – Bima, Kupang, Labuhanbajo, Mataram, Maumere, Semarang, Surabaya, Malang, Tambolaka
International flights:
Cathay Pacific – Hong Kong
China Airlines – Taipei
Eva Air – Taipei
Garuda Indonesia – Hong Kong, Kuala Lumpur, Melbourne, Nagoya-Centair, Osaka-Kansai,  Perth, Seoul-Incheon
Hong Kong Express Airways – Hong Kong
KLM – Amsterdam or Amsterdam via Kuala Lumpur
Korean Airlines – Seoul
Malaysia Airlines – Kuala Lumpur
Philippine Airlines – Manila
Qantas Airlines – Australia, Singapore, New Zealand
Qatar Airways – Doha and Singapore
Shanghai Airlines – Shanghai
Singapore Airlines – Singapore
SkyWest – Port Hedland
Strategic Airlines –Perth, Port Hedland, Townsville, Brisbane
Thai AirAsia – Bangkok – Don Mueang International Airport
Thai Airways International -Bangkok -Suvarnabhumi
Transaero – Moscow-Domodedovo
Virgin Australia – Adelaide, Brisbane, Melbourne, Perth, Sydney
Low cost international flights:
AirAsia – Kuala Lumpur, Singapore, Perth, Darwin, Bangkok
Cebu Pacific Air –  Manila
Jetstar – Brisbane, Darwin, Melbourne, Perth, Sydney, New Zealand
Jetstar Asia –  Singapore
Merpati Nusantara Airlines –  Dili
Valuair – Singapore
How to get to Bali by boat
Ferries cross from Ketapang in Java to Gilimanuk in western Bali every 15 min, 24 hours every day. Ticket is very cheap and the crossing takes just around 30 min.
There is number of speedboats and catamarans operate into Benoa Harbour near Kuta. It takes around 2 hours. There are also speedboats into Padangbai from Nusa Lembongan and the Gili Islands. These options are frequently priced much higher than the air crossing.
There are also public ferries from Lembar in Lombok to Padang Bai in Bali every few hours. Ferry ride takes around 3 to 4 hours. Some ferries are better or worse than others. Delays may be cancelled or postponed during weather. Tourists should avoid sea crossings during the monsoonal season.
How to get to Bali by bus
There are direct bus services to Bali from all major cities on Java and Lombok. From Java there are direct buses from Banyuwangi, Surabaya, Probolinggo, Semarang, Yogyakarta. Buses link with ferries for sea crossings. Buses are cheap and easy, but slow. These long distance journeys are usually comfortable with air-con, soft coach seats and there is a place for storing luggage in the bus.
Informations about Visa
All passports must be valid for a minimum of 6 months from the date of entry into Indonesia and have at least 2 blank pages available for stamps.
There are three ways of entering Indonesia:
Visa on arrival. It is easiest way, because you can pay on arrival and get a visa in your passport. The only type of visa on arrival available is US$35.00 for 30 days. This may be extended later at the local Immigration office for a further 30 days. Selection of major currencies including rupiah are accepted, but exact change in dollars is recommended.
Visa in advance. Obtain a visa at an Indonesian embassy or consulate in your home country before arrival.
Visa waiver. Show your passport, get stamped, that's it. Citizens holding passports from Brunei, Chile, Ecuador, Hong Kong, Macau, Malaysia, Morocco, Peru, Philippines, Singapore, Thailand, and Vietnam are eligible for this program. Citizens from these countries don't require visas to enter and can remain for 30 days within Indonesia. These visas cannot be extended.