Interesting Places in Tana Toraja Worth Seeing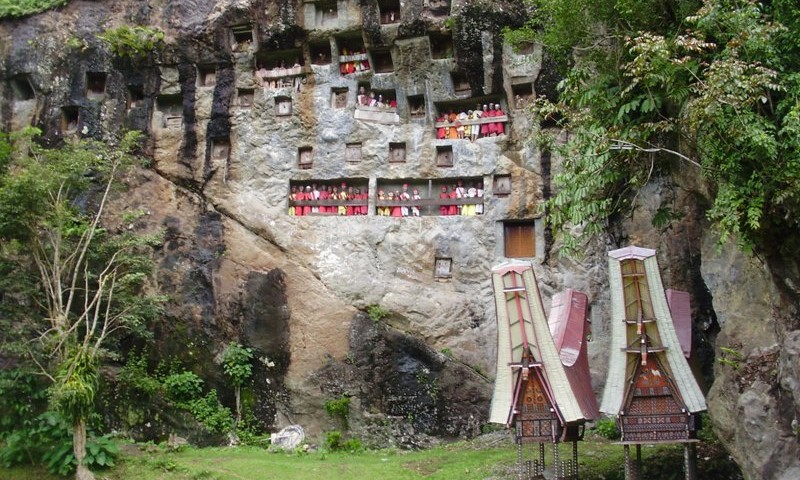 Tana Toraja is a region which is located in the central part of Sulawesi in Indonesia. You can get to Tana Toraja by a direct bus from Makassar, the capital of Sulawesi. The journey takes about 8 hours. The main tourist town in the land is Rantepao, where you can find many hotels and some restaurants.
From Rantepao you can make trips to various traditional and ritual sites on your own or you can purchase a guide with car. I and my friend chose a more independent way of discovering these ritual sites. Owner of our guest house gave us a map, we rented a bike and we visited all the places by ourselves. Sometimes we found the place immediately without problems and sometimes we asked locals for directions.
Countryside in Tana Toraja is so beautiful, that we really enjoyed a motorcycle ride every day. In a few days we managed to visit several places in Tana Toraja at an appropriate pace. In this article, I would like to show you the most interesting. For better understanding of the Torajan rituals and philosophy I recommend reading this article.
Palawa
Palawa is very well preserved traditional Toraja village with lots of tongkonan houses. While Kete Kesu now serves as a museum, Palawa is still a living village and definitely worth seeing.
There can be found 11 traditional houses and 15 granaries. On the external side of the houses you can see buffalo horns. When a family has a lot of horns in the house, it means that it has an important position in the village. More corners means more buffalo sacrificed at the funeral and also more money spent to buy these animals for sacrifice.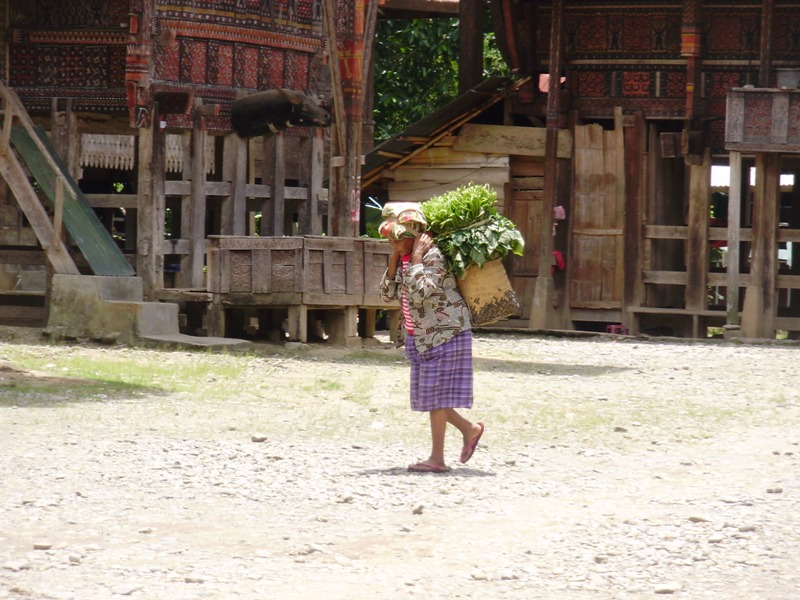 Bori Parinding
This site is located in a very nice environment. Immediately upon arrival, you can see a large oval rocks – megaliths. In the middle of the site, the burial rituals are performed. But funeral can only do those families at this site that are owners of the megalith.
A few meters from the ritual site are the tombs. In this village people bury the remains to the stone graves. Some of the graves have Christian crosses, despite the fact that the ceremony is carried out by Torajan customs. We have seen the tomb spouse who had 10 children. such a number of children is normal in Sulawesi. Many families have 10 or more children here .
In Bori Pariding we saw the first doll Tao Tao. Next to the doll was image with ornaments. These images are traditional symbols used in Tana Toraja. Ornaments used to express family wishes. This ornament depicts a buffalo, which means that the family wishes to have a lot of buffaloes and wealth. On the hill there is also a baby grave tree.
At the end we have found a seemingly strange grave. Tombs were carved directly into a large rock. Some tombs door slowly fall apart so we could see inside. There are many skulls and bones and some are precipitate under the rock.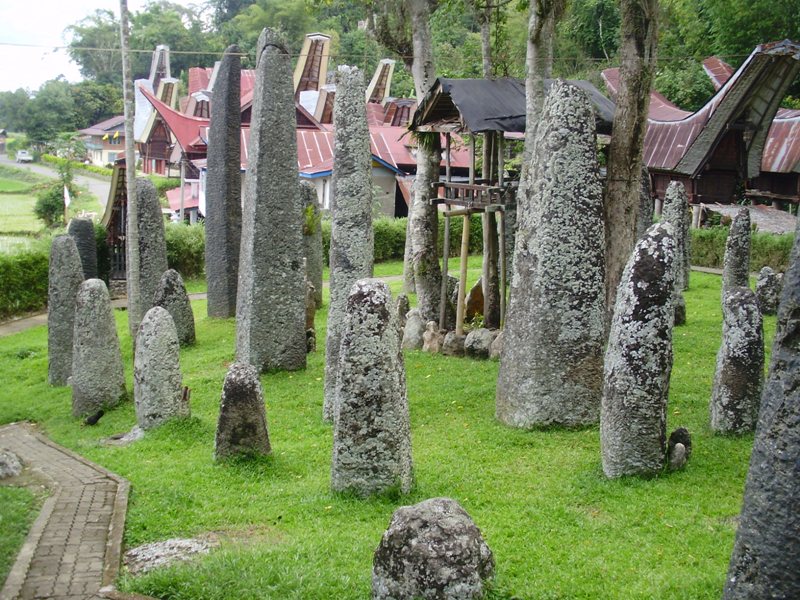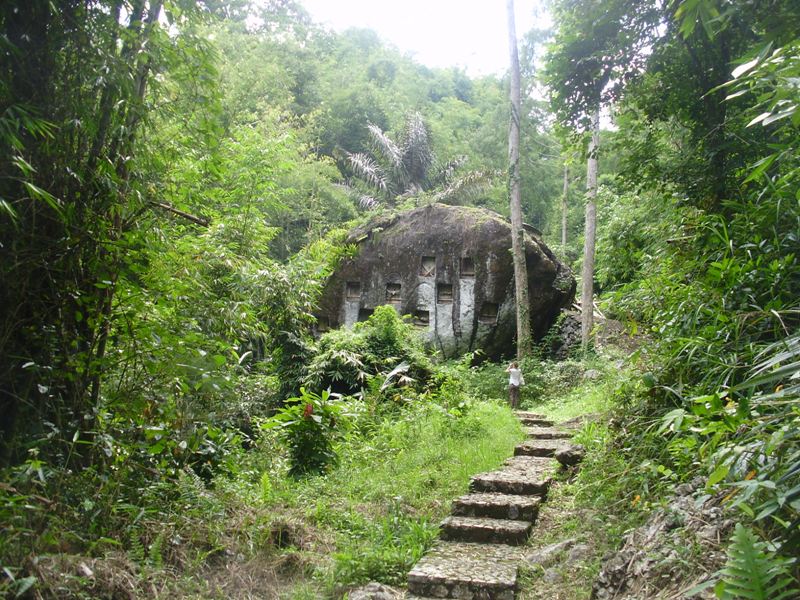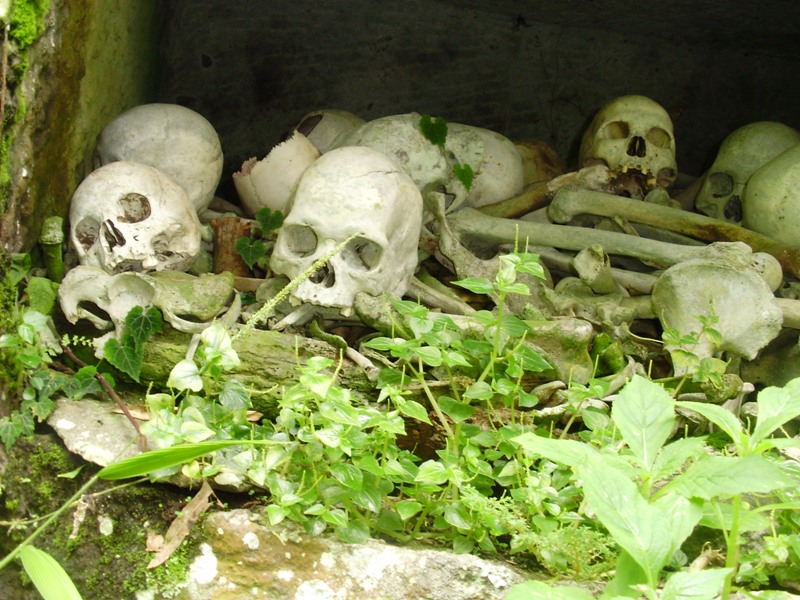 Kete Kesu
Kete kesu is a traditional village, which is located only 4 km from Rantepao. The people of this village bury their relatives to hanging graves, situated on a high cliff near a village. The tomb complex is about 500 years old. Hanging graves are wooden coffin, which are hung on the rock. Near hanging graves we saw the dark spaces where they are stored dolls Tao Tao. These tombs are very old; some of them have over one hundred years. As the time passed tombs broke up and their contents fall down to the ground. So when you walk along the cliff, you can constantly see the bones of ancestral people of Kete Kesu.
On top of the path is a small cave. Inside are several graves and symbolic items, that family brings for the dead family relatives. We saw various items like cigarettes, fan, clothes and drinks that dead family member loved throughout life. In this village you can find stones – megaliths as well. Locals have their own family stone that's why they can perform the funeral ceremonies on this place.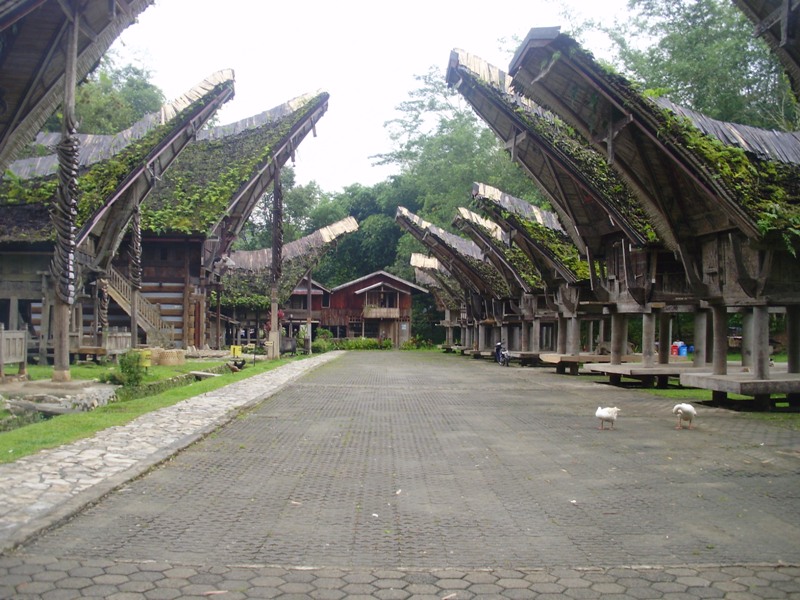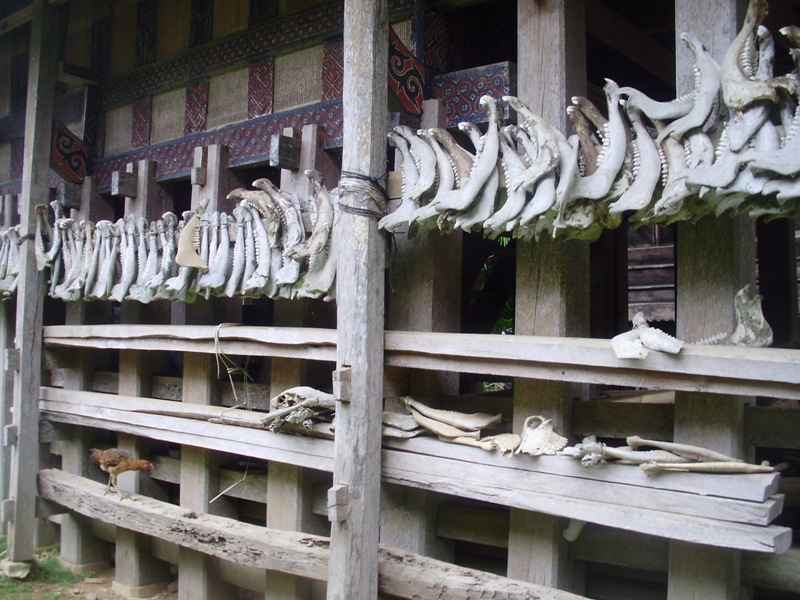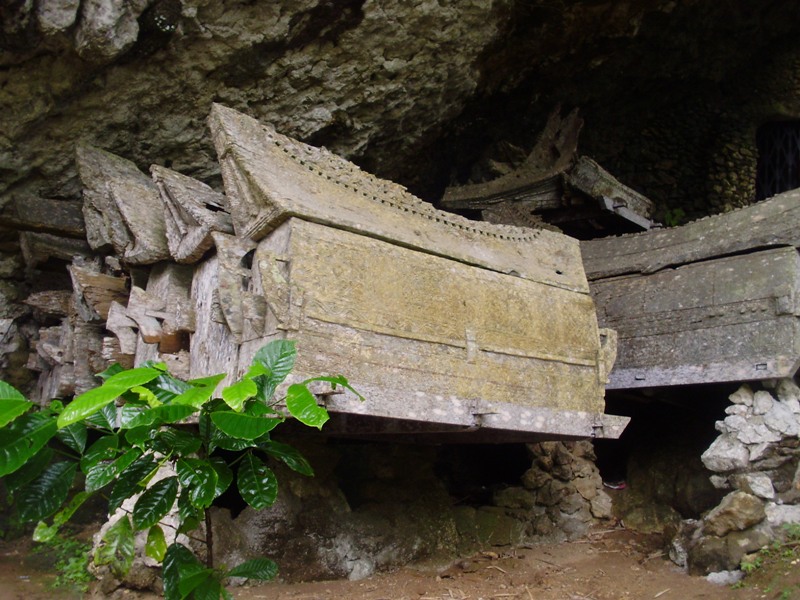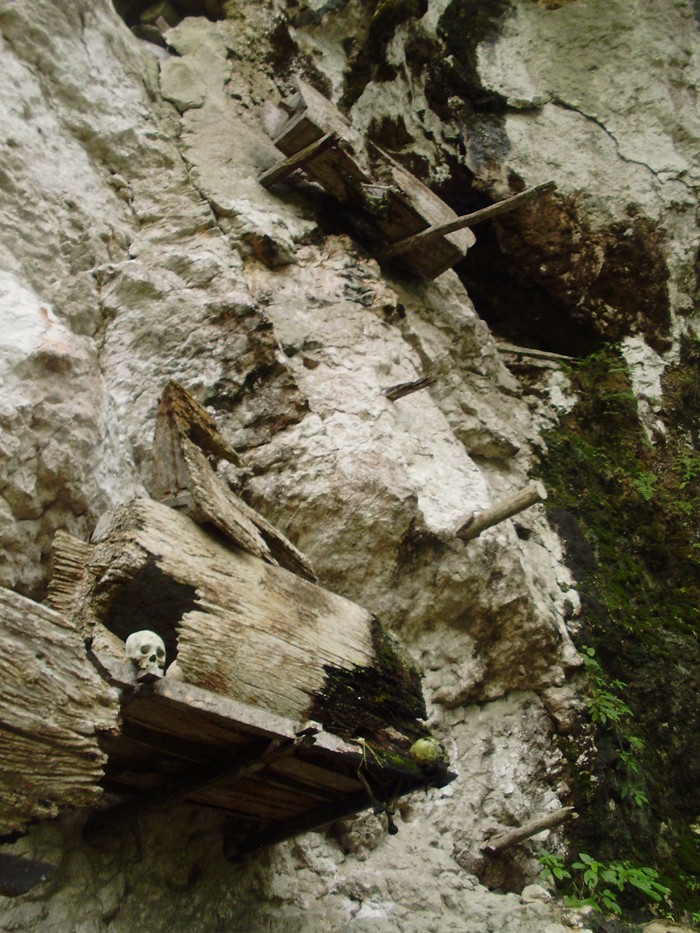 Londa
Londa is one of the most famous places in Tana Toraja that looks interesting from afar. Ritual space is located under the very high rock. When we approached we saw the other hanging graves. There is significantly fewer graves than in Kete Kesu, but on the rock you can see stacked dolls Tao Tao in the window that symbolize dead people. Its production process requires a special ritual. Tao Tao dolls can be placed here only when the funeral ceremony is big and many animals were sacrificed.
Behind is the entrance to the cave. Right at the entrance to Landa you can rent a lantern. The cave is fairly large, and inside you can see the graves with symbolic objects, which brings surviving family members to the dead relatives.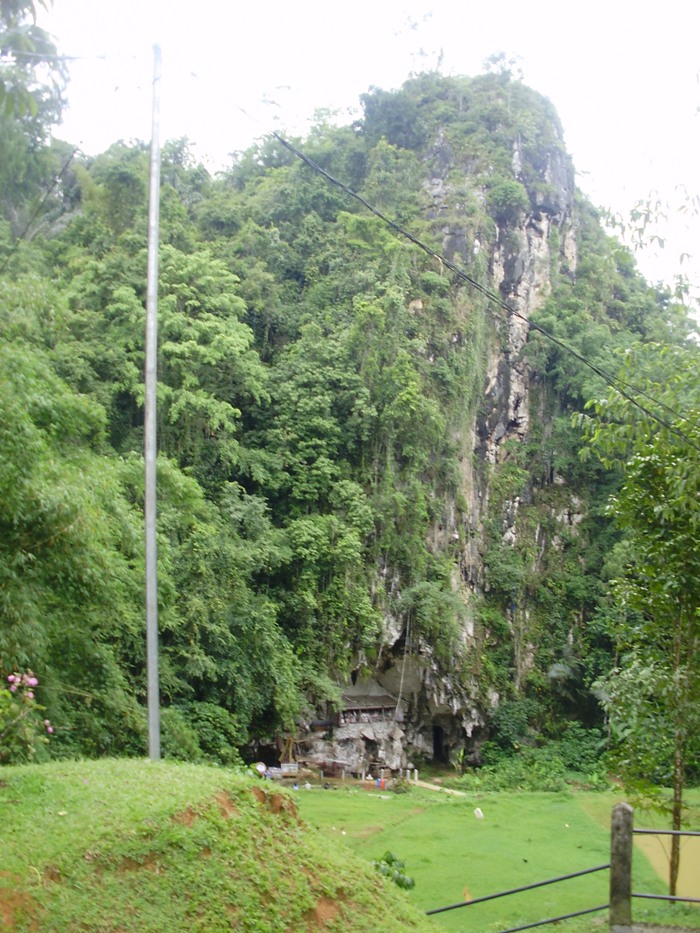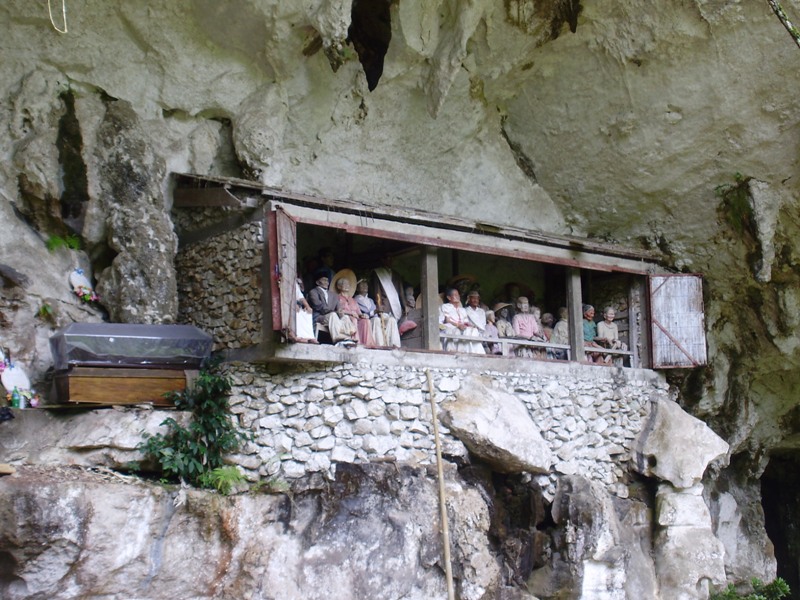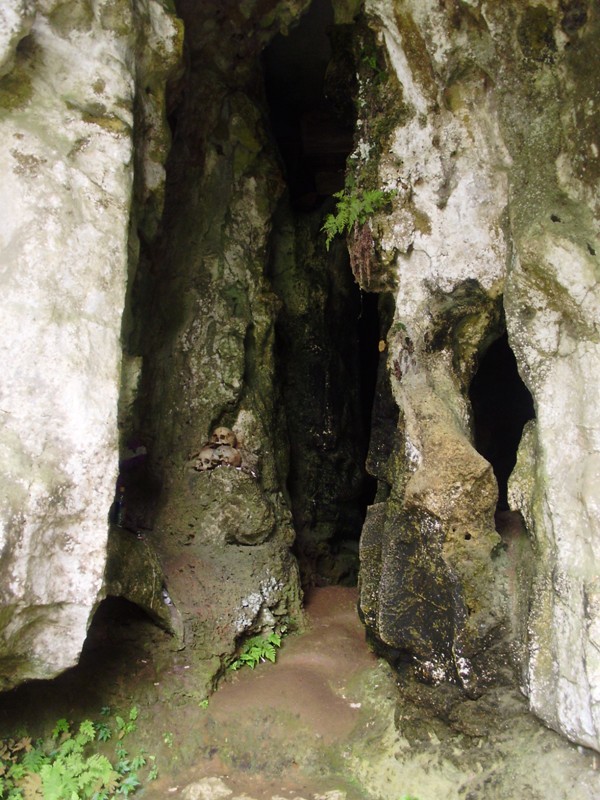 Lemo
Lemo village is located 12 km from Rantepao. Lemo is a very interesting and old place. It is a huge rock in which graves are carved out. People started carving out holes to the rock in the 16th century. Overall, there are 75 holes. At the tomb there are many dolls Tao Tao. At Lemo Tao Tao dolls are placed according to lineages. It looks like they had recently exchanged clothes. Locals exchange clothes every two years. At this ceremony are killed another buffaloes and pigs.
Kambira
Our last stop was a baby grave tree in Kambire. Actually every village has its own baby grave tree, but this one is suppose to be more like 100 years old.
It serves to bury the dead children up to the age when the first teeth begin to grow. After dead locals make a hole in a living tree, in which is stored the body upright. The tree contains a white resin, which is a symbol of breast milk. During this burning ceremony is not sacrifice any animals.
As the tree gradually grows it absorbs the child's body. Torajan believe that the child is growing along with it, and move towards the sky to the period of 16 years. Then the ceremony is done and child's soul leaves the tree and gets into Heaven.
The doors come from palm wood and have a number of nails. The higher the number of nails means that family is richer. On this tree were all doors with four nails, which mean that the family is from the middle caste.
It is difficult to determine how many children were buried in these trees. After some time, as the tree grows, hole is gradually closed and door drop down, so they is no more signs of baby inside.