13 cheap things to do and see in Jaipur city in India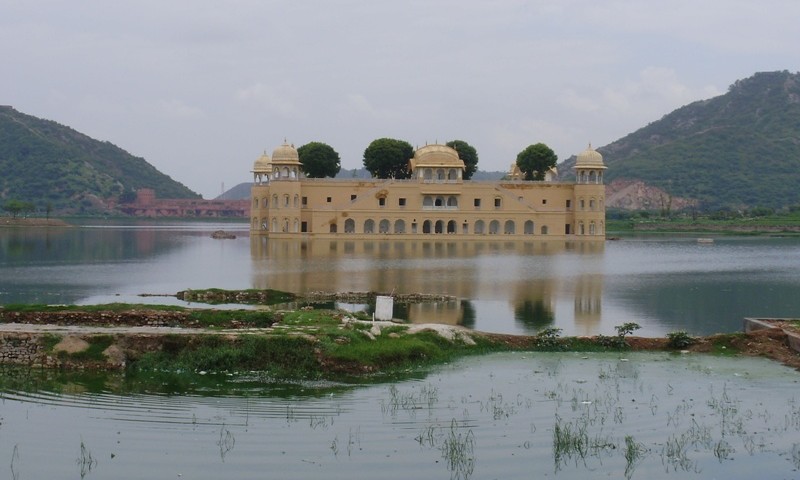 Jaipur is the capital city and largest city of the Indian state of Rajasthan in Northern India. It was founded on 18 November 1727 by Maharaja Sawai Jai Singh II. The city has a population of 6.66 million, making it the tenth most populous city in the country. Jaipur is known as the Pink City of India and is a major tourist destination in India. This is my list of 13 cheap things to do and see in Jaipur. I have made this list according to my personal experience in the city.
1. Watching cobra dance performance
If you want to see this unique performance with cobras, Jaipur is the right place. We saw some of typically snake charmers with long hair, a white turban, earrings and necklaces around City palace. They hold their serpents in baskets or pots hanging from a bamboo pole slung over the shoulder and cover these containers with cloths between performances. When the charmer finds a satisfactory location to set up, he sets his pots and baskets about him and sits cross-legged on the ground in front of a closed pot or basket. He removes the lid, and then begins playing a flute-like instrument made from a gourd. As if drawn by the tune, a snake eventually emerges from the container.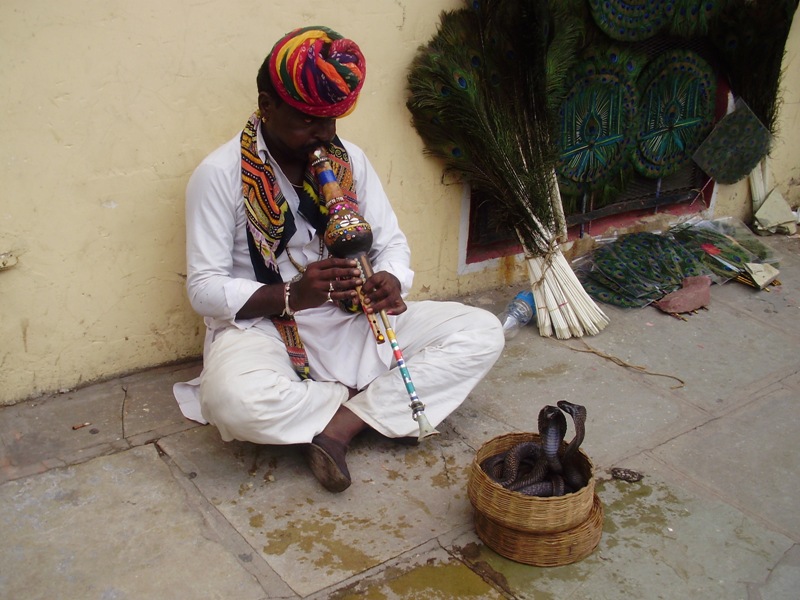 2. Crossing the Gates of City Walls
The Jaipur city wall is encircling the old Jaipur. It was built in 1727 and the wall is six meters high and three meters thick. There are seven gates in the wall. There are three most famous gates, spaced around 500 meters apart, which provide entry into the Old City. The first one is Ajmeri Gate, followed by New Gate, and lastly Sanganeri Gate.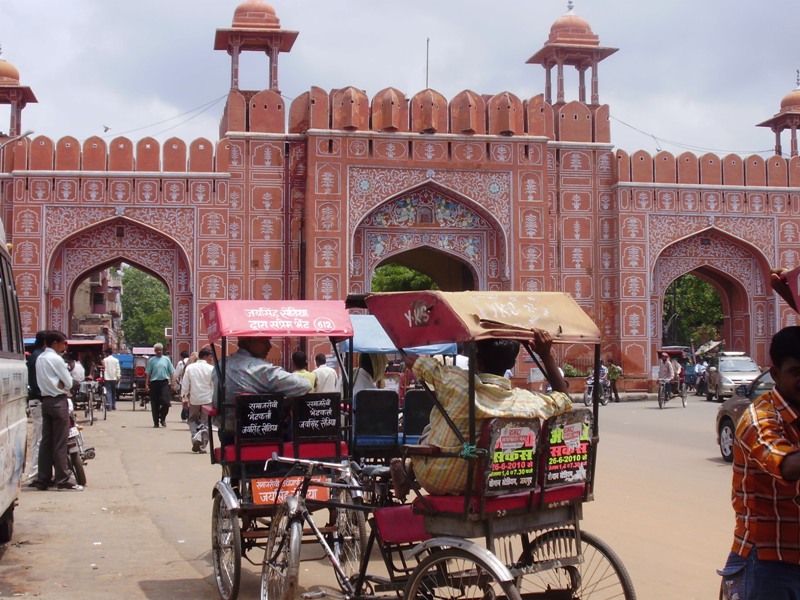 3. Shopping in bazaars in old city
Old city is huge area, where you can buy everything – literally everything. I noticed that there are not shops where you can buy different items, but there are whole streets of bicycles, kitchen equipment, flowers and so on. The first bazaar is situated on the road between Ajmeri Gate and New Gate. It's full of shops selling brightly colored fabric, shoes, trinkets, and perfumes. Bapu Bazaar lies on the road between New Gate and Sanganeri Gate. Many shops sell styles of clothes and bags that foreign tourists like. If you don't have mood for shopping you can just walking around and watch real India – the colors, the sights, the sounds and the smells.
4. Taking a rickshaw ride through pink city
Jaipur is also known as a Pink City because of the color of the stone exclusively used for the construction of the structures. Anyone who has come to the city can notice the fact that all the buildings of Jaipur are pink. The pink color has its own history. In 1876, the Prince of Wales and Queen Victoria visited India. Since pink denotes the color of hospitality, Maharaja Ram Singh of Jaipur painted the whole city pink in color to welcome the guests. The best way how to discover the charm of the Pink city is by taking a rickshaw and be fully involved to the life of Jaipur.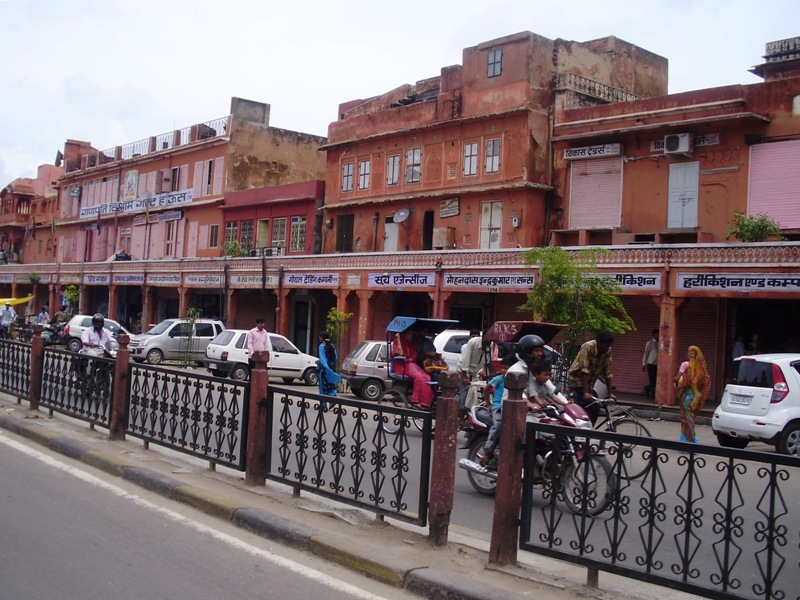 5. Stopping near Water palace Jalmahal
You can stop by Water Palace on the way to Amer Fort and take pictures from the street. There is nice view to Jalmahal and other buildings on the water. This small palace is set in the middle of Man Sagar Lake. The palace was built in red sandstone. It is a five storied building out of which four floors remain under water when the lake is full and the top floor is exposed.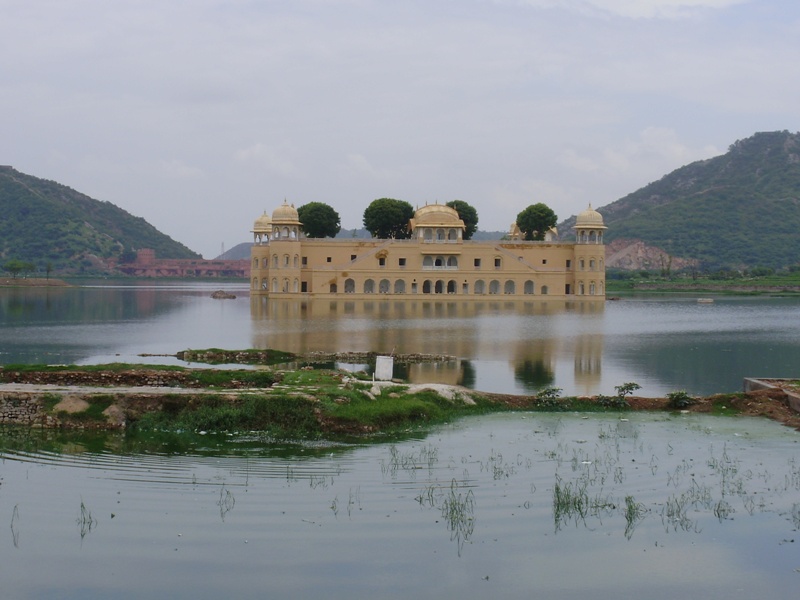 6. Visiting traditional workroom for making and coloring clothes
We've visited this traditional workroom quite unexpectedly with our nice driver. He didn't want us to buy anything. He just explained us how clothes are made and colored. If you want to see that and take some pictures ask in your hotel or some nice drivers. They will help you to find one.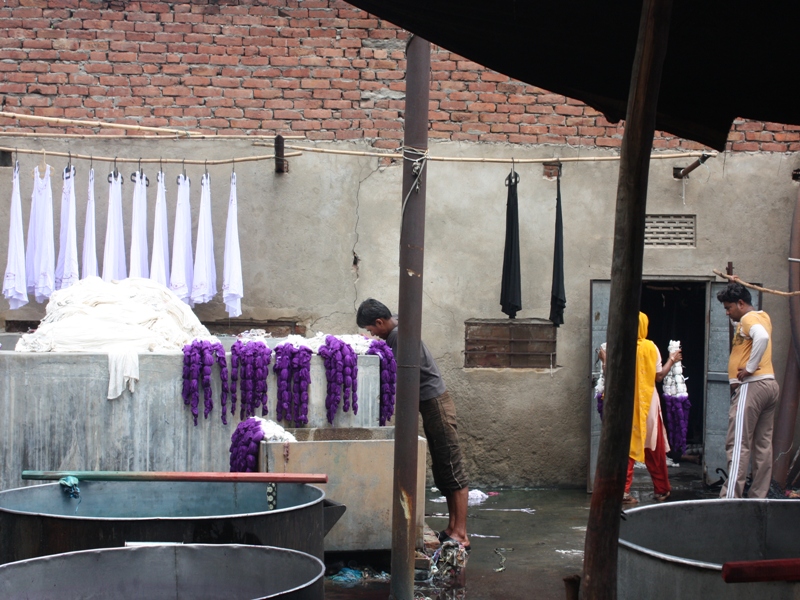 7. Trying and buying original Rajastan Sari
It was my dream to try original sari in India. I did it in Jaipur. There are plenty of shops with beautiful and colorful sari you can imagine. Workers in shops will show you how to wear sari and help you with it. I knew theoretically how to do that, but in the shop I realized that it is not so easy.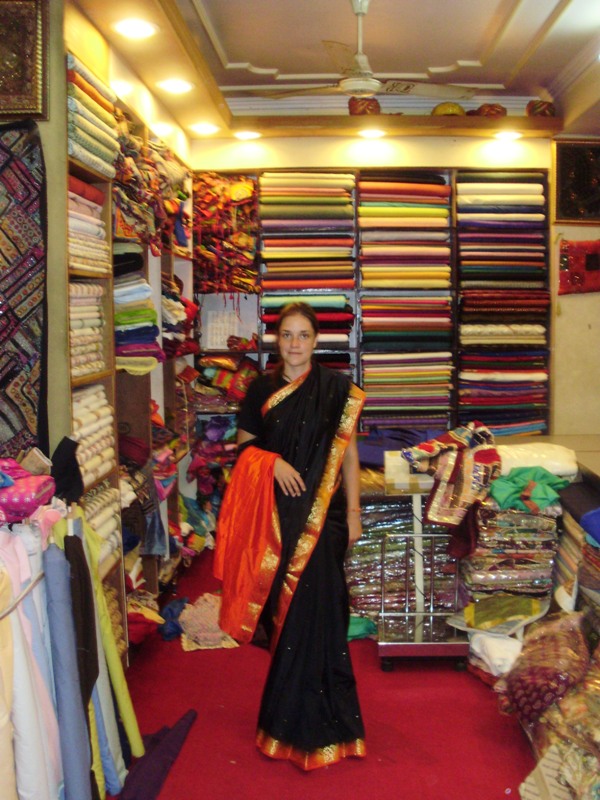 8. Visiting jeweler workroom in Jaipur
You can choose one of the many jewelry workrooms in Jaipur. Just ask in your hotel and owner will tell you information. You can see how jewelers are made from precious stones. If you want you can buy something.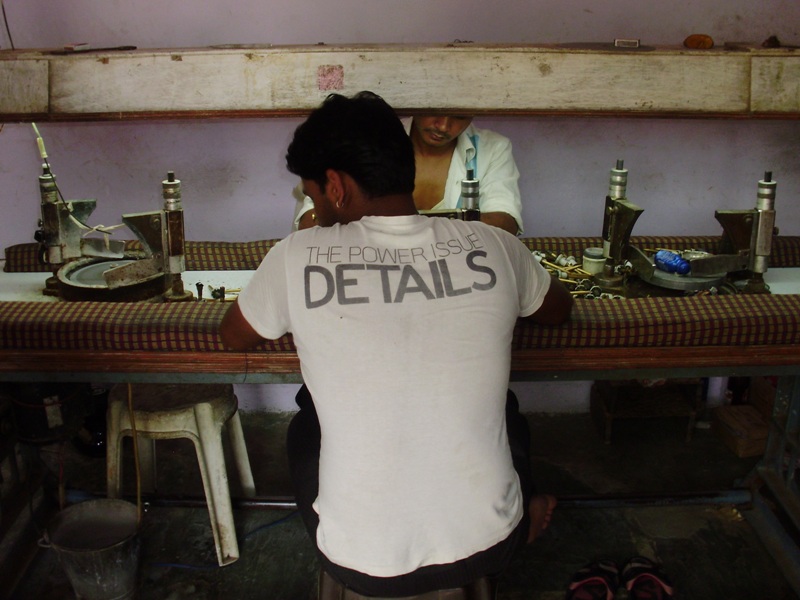 9. Finding a peace in Royal gaitor tumbas
Royal Gaitor Tumbas is the cremation site of the Maharajas of Rajasthan. Before I came to Jaipur I even didn't know that this place exists. And skip it would be huge mistake. This place was the most peacefull and quite place in Jaipur. It was only here, where I didn't have to listen to horns beeping and sounds of noisy streets of the city. Not only peace makes this place special. It is also amazing architecture. Royal cenotaphs are built over the cremation site that is a perfect blend of Islamic and Hindu architecture. This place also offers a stunning panorama of the whole of Jaipur town.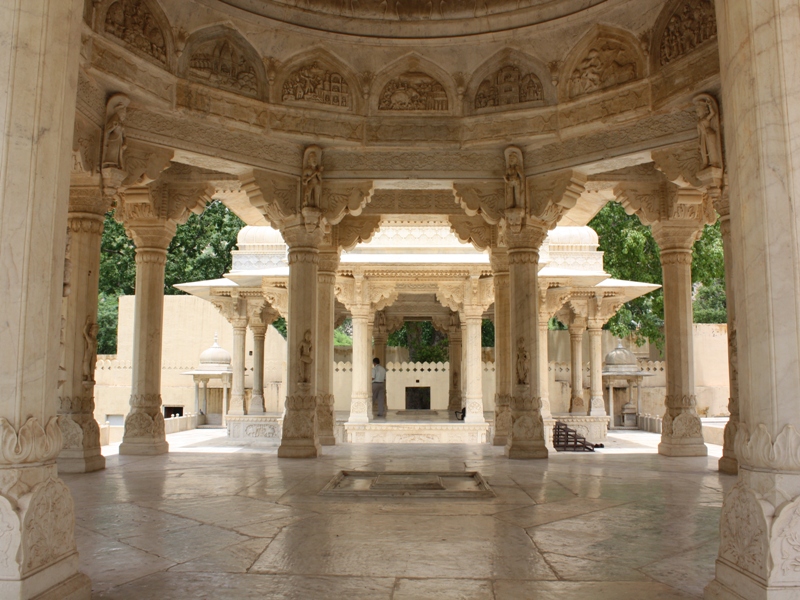 10. Having a fun in Monkey Temple – Galwar Bagh
Galwar Bagh is known as Monkey temple, due to the large tribe of monkeys who live here. But it is not only monkeys that make the site special. The site consists of several temples and sacred water tanks in which pilgrims bathe. It is believed that a Saint named Galav lived here, did meditation and penance. The temple is famous for its natural water springs. The water of these springs accumulates in tanks. There are seven tanks. The holiest is the Galta Kund, which never goes dry.
11. Visiting majestic Amber fort
Amber fort is considered as one the most famous tourist attraction in Jaipur. It is situated 11 kilometers from Jaipur. The outer part of the Amber Fort in Jaipur is made of red sandstone which is plastered as white and seems like white marble. The fort also has enormous historical significance. Even though the fort is hundreds of years old, the decoration done on the fort's is still amazing. Palace of Mirrors is located in the Amber Fort. It is a delightful hall with numerous mirrors and is famous throughout the whole world. Amber fort is a bit of a hike up from the town, and many tourists use elephant ride to the top. BUT! The way how the elephants are treated is cruel, so I don't recommend supporting this business with animals (read more e.g. in this article).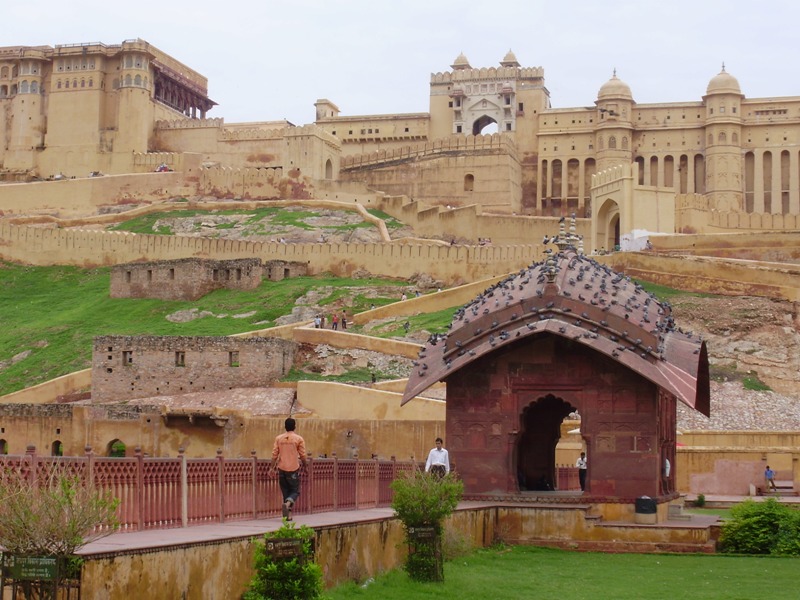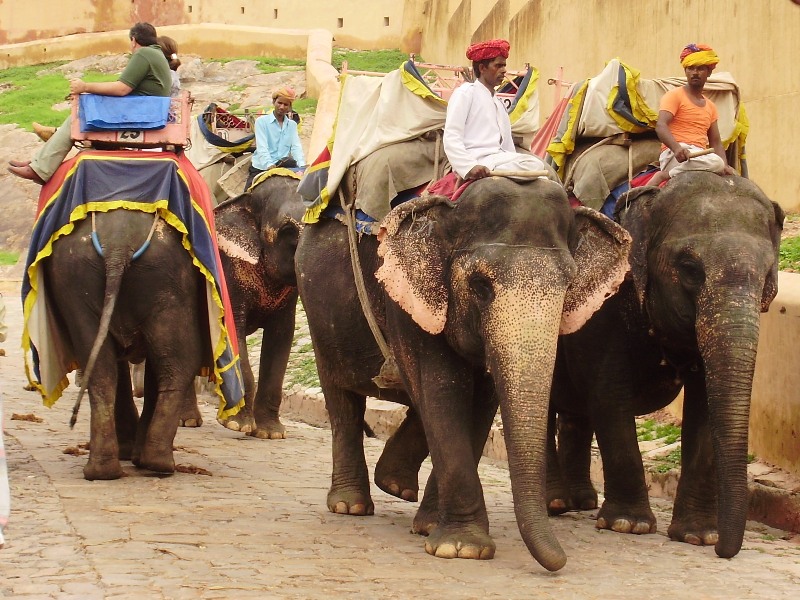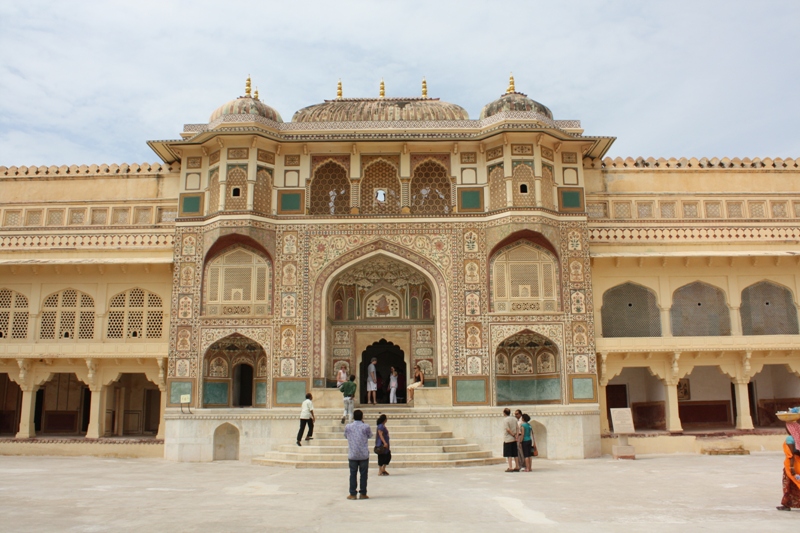 12. Admiring Hawa Mahal
Hawa Mahal is amazing building which is also known as a Palace of the winds. It was built in 1799 by Maharaja Sawai Pratap Singh. It is the most recognizable monument of Jaipur. The 5 storied stunning monument has 152 windows with over hanging latticed balconies. If you want to make a nice photo of Hawa Mahal, ask in the opposite building, if people allow you to go to balcony like I did. From there you can see Hawa Mahal in different position.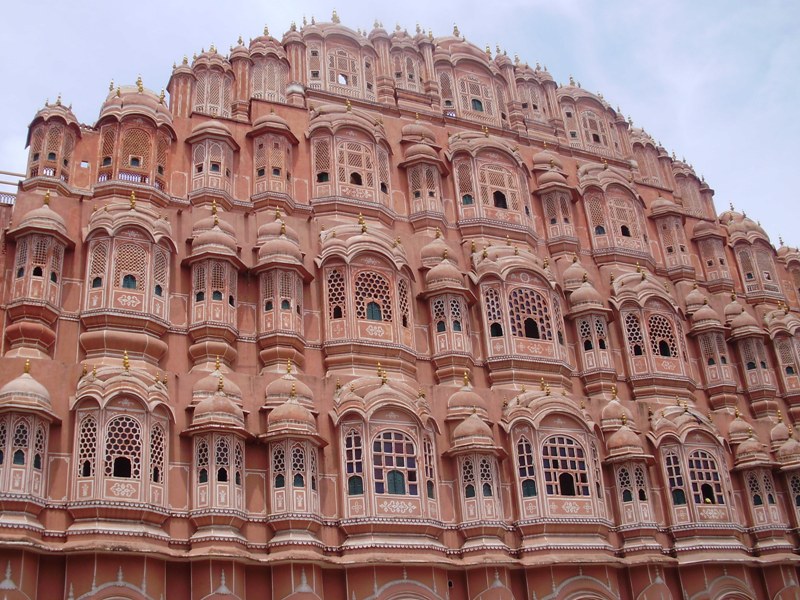 13. Looking at Jaipur from above
There are several spots from where you can see Jaipur from above. Galwar Bagh, Royal Gaitor Tumbas or Nahargarh Fort offer great view over Jaipur. Only on those places you can realize the real size of the biggest city in Rajastan – Jaipur.