Monkey Temple Swayambhunath in Kathmandu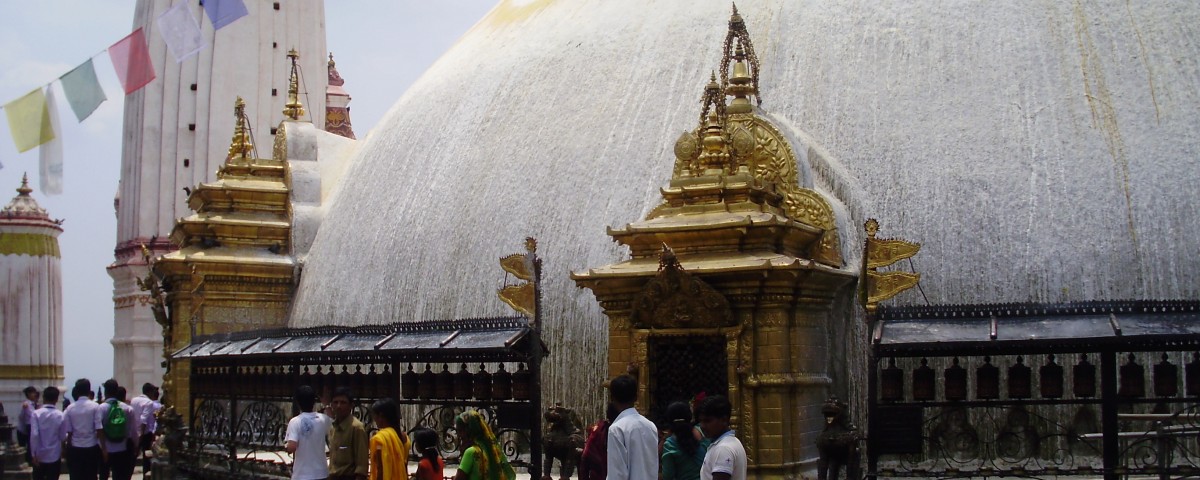 After arriving in Kathamndu, I spent first two days only at Thamel absorbing Nepalese atmosphere. First place I decided to visit was Monkey Temple Swayambhunath in Kathmandu. I ordered a taxi from my hotel that brought me to the gate. Entry fee to the monkey temple is 200 rupees for foreign. This route from Thamel to Monkey Temple Swayambhunath can be done on foot as well, but it was very hot, so I chose the easier option. If you decide to walk on the top of the site you have to climb 365 steps. Each morning before dawn hundreds of Buddhist and Hindu pilgrims ascend those steps from this eastern side to the hill. From the Swayambhunath is the best view of the entire Kathmandu valley and place is very magic.
First I stopped by the pool, where were holy monkeys and did a decent show. They did all sorts of flips while they were jumping into the water from a great height. Mothers jumped into the water with their cubs as well. It was a really fun show. You could sit there and watch that performance forever, because you will be never bored. Monkeys that live in Monkey Temple Swayambhunath are holy animals. It is said that budhisattva Majusri who lived here in the past had very long hair and had lice that multiplied on his head. Later lice transformed to these monkeys.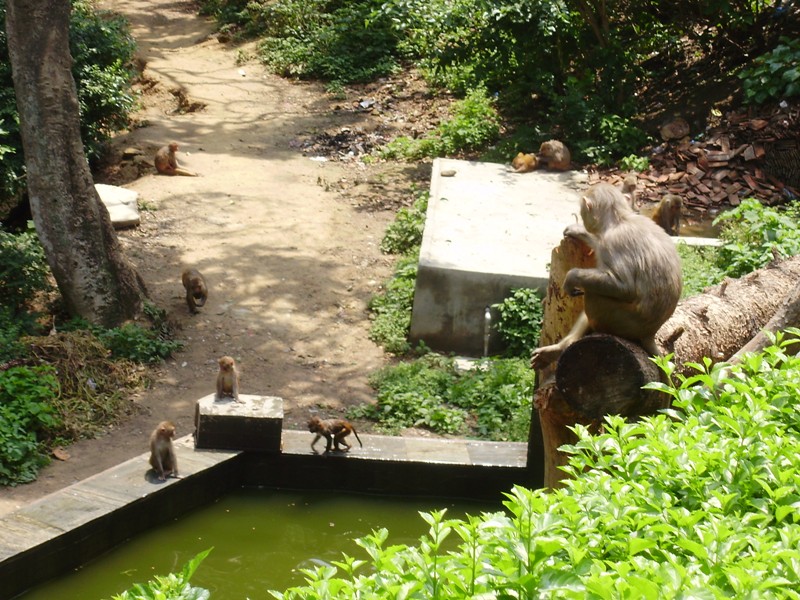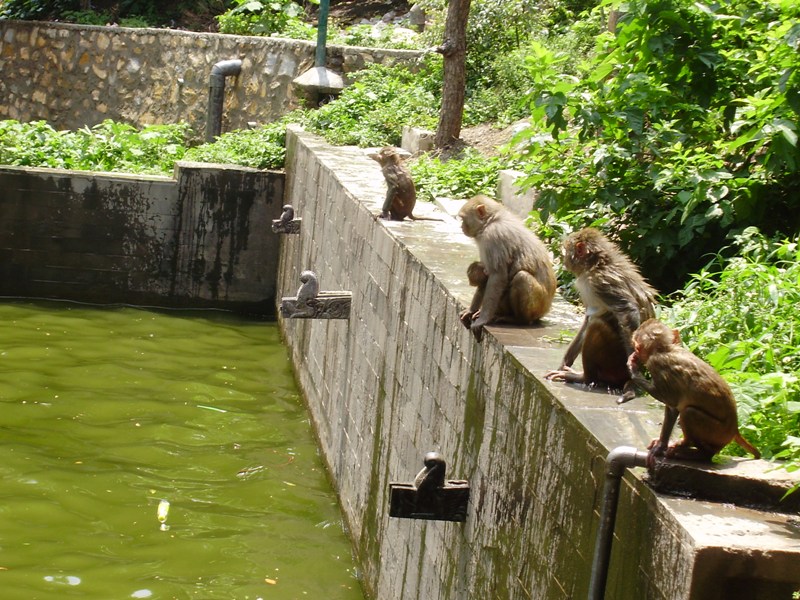 After about an hour I went to climb up the steps to the place, where main stupa is located. Monkey temple Swayambhunath occupies a prehistoric cult site. Ancient legends tell that the site initially served a nature cult. But later temple became associated with Buddhism. Swayambhunath was built around 5th century A.D. Complex consists of a magnificent stupa and a variety of shrines and temples. Temples are extremely ornate and richly decorated with gold. The dome was rebilded using 20 kg of gold. Everywhere are vibrant prayer flags.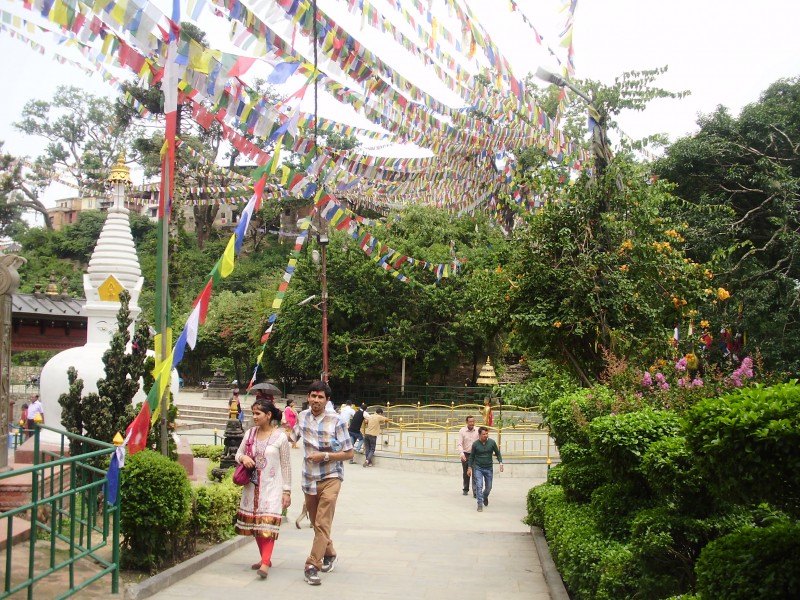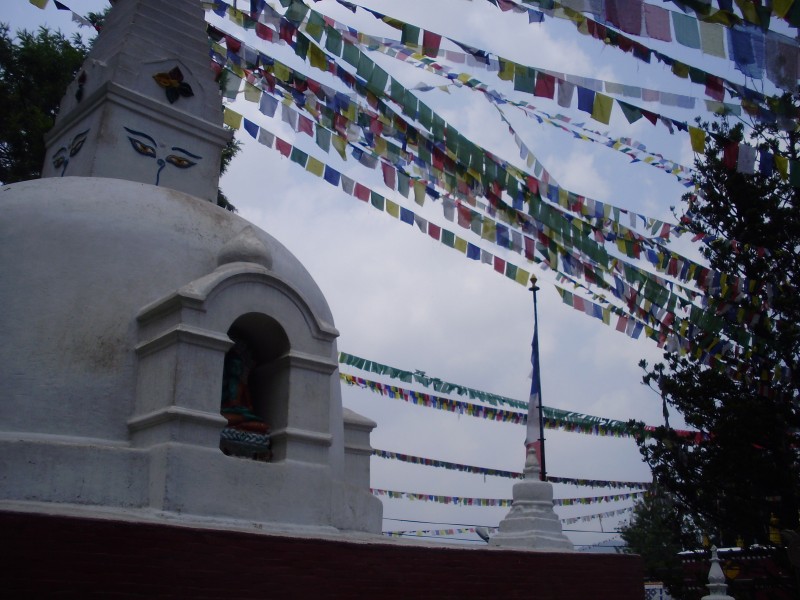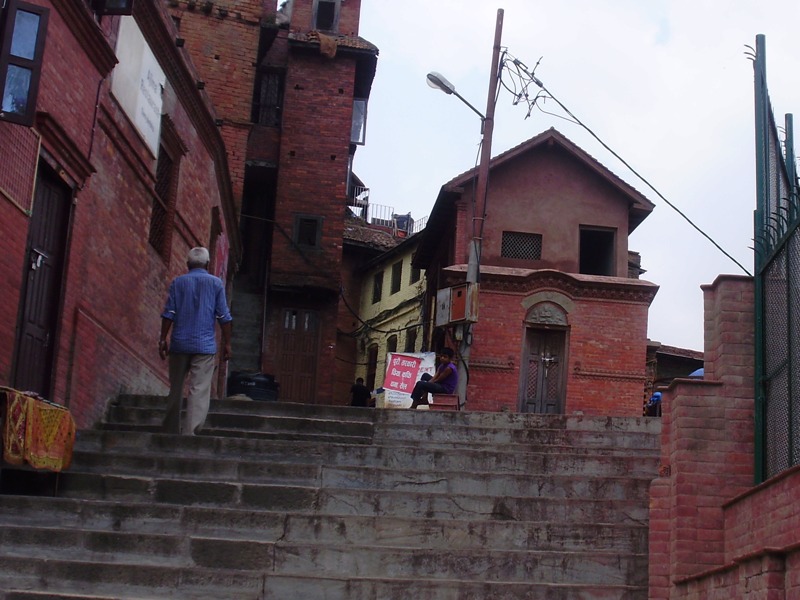 Buddhists come here to perform ceremonies and to pray. Traditional Buddhist prayer wheels are placed around the stupa . Prayer wheels are used to accumulate wisdom and good karma and purify negativities. It helps to bring practitioners ever closer to realizing enlightenment. Worship of the stupa consists in walking around in the clockwise direction. A huge Buddha's eyes that behold the entire Kathmandu valley, because they look out in the four directions, are painted at the top of stupa . Buddha's eyes symbolize compassion and wisdom.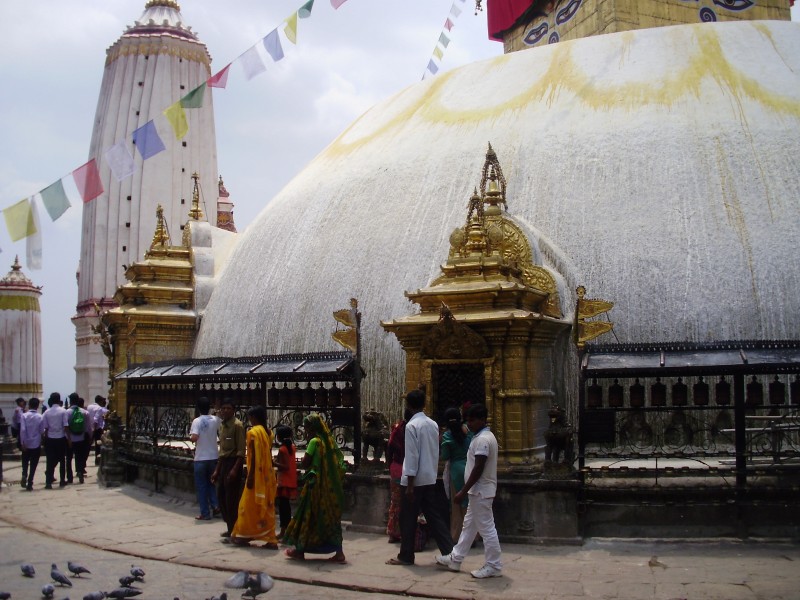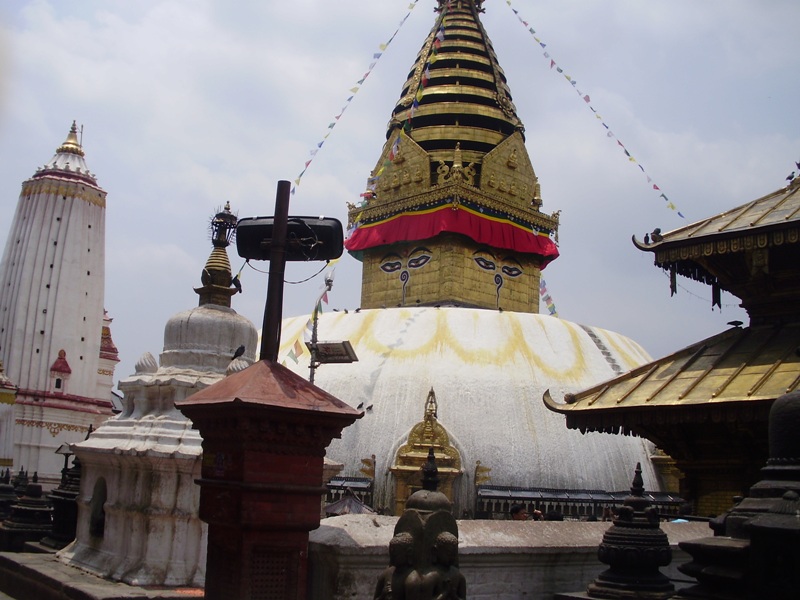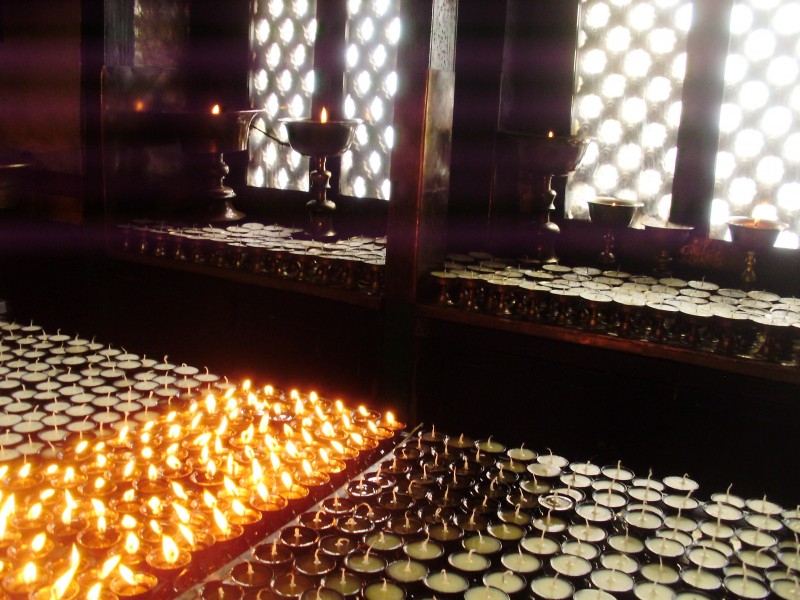 You can buy different types of souvenirs, even a bird in a cage, which can be released into freedom.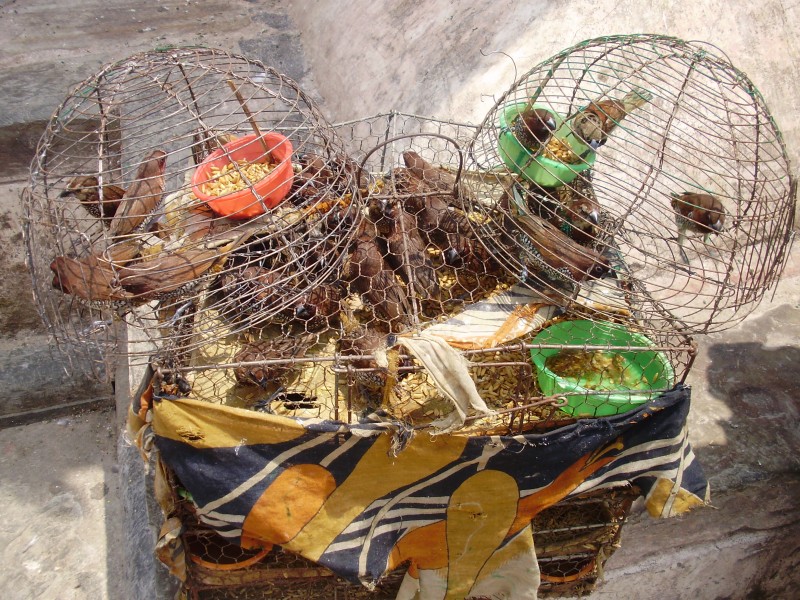 People usualy feed holy monkeys inside the temple.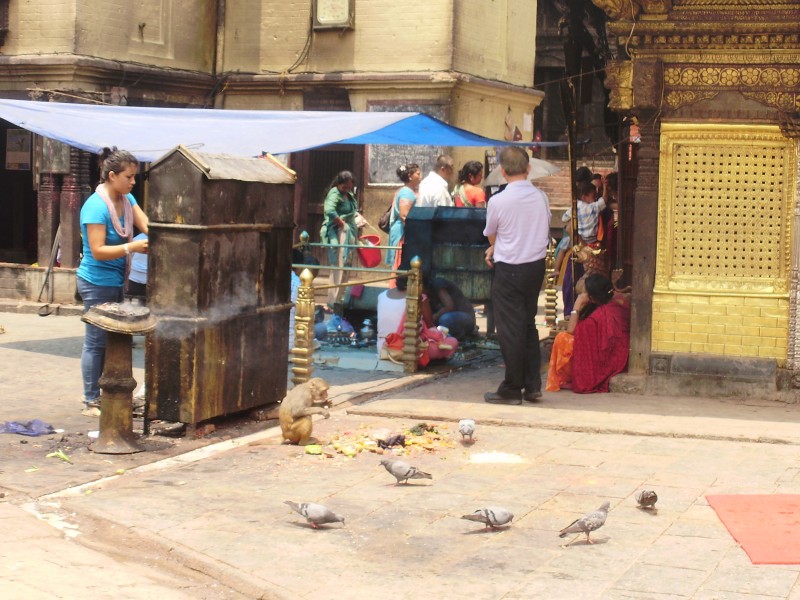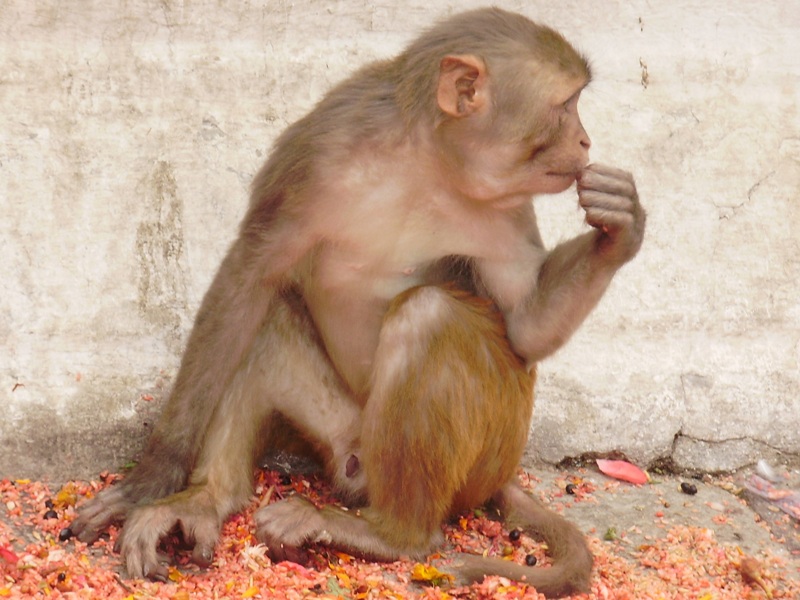 From this point you have an amazing view of the entire Kathamndu.
When you are in Kathamndu during full moon don't forget to come to Monkey temple Swayambhunath in the early evening hours to see amazing performance. People sing mantras and play traditional Nepalese instruments while they use lightings. The atmosphere is unique.