Top 15 Places to Visit in Kathmandu Valley and Pokhara, Nepal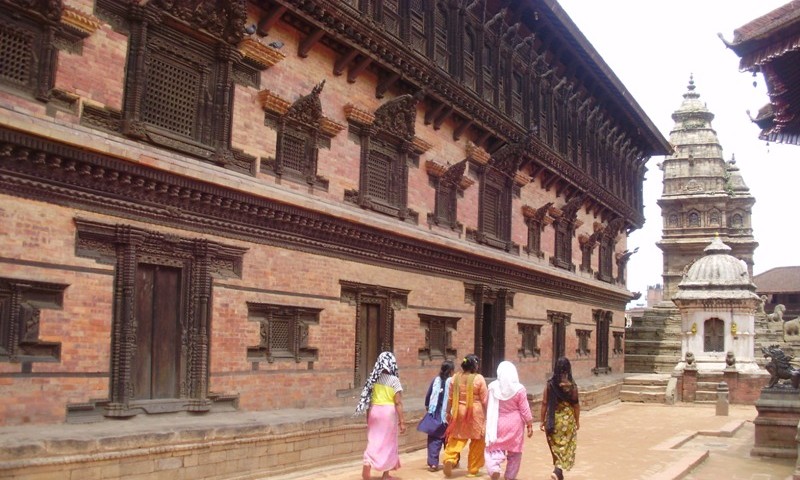 Pokhara and Kathmandu are famous tourist destination in Nepal. Both of the places are treasure of scenic sightseeing locations and they are special in their own way. Cities offer interesting spots of various types, historical, cultural and scenic. This is the list of the top 15 places to visit in Kathmandu Valley and Pokhara during your visit in Nepal.
Kathmandu valley
Thamel
Thamel is a neighborhood in Kathmandu, where most of the tourists stay. Thamel is famous for its narrow streets crowded with shops, vendors, travel agencies, restaurants with local or western food and different types of accommodation – from cheap budget hotels and guest houses to the expensive and luxury hotels.
Thamel is about 20 minutes drive by taxi from airport and costs around 500 NPR. From Thamel you can make many day trips to interesting places in Kathmandu valley as well as visit and see some sites in the city. Advantage of Thamel is its location – very close to Ratna park, where local buses start to different cities and villages, which are worth seeing.
Garden of Dreams
Garden of dreams is small historical garden, which is situated in the heard of Kathmandu within walking distance of Thamel. It is a beautiful and maintain garden with numerous flowers brought from different countries and benches, where you can sit and enjoy peaceful and quiet environment, while you are still in the centre of hustle and bustle of Kathmandu. There is small entrance fee.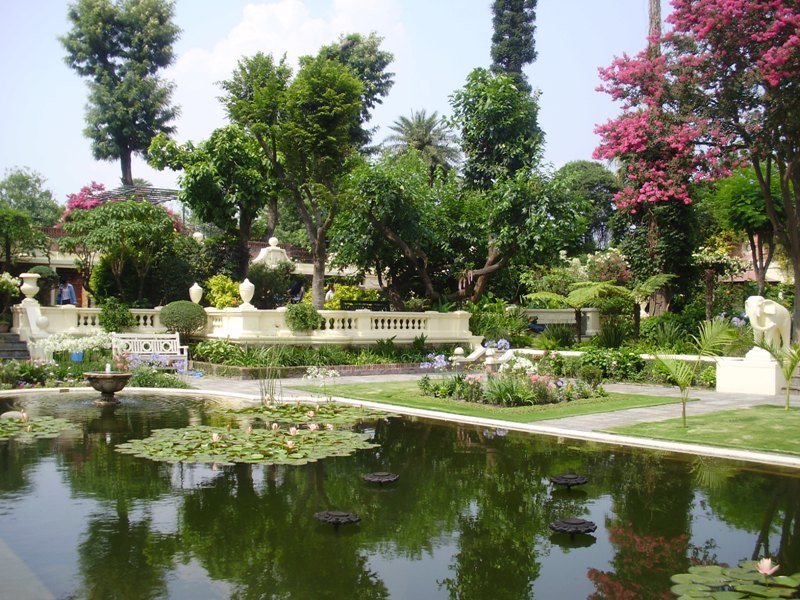 Monkey Temple Swayambhunath
Swayambhunath is an ancient Budhist and Hindu religious site that is located atop a hill Kathmandu Valley, overlooking Kathmandu city. Complex consists of the stupa, which is painted with eyes of Buddha looking in all four directions, many of shrines and temples, Tibetan monastery, museum and library.
Temple is home for hundred of monkeys, that's why local people call it monkey temple. There is a big pool near entrance gate, where they use to play and jump to the water. It so funny to watch them!
Kathmandu Durbar Sqaure
Kathmandu Durbar Square is beautiful old square within walking distance of Thamel. It is famous part of Kathamndu for its traditional Nepalese architecture. During your stay in Nepal take your time to visit this place, although entrance fee is relatively expensive in these days.
You can see: Jagannath temple and famous figures inspired by Kamasutra, statue of monkey god Hanuman, Royal palace with 9-story building, the wall written in 15 languages, building where living goodness Kumari lives. If you are lucky, you can see living goodness itself.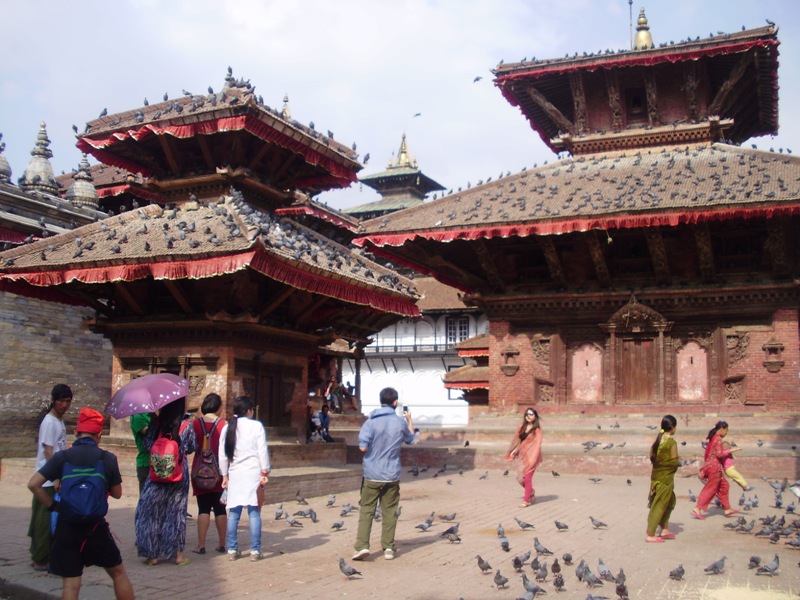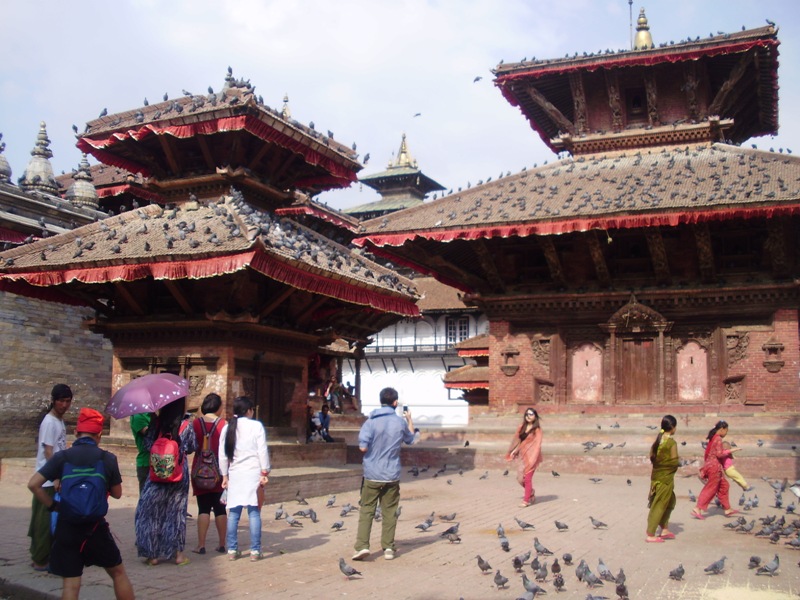 Boudhanath stupa
Boudhanath stupa is one of the largest stupas in Nepal and in the world as well as center of Tibetan culture in Kathmandu. Stupa became a UNESCO World Heritage Site in 1979 and now it is one of the most popular tourist sites in the Kathmandu area. There is symbolic admission fee on the gate.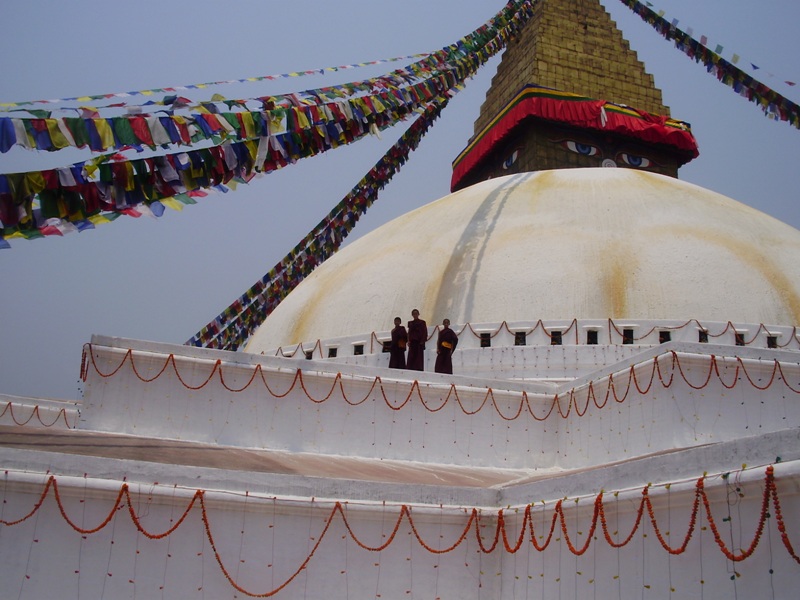 Pashupatinath temple
Pashupatinath temple is situated close to Boudhanath stupa, so you can visit both sites in one day. It is sacred Hindu temple dedicated to Pashupatinath.
Many elderly followers of Hinduism arrive there for the last several weeks of their lives, to be cremated on the banks of the Bagmati River. This temple is popular for tourists, because of cremations, but you should know that whole area of Pashupatinath includes 518 temples and monuments.
Dakshinkali temple
Dakshinkali Temple is located 22 kilometers outside Kathmandu and about 1 kilometre outside the village of Pharping. It is one of the main temples of Nepal dedicated to the goddess Kali. Place is famous for its animal sacrifices, particularly of cockerels and male goats. This ritual is the main way that the goddess is worshipped and festival is held at Wednesday and Saturday each week.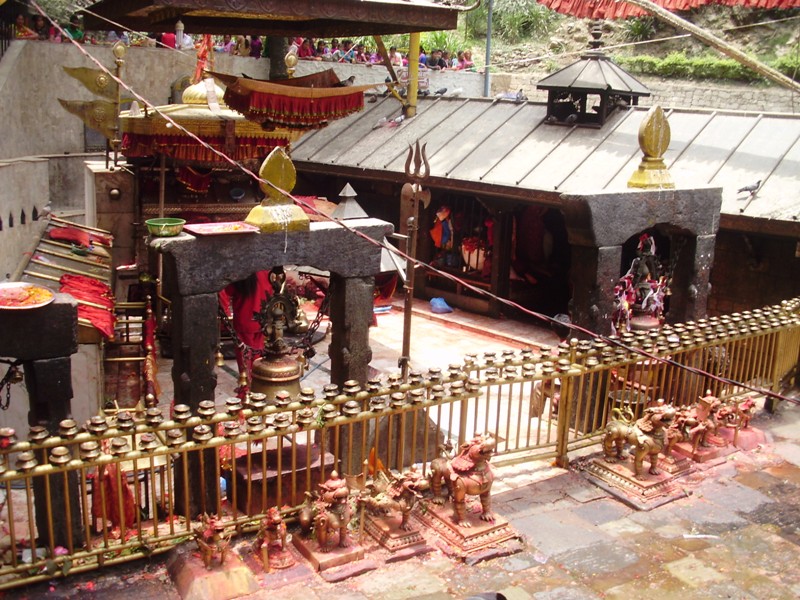 Bhaktapur Durbar Square
The Bhaktapur Durbar Square is located in the town Bhaktapur, 13 km east of Kathmandu. It is a highly visited place in the Kathmandu Valley. The square being listed as a UNESCO World Heritage Site.
The whole complex consists of four distinct squares – Durbar Square, Taumadhi Square, Dattatreya Square and Pottery Square. You can walk around whole day and there is still something new and interesting to see.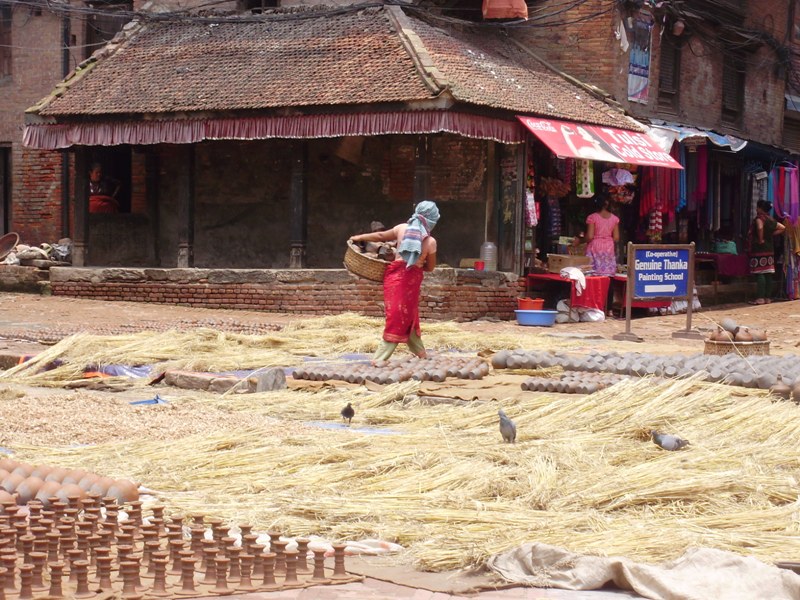 Dhulikhel
Dhulikhel is a small Newari town, km far from Kathmandu. It is famous hill station, which is located 30 kilometer east from Kathmandu at an altitude of 1440m above sea level. Once the weather is perfect, you can see panoramic mountains views. Many people stay in Dhulikel at night to see a light of amazing sunrise above snow-capped peaks of Himalayas.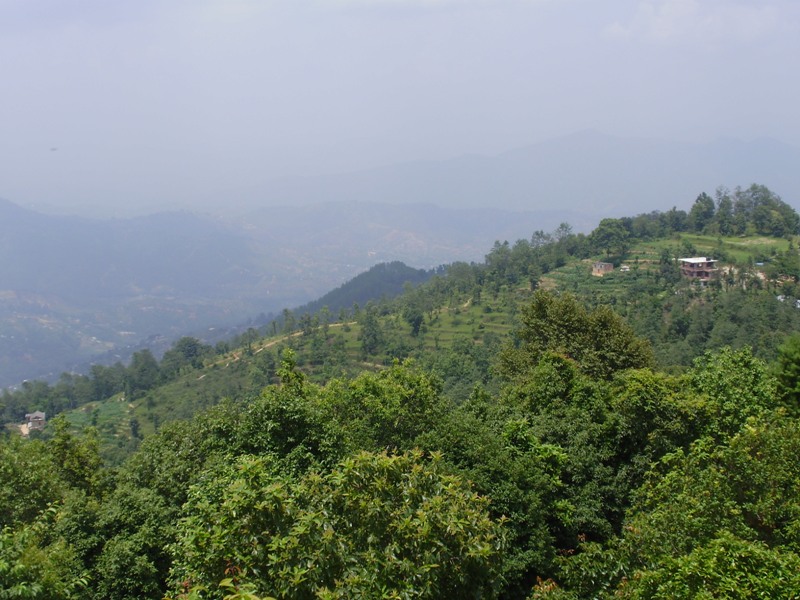 Pokhara
Barahi Temple
Barahi temple is small temple located in the island at the center of Fewa Lake, which is the second largest lake in Nepal. You can get there only by boat. It is important religious monument in Pokhara and gets crowded in the Saturdays. It is used for worship by Hindus and Buddhists.
Davis Falls
Devi's Falls were discovered in 1961 and now became a popular attraction for tourists that visit Pokhara. The most beautiful part of the waterfall is descents through tunnels to Mahedra cave.
Mahendra Cave
Mahendra cave is a small cave in the center of Pokhara and it is located on the opposite site of Davis Falls. The Mahendra cave is dedicated to the god Shiva so it has religious significance for Hindu's.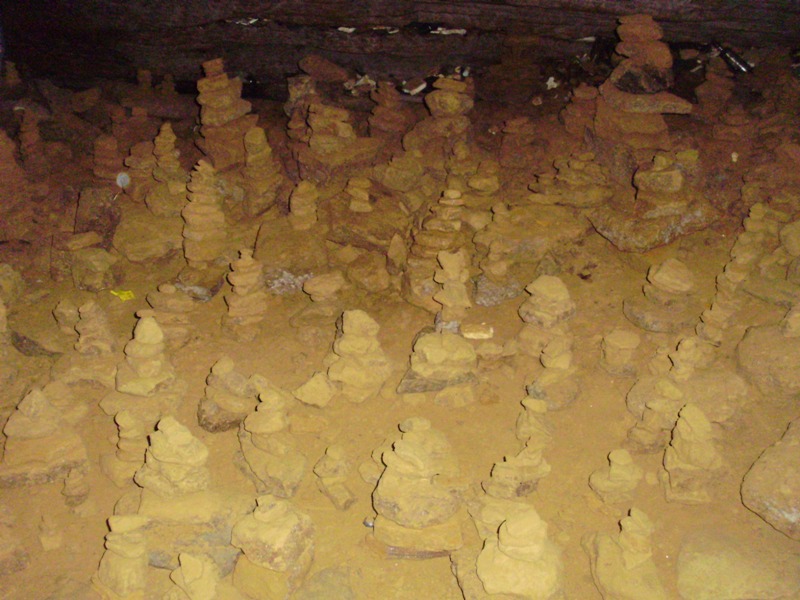 Pokhara Old Bazar
Purano Pokhara old bazaar is located about 4 km north of Lakeside. The streets consist of houses built in Newar architecture using red brick. 300 years ago was this area of Pokhara, which is located between Tibet and Kathmandu, the main trading and commercial zone. When you are there you can feel as if time has stopped.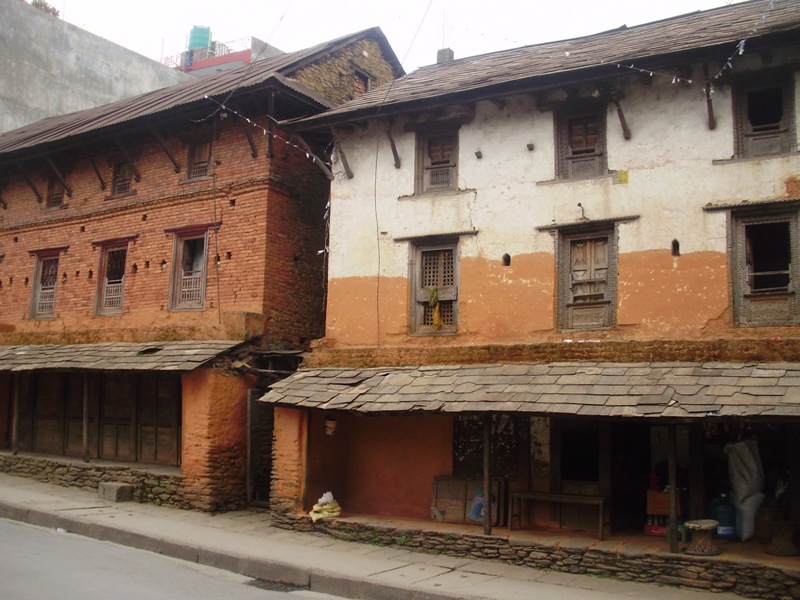 Bindhyabasini temple
Bindhyabasini Temple is dedicated to goddess Bhagwati, another manifestation of Shakti. The temple is situated on the hill, very close to Old bazaar. Especially on Saturdays, worshippers come here to perform sacrifices. From the temple is nice view of mountains and city from above.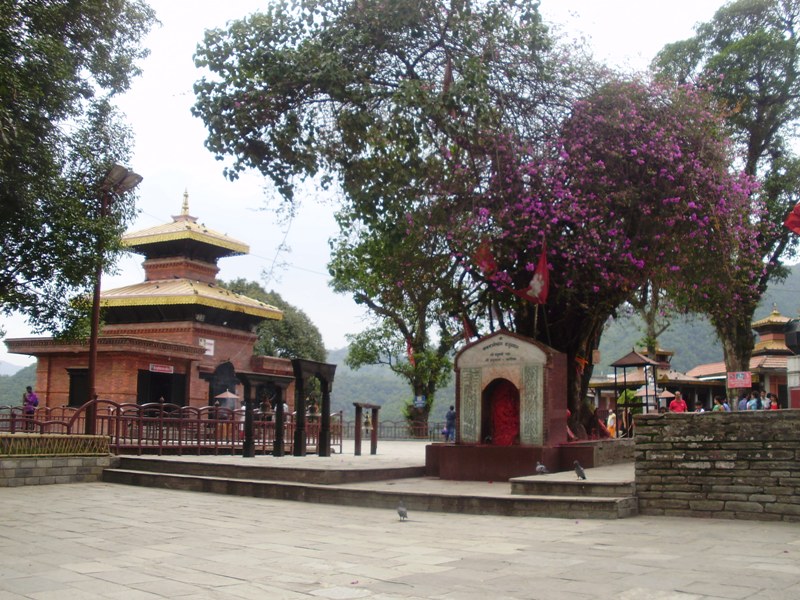 World peace pagoda
World peace pagoda is located on top of the Ananda hill above Pokhara at the height of 1100 meters. It is the first World Peace Pagoda in Nepal and seventy-first pagoda built by Nipponzan-Myōhōji in the world. It is a perfect spot for view of the Himalayan range, Fewa Lake and Pokhara city.