How to spend day in Kathmandu Durbar Square?
During my stay in Kathamndu I planed to spend a whole day in Kathmandu Durbar Square. It's the old large square, which is  famous for its traditional Nepalese architecture and history.
After breakfast I wandered through narrow streets of Thamel. I asked for directions, but as I was closer to the square, there were more people in the streets and I knew I am going in the right direction. I paid entrance fee, got a ticket and passed through the main gate. There is a prison, tall white building, situated next to the square and I saw prisoner police vehicle with few prisoners inside.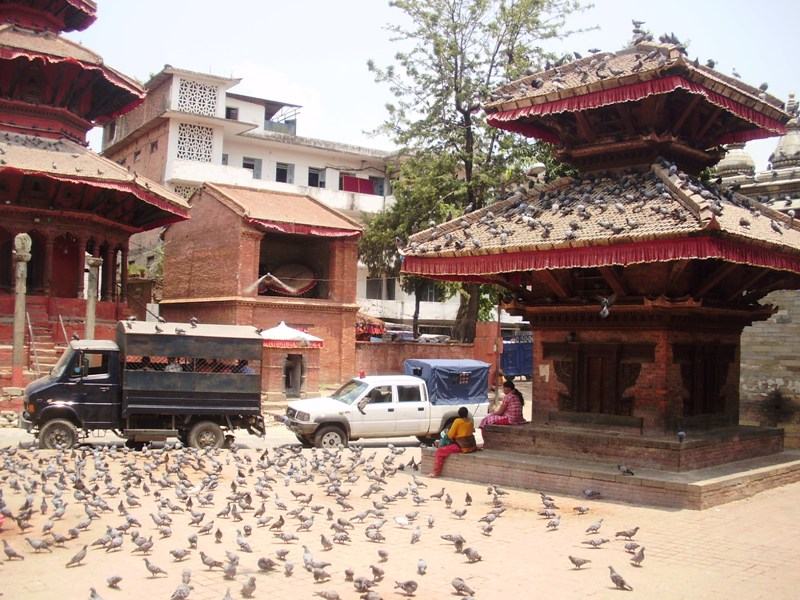 When you enter the Kathmandu Durbar Square, at first you will be impressed by old buildings that were built in the traditional Nepalese style. They are really beautiful. Flocks of pigeons sit on the roofs of buildings  and people feed them.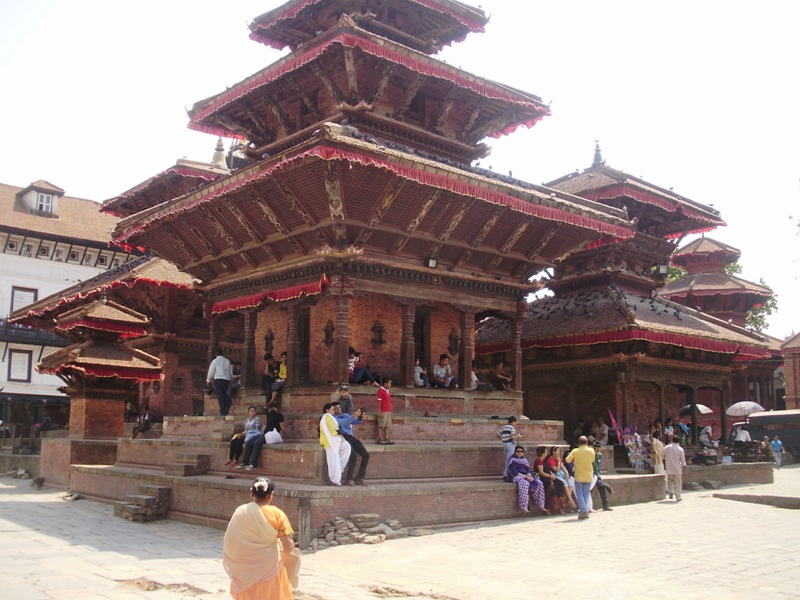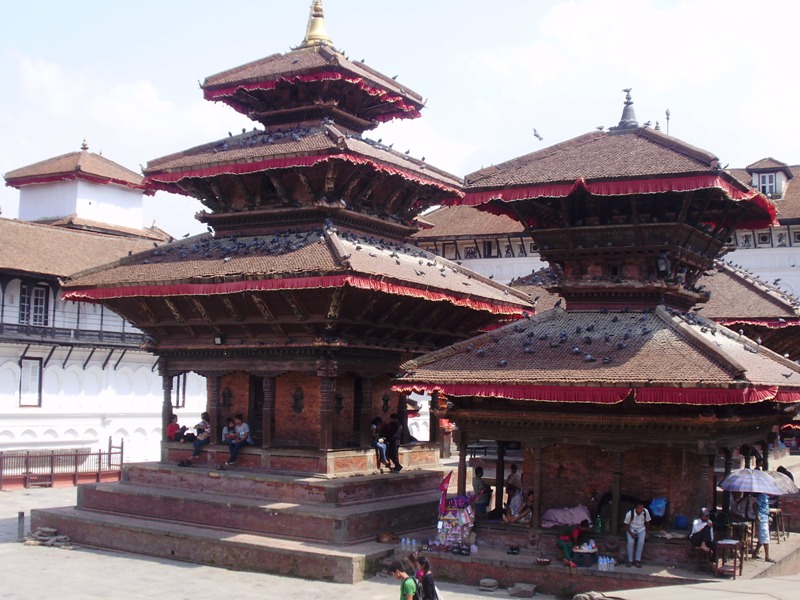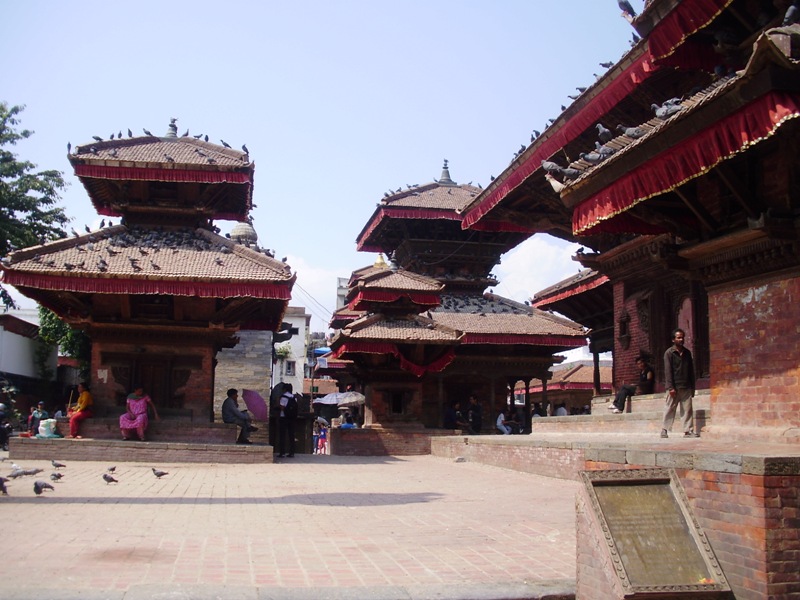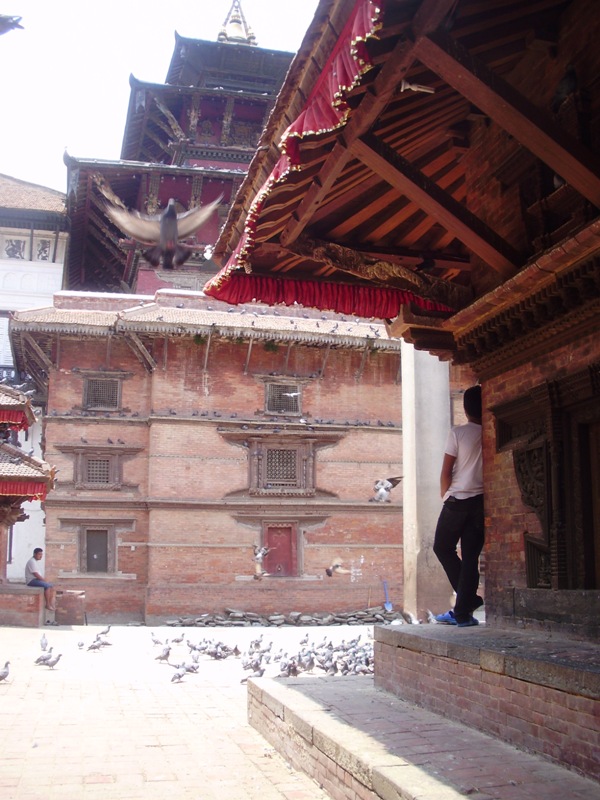 I noticed that Nepalese like comming here to relax. A group of women sit and talk, young couples observe surroundings, people read books or just sit in the shade and relax.  I had good impression of this place from the beginning.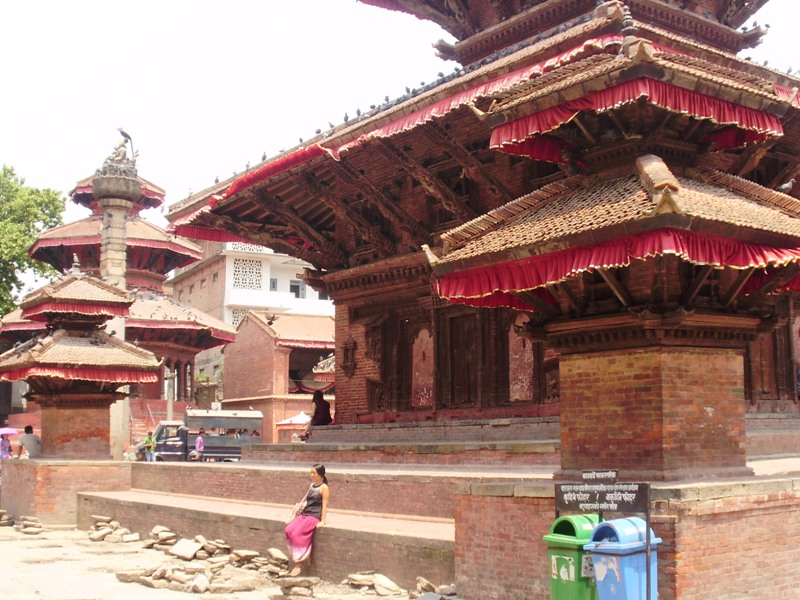 At first I looked at Jagannath temple. On the beams under the roof of the temple are carved figures inspired by the Kama Sutra. I learned that the king wanted to increase the population, and this was the way he wanted to inspire people.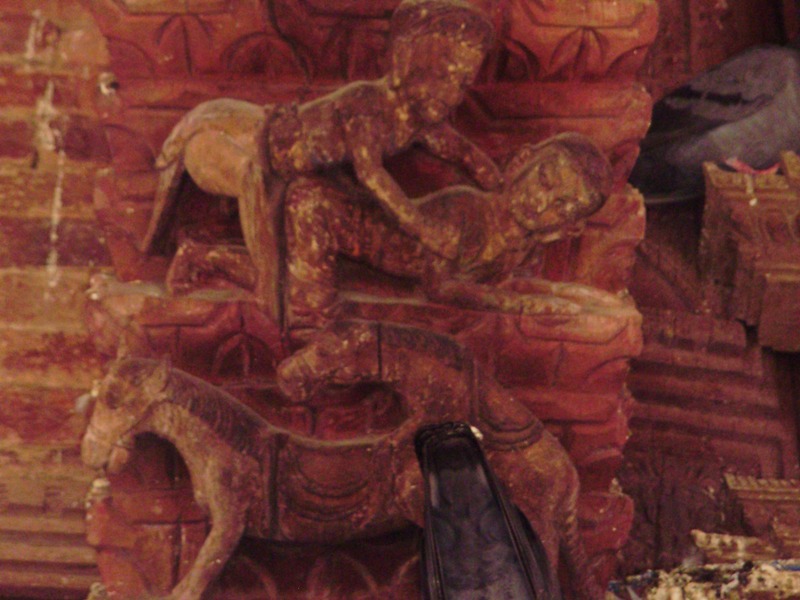 After a while, in the place in front of the temple gathered a lot of people and they started playing drums, singing and celebrating. I sat next to them and watching them.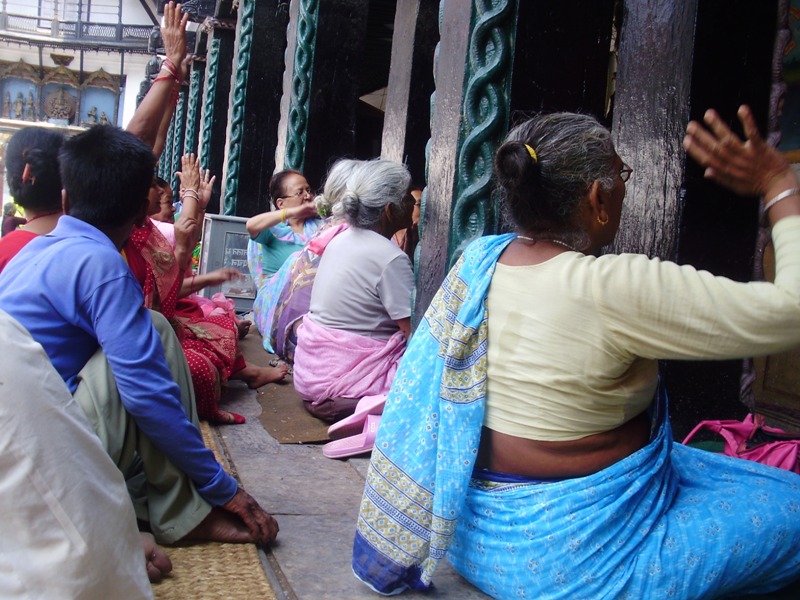 On the left side of the Jagannath temple is the entry to the royal palace. In front of the gate is monkey god Hanuman, which guards the entrance to the palace. He has a shrouded face.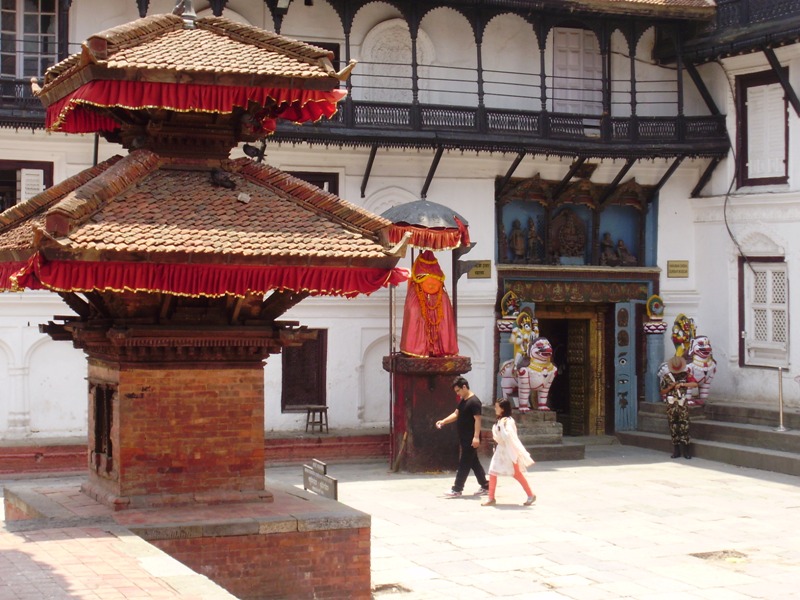 Inside the royal palace there is a smaller square, pictures of kings and their families and the beautiful Nepalese buildings. There is also a 9-story building with a traditional Nepalese architecture from which a beautiful view of the entire Kathmandu.
On this square several times a year are held festivals, where people slaughter buffaloes. The pole, where the animals are caught during execution is located in the center of the square.
By the way, in Kathmandu every 5 years Gadhimai festival is held to celebrate the Hindu god of power. During this festival, people sacrifice animals like buffaloes, goats and so on. In 2009, during the festival died around 250,000 of animals which have been transported to the site in very bad conditions. Most of them died in not very pleasant death. Activists try to stop the festival, but the Nepalese government does not want to prohibit it. People believe that God of power needs a lot of blood and when people give it to him, he fulfill their desires.
I went up the stairs to the top floor of 9 storey building. From the top you can see the main square where vendors sell handicrafts and in the distance is the whole Kathmandu Valley.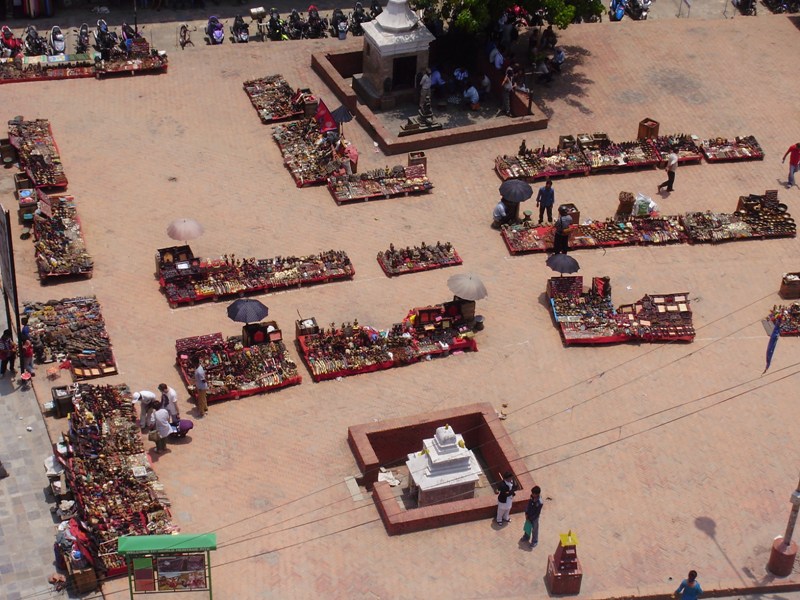 Then I went back to the main Kathmandu Durbar Square and came to this wall. The wall is famous for its texts written in 15 languages. It is said when someone can read all the texts, from the pipeline will start coming out milk and thirsty god, which is located below can finally drink. So far, no one did it and god is still thirsty.
To this statue people come and beg God for their sins they have committed. It's something like our confession. If they didn't, God became angry and can kill them.
The most interesting part for me is the building where the living goddess Kumari lives. It's a little girl who was declared to be the true incarnation of the goddess of destruction and sacrifice.
When Kumari finish her function, a process of finding new Kumari starts all over Nepal. Only special people are determined for that. A girl must be from a caste of goldsmiths, must have perfect health, she didn't get menstruation so far, didn't suffer any serious disease and didn't lose even one tooth. Some conditions are very poetically expressed like: she has body like bananas, eyelashes like a cow, thighs like a deer, etc.
If they find the right candidate, she must pass various tests. During so-called "black night" in Kathmandu, 108 buffaloes are killed, candles are burning and people dancing in masks. The girl must not show signs of fear. If she shows, they have to look for a new candidate. It is followed by a test in which a girl must spend a night in a room full of severed goat and buffalo heads. She must stay calm all the night. If this test goes well, the last one is recognizing personal items of Previous Kumari (like identifying the new Dalai Lama).
If new Kumari is found, she enters the palace where she will live and leave palace only few times a year. She never touches the ground, people who care about her, carry her everywhere. Because she is holy, she can heal ill people when they kiss her feet or touch them. Incarnation of the goddess ends when she gets the first period. Her position may also be ended when she loses a lot of blood or when she is very seriously ill. Kumari every day acknowledges greetings from her balcony windows, and people worship her. In truth, she doesn't look very happy. Unfortunately the photography is strictly prohibited. This is the window where she shown her face to us. You can see Goddess Kumari twice a day, usually in the morning and afternoon. You need to ask people what time you can see Kumari, they will help you.
For the rest of the day I passed through the square and its remote parts, watching the daily life of old Kathmandu.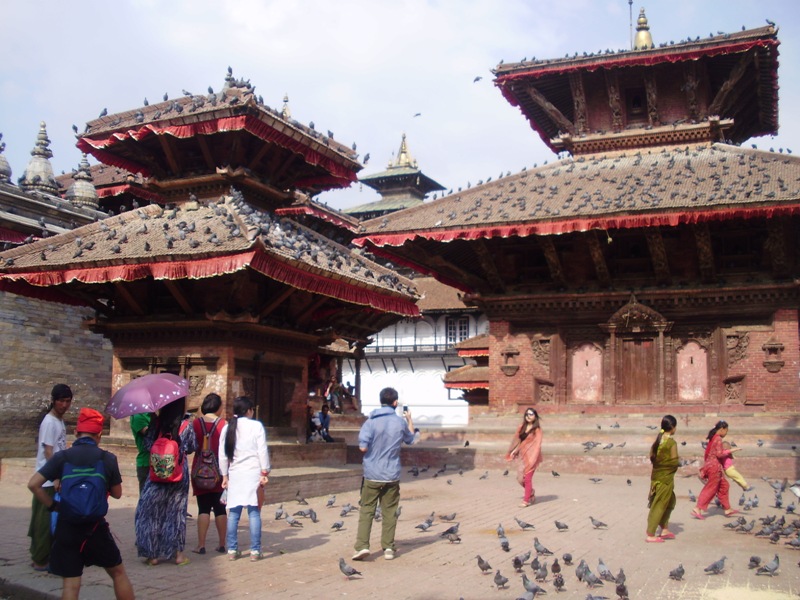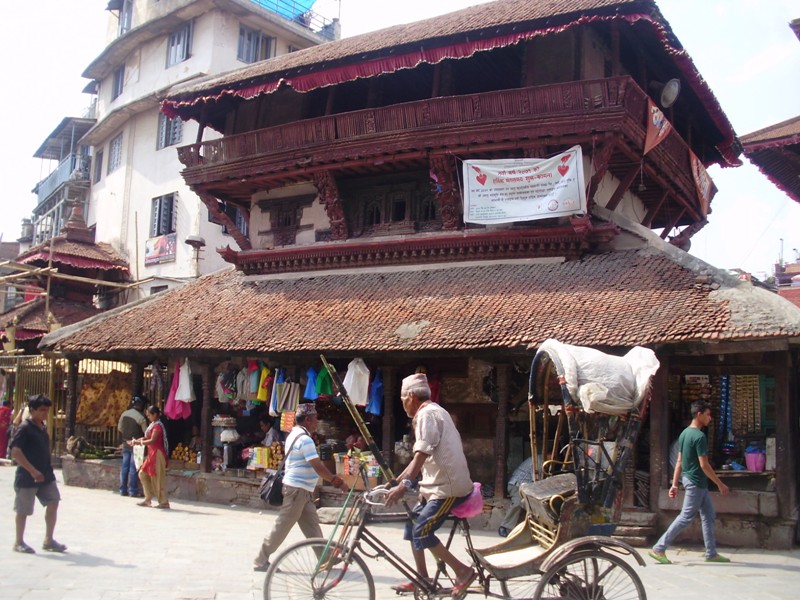 Tired, but happy I came back to Thamel, of course I had to ask for directions, went for a dinner and back to my hotel. The next day I wanted to see the biggest stupa and Kathmandu burning site.