Chiang Rai from Chiang Mai as a One Day Tour Trip
I usually try to see all places in my itinerary on my own. I wanted to see interesting places and touristic attractions in Chiang Rai by myself, but on the end I decided to take one day private tour to Chiang Rai from Chiang Mai. I made this decision on the basis that I didn't have a lot time. If I went alone to Chiang Rai, one day I would only spend by traveling and searching for accommodation, the next day I would visit interesting places in Chiang Rai and the third day I would travel back to Chiang Rai. This is how I would spend three days, and I would see exactly the same things I could see during a one day private tour.
In Chiang Mai I visited several travel agencies that offered the same two options. One option was to visit the hot springs, Wat Rong Khun known as White Temple and Black House. The second option was to visit, in addition to these three places, other attraction, such as the border crossing between Thailand and Myanmar, Golden triangle or "tribes", better known as human zoo. I chose number one because we stayed longer in Chiang Rai and we were able to see properly White temple and Black house without rush comparing with option number two, which means you have 5-10 minutes to see each place, make a picture, move to another place, make a picture, end so on, and most of the time you spend in the bus.
And now I know that I did right decision, because the whole trip costs me around 800Baths, for comparison, one way from Chiang Mai to Chiang Rai by bus is around 200-250Baths and I saved also two days of traveling.
Thaweesin hot springs
We started off early in the morning and we our first break was at Thaweesin hot springs. The hot springs are located in the parking lot, so the surrounding is not very natural. Next to Thaweesin hot springs were stalls with food. You can buy the eggs that are cooked in the hot springs and serve it with the food.  In the area of Thaweesin hot springs you can see a place that looks like a well where eggs are boiled, geysers and ponds with hot water where you can put your feet. Be careful, almost every day some tourist slip and has bath of all body, not only feet.
White temple in Chiang Rai
After longer part of our journey we arrived at Chiang Rai. The bus driver took us directly to the highlight of today's trip to Chiang Rai, to the White Temple. Our tickets were already bought; otherwise the entry fee charged to the white temple is only 50 Baths.
Wat Rong Khun also known as the White Temple is Buddhist temple which is privately owned by Chalermchai Kositpipat, who designed, constructed, and opened it to visitors in 1997.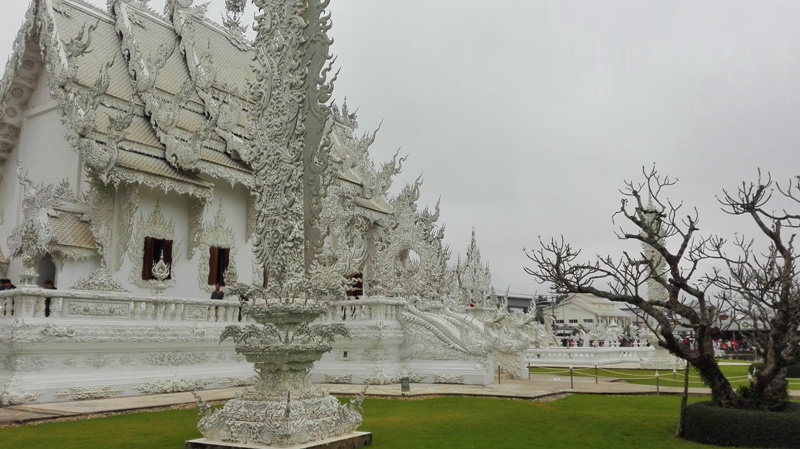 By the end of the 20th century, the original temple was in a bad state of repair. Funds were not available. But local artist Chalermchai Kositpipat decided to completely rebuild temple with his own money. He considers the temple will be an offering to Buddha and believes this project will give him immortal life. So far Chalermchai has spent THB40 million for renovation and still continue.  When completed, the white temple will have nine buildings. Works on temple are not expected to be completed until 2070.
When you enter White temple you will see The bridge of the cycle of rebirth.  In front of the bridge above lake are hundreds of outreaching hands that symbolize desire. The bridge proclaims that the way to happiness is by foregoing temptation, greed, and desire.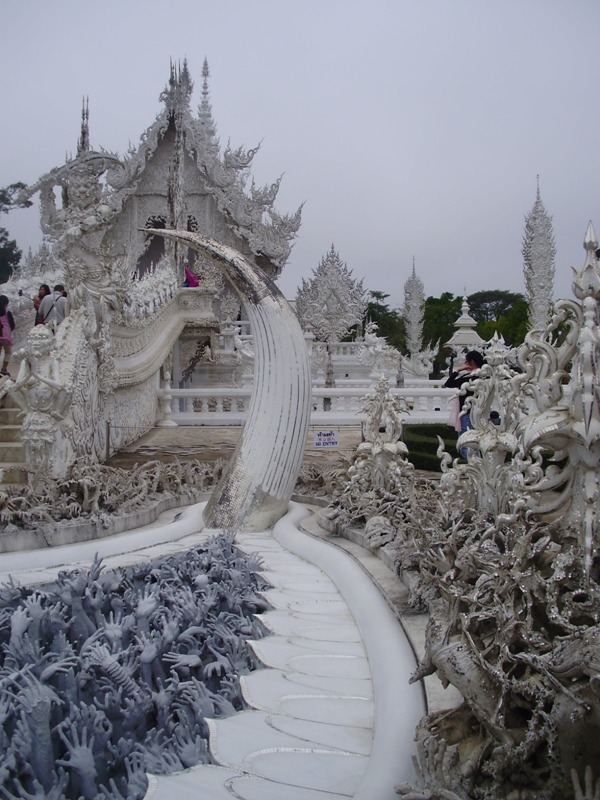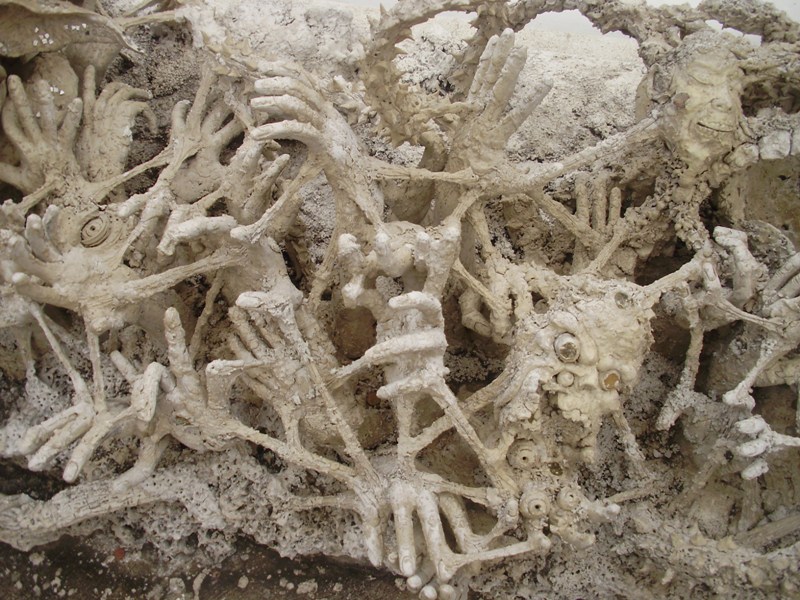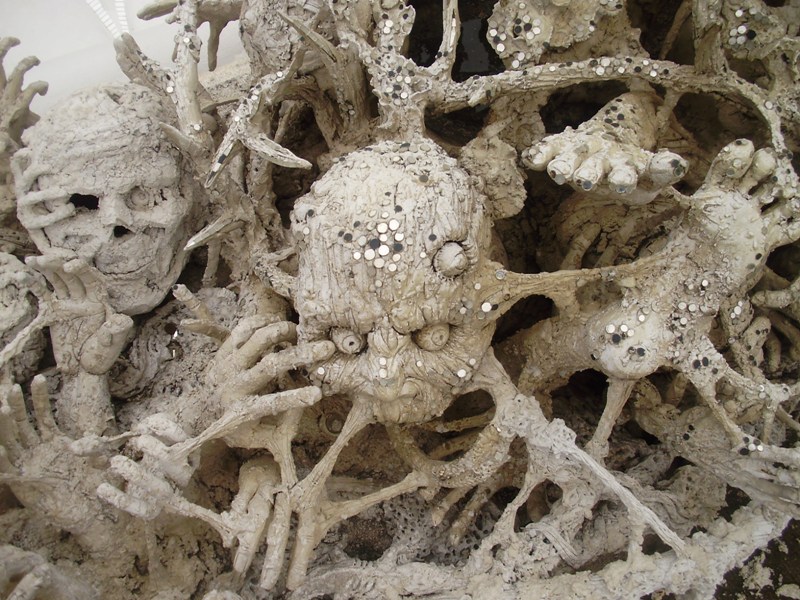 Next to the lake you can see two creatures from Buddhist mythology. After the bridge, you will arrive at the gate of heaven with two creatures that represent Death and Rahu, who decides the fate of the dead.
Inside the main building which is called Ubosot is prohibited to use camera. You can see images of orange flames, demon faces, idols such as Michael Jackson, Neo from The Matrix or Harry Potter, Superman, nuclear warfare, terrorist attacks and destructive impact that humans have had on earth. Message is clear: people are wicked.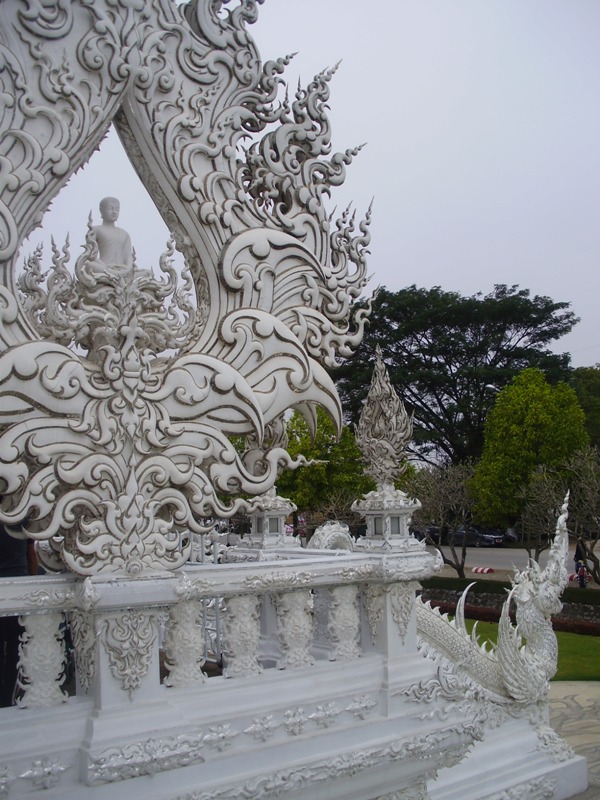 Next to White Temple in golden building are located one of the most beautofull toilets I visited. This golden building represents the body and white temple represents the mind.
Black house Baan Dam in Chiang Rai
Our last stop in Chiang Rai was an interesting, strange and bizarre Black House or Baan Dam, which surprised me very much because I expected only one house. I couldn't imagine what this area of Black house can offer for seeing and exploring.
Black house is the museum of artist Thawan Duchanee who unfortunately passed away in 2014 at the age of 74. This museum is full of death, blackness, because intention is to represent the darkness inside man.
There are many buildings and nice garden.  Everywhere are scenes, items, sculptures, animal sculls, horns that symbolize some kind of darkness.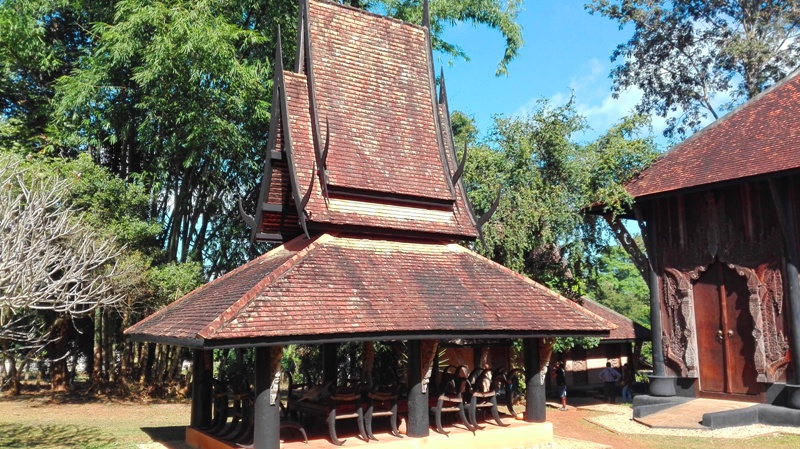 I thought that White Temple is the best place to visit in Chiang Rai, but I was wrong. The best place to see in Chiang Rai is Black House, which is really one of the most impressive attractions in Thailand.