Exploring Amazing Tweechol Botanical Garden in Thailand
My plan was visit places out of the beaten path while staying in the north of Thailand and Chiang Mai. Tweechol Botanical Garden is one of these secret places. For me the secret is why?
In the morning I visited Bor Sang umbrella village I came back to the station on the Worrorot market and took the yellow bus going to Doi Saket. I told the driver to drop me off at Tweechol Botanical Garden. The price of the bus from the Worrorot market to Tweechol Botanical Garden was only about 19 bahts. It's about 20-30 minutes ride.
This botanical garden is simply amazing. At the entry gate you can also borrow a bike for 100 bahts for the whole day. I wanted to explore this botanical garden properly, so I decided to walk. And my decision was right because I can't imagine how I would constantly make a pictures and ride at the same time.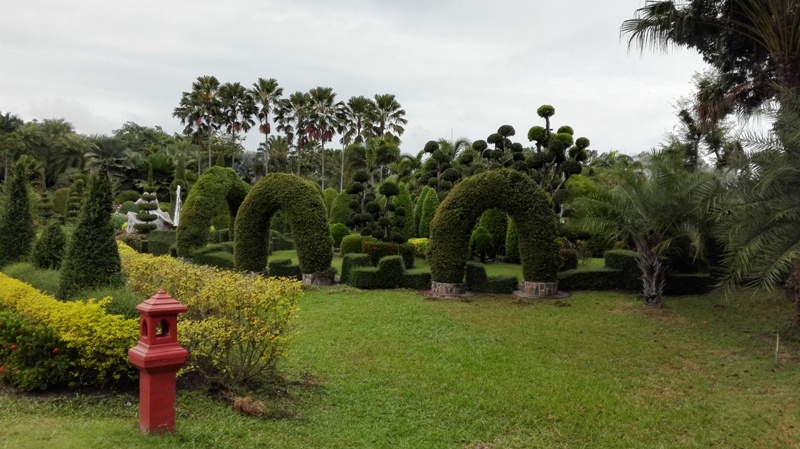 Tweechol Botanical Garden has one of the largest collections of plants in Thailand collected over the years. It is very well maintained. It has small zoo, labyrinth, rock formations, ponds, pools, bridges, waterfall and over 107 varieties of palm trees from around the world, topiaries, which are crafted into animal shapes such as dinosaurs, giraffe, camels, and birds, 4 domes displaying various kinds of exotic plants. It is like a paradise. This botanical garden was one of the best places I visited in Thailand.
I spent there almost 3 hours walking the paths and did not see all that what was available to see. Sometimes I had feeling of being in other planet. For me it was oasis to enjoy and relax after days spent in Chiang Mai.
On return, I just cross the highway and on the other side of the road I flag and yellow bus again, which dropped me on Worrorot market.