How to make scary journey to Pangong lake more enjoyable?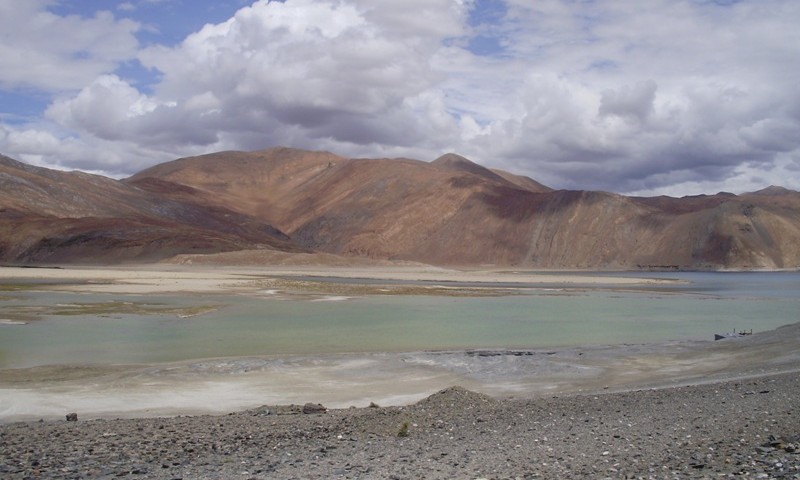 My next dream comes true when I see the beautiful Pangong Lake. Pangong Lake or Pangong Tso lies on the border between China and India and is 134 km long. The water in the lake is salty and no animals live in the water. Interestingly, the water freezes during a winter despite its salinity. Altitude of the lake is about 4 350 meters, so when you want to visit it, you have to go on dramatic Himalaya road.
I went there with my father and his colleague, who traveled India at the same time as me and our paths come together in Leh 2 days ago. Journey to Pangong Lake took about five hours. It was dangerous, but wonderful journey with lots of nice views.  So I recommend to all who decide to visit this beautiful lake to not think about the danger, but to enjoy the incredible and untouched nature around them. It's worth it!
We left early in the morning; first we have met our nice. He was immediately fond of me. It was raining at the beginning of the journey in Indus valley. Then we went around Shey monastery and started to go up, higher to the arid mountains. When we were high enough, there was a nice view of the fertile green valley below us.
Then the journey began to be dangerous. Curves were very steep and below us were huge abyss. The road was slippery. We saw a car wrecks in the reefs.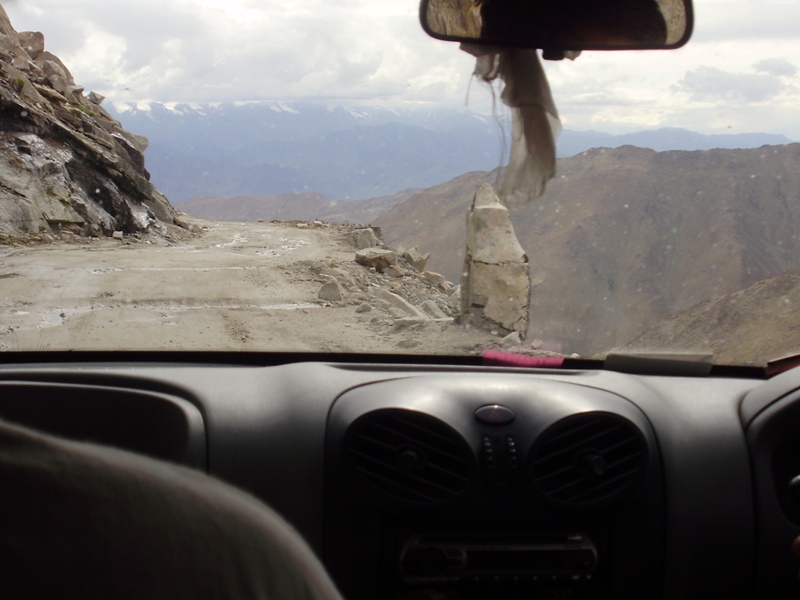 We continued going up, until we reach an altitude where snow not melt. This part of the road was the worst and lack of oxygen began to show.
We sat in silence in the car and waited for the highest point of the road Changla Pass. This pass is incorrectly labeled as 3rd highest motorable pass in the world. Here we made the first break. We did photos of the pillar, which shows the elevation of the pass. It shows 5,360 meters above sea level. It was terribly cold and I didn't take any warmer clothes with me only one blanket. When our driver saw it, he brought me his warm things from the car and gave it to me.
We moved on. We started to go lower to an altitude where snow was no longer. Another interesting thing on our journey was keepers of the yaks and huge herd of yaks.
Since the last break at Chang La Pass hasn't been a long time but we had to stop again. This time unwillingly, because we got a flat tire. On these roads, it is quite common, so our driver just smiled and without nervousness started to exchange the wheel.
We got a flat tire really in middle of nowhere. Around us was nothing, only rocks that towered high above us.
After about half an hour driver fix it and we again headed toward expected Pangong Lake. Along the way, the middle of nowhere, I saw these local boys who were sitting on the stone. I was thinking who it could be and what they were doing here, because there is no civilization around.
As we went lower and it began to warm up. The driver made a second scheduled break, which was in oasis of tranquility as we called it. It was a place full of positive energy. The parched rocks contained a small area with greenery, where one family lives and we could order drinks or food. There was small stream on the end and from everywhere we could listen bird singing. The positive energy didn't go just from the place but from the people who worked and lived there.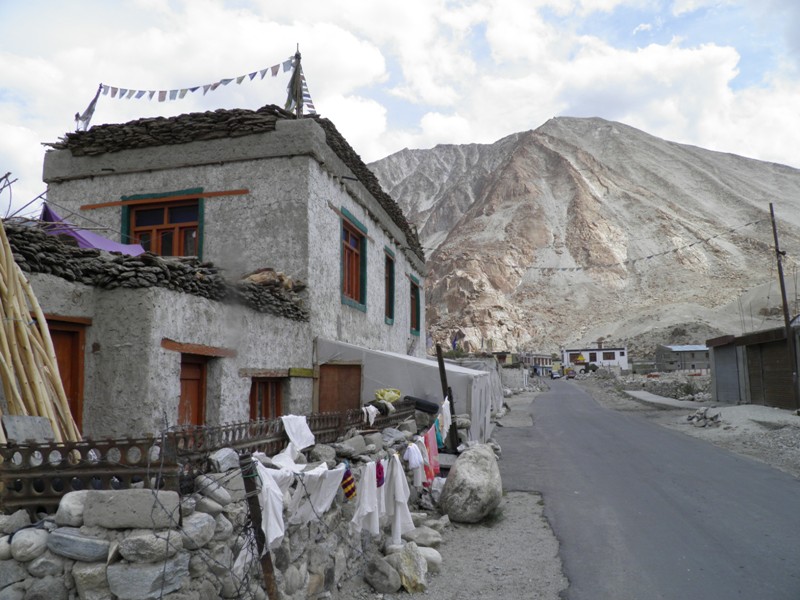 The last and the most beautiful part of the trip was the valley that extending to the Pangong lake. Around us were incredible sceneries of mountains and valleys.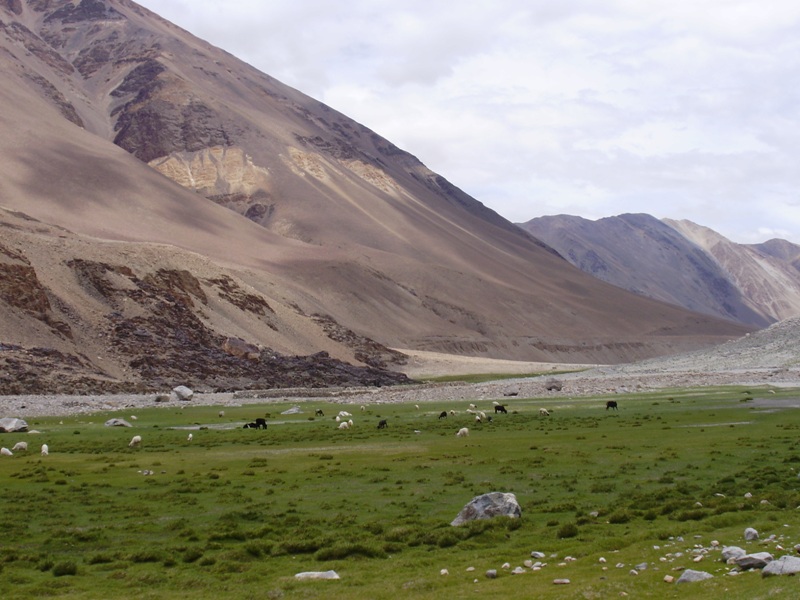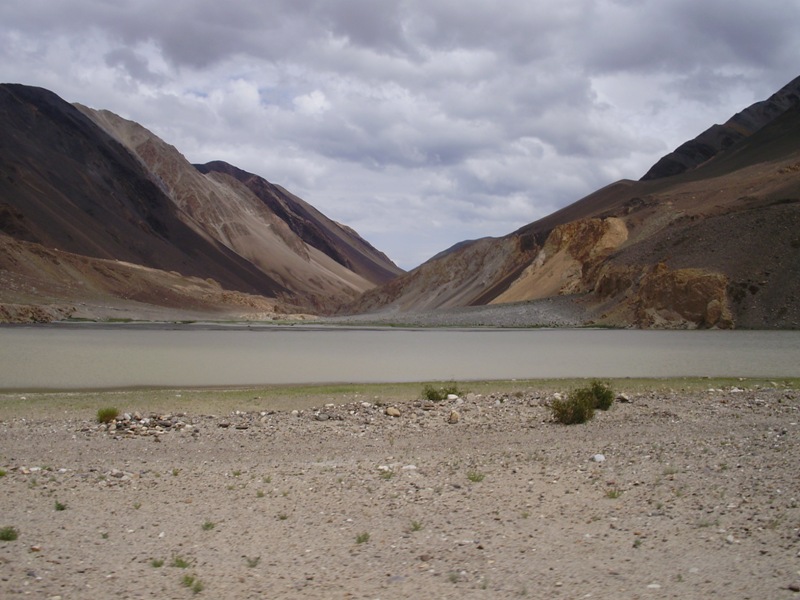 And then it happened. The first time we catch a glimpse of Pangong Lake!
So I am here! Pangong Lake! My dream came true again!