13 reasons why I love Thailand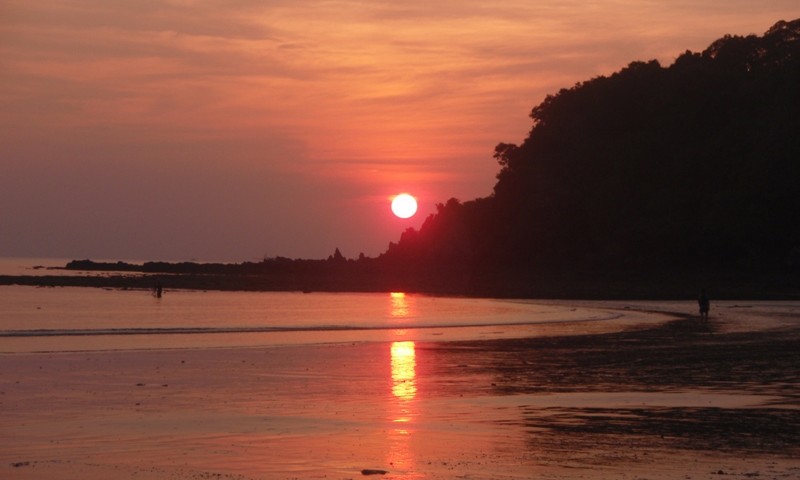 I avoided Thailand all my life as much as possible. Thailand seemed to me too commercial and full of tourists. But before Christmas rainy season in Indonesia began and I started to feel that I need more social life, meetings with tourists, parties etc. Thailand is not far from Indonesia, so I bought one way ticket and one week later I landed in Phuket – one of the most visited destinations in Thailand. It turned out that I stayed unscheduled two months in Thailand and visited many destinations. And why I love Thailand? I have made my list of reasons:
1. Madness in a positive way
It's strange but since I started traveling I could somehow feel the spirit of the country. This immediately happens when I arrive to the new country. It means that after a few minutes spending out of the airport I immediately get strange feeling. This feeling tells me what new country will be about and what kind of athmosphere will be in the air. For example, it was spirituality in India, peace in Nepal and in Thailand it was something amazing. I can identify that as a madness in positive way connected with strange vibrations. Anyway, I felt great after first minutes in Thailand.
2. Cheap and clean accommodation
Thailand is cheap; it is not the cheapest country in southeastern Asia, but still is cheap enough to spend 2 months there without bankruptcy. For me was very important to find cheaper accommodation and usually I got lucky. Not only because of price, but also because of quality of rooms and bungalows where I stayed. Thailand is the cleanest country from Asia I have visited. Even the cheapest rooms were clean, had everything what I needed and were safe. I have never had problem to find accommodation although I traveled in Thailand during high tourist season – December until February and I have never booked accommodation before I came to destination.
3. Amazing nature and beaches
Nature in Thailand in simply amazing!!! What I really like is that Thai people are trying to keep nature clean, at least in tourist destination. Whether you spend time at the beach or in the mountains in the north you will find places what you dreamed about all your life. When I came to Koh Tao I had feeling that I came to the artificial world with artificial white sand, turquoise water, palm trees and artificial huge polished stones. I thought I am in the dream.
4. Buddhism
Buddhism in Thailand is largely of the Theravada school, which is followed by 90% of the population. For me, it's religion or philosophy of peace and tranquility. You can see Buddhist ceremonies at temples, monks in the crowd walking and smiling at you, Buddha statues and symbols all around the country.
5. Temples
If you have enough admiration of natural beauty in Thailand, you can make a change and visit Thai temples. There are an estimated 40000 Buddhist temples in Thailand therefore you are never too far to visit some of them. Among the most beautiful and busier are considered Grand Palace in Bangkok, Ayutthaya and White temple in Chiang Rai.
6. Very well organized and comfortable transport
There is no problem to come to Thailand without pre-booked transport to the final destination, because everywhere around Thailand you will find travel companies, where you can book buses, ships, planes wherever you want. You can make reservation even the same day, when you want to travel. Transport is very well organized, fast, comfortable and cheap.
7. Delicious cuisine
In comparison with neighboring countries, Thailand has amazing tasty cuisine. Thai people use a lot of vegetables, so meals are very fresh, what is good in a warm environment. You can choose between spicy and non-spicy meals, vegetarian or non-vegetarian meals. There is plenty of dishes with fishes and seafood. In some restaurant, chef killed them in from of your eyes to make you sure that meal will be fresh. If you are in Thailand you should try various exotic fruits and juices. For connoisseurs Thailand also offers specialties such as grasshoppers, spiders or fried scorpions.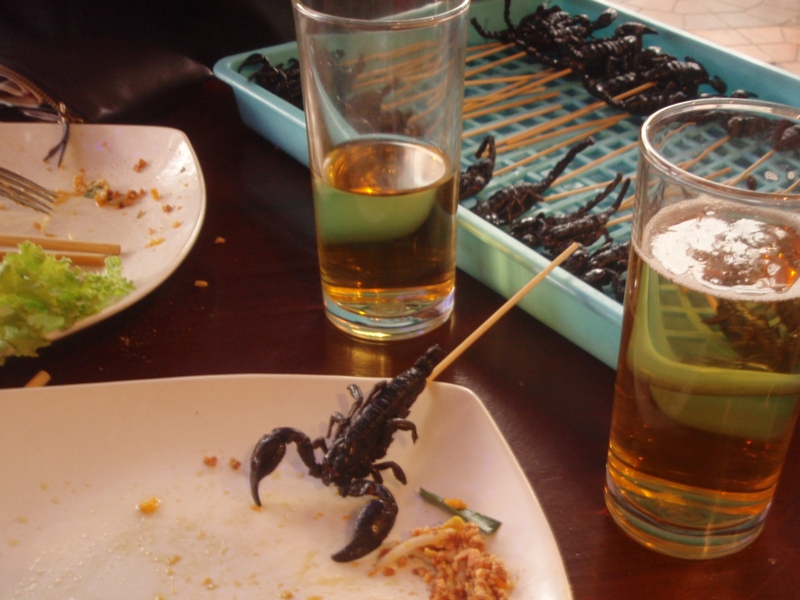 8. Feeling of safety
For me as a solo female traveler is feeling of safety very important. In every country I have traveled until now I had at least one bad experience or feeling of danger for some reason but it never happened in Thailand. Few times I went back to hotel late at night or was in abandoned areas but I was never scared. Thai people are peaceful, smiling people that will try to help you or give you advice, not to hurt you.
9. Thai kitsch
I must admit that I hate kitsch in Europe. But it Thailand kitsch seemed to me quite funny. In the popular tourist destinations everything is shiny, everything flashes. You can buy colored flashing headbands and when you wear it, noone will alienate you. On the streets you can buy all types of kitsch items including masks, shining sword and artificial shits.
10. Tolerance
In principle, all the people tolerate each other in Thailand. Tourists from around the world tolerate each other, Thais tolerate tourists, and tourists tolerate Thais. All people tolerate pets and animals, no one condemn prostitutes and lady-boys, even in some mysterious way cats and dogs tolerate each other as well. All people live here in some special kind of harmony and from this harmony radiate a feeling of incredible freedom.
11. You are alone, but never lonely
I was thinking how much I love the feeling when I travel alone around the world . I came here alone, but for the whole two months except couple of days I was never alone. I have met so many wonderful people and I have so many amazing moments with them that I will remember this trip for a lifetime.
12. Happiness in the air
I think the Thais adapted country by what people around the world need to feel good. Purity, high quality accommodation for a relatively good price, maintaining nature and beaches, very well organized and comfortable transport, easily accessible sex, alcohol and lots of fun. When people have all these things they are happy. And tourists are really happy in Thailand so these vibrations of happiness spread in the air. Therefore smiles come from everywhere all the time, not only from the Thais, but also from the masses of people from around the world.
13. Addiction on Thailand
About Thailand is said that when people visit this beautiful country they will return back . Before I went to Thailand, I would never think this happened to me as well. And now I know and I am sure, that I will visit Thailand again.
And what about you? Why do you love Thailand?