Hemis monastery – the biggest gompa in Ladakh
Hemis village has wide range of hotels from budget to luxury, locals offer homestay facilities as well and monks provides overnight stay in Hemis Monastery, but we decided to visit place in a one day. Hemis Monastery is situated only 45 km from city of Leh. Monastery has access by motorable road. At first we took local bus in the morning at bus station in Leh. We got off close to the Monastery, on the crossroad where we hire a prepared car, that drove us directly to the Hemis.
The bus was completely full, but we have already become accustomed. Surrounding of Leh – Hemis road is picturable, so we admired nature and Himalays all the way.
When we arrived, we saw huge colorful gompa that sits in the mountains. It is the biggest and richest monastery in Ladakh. The monastery was re-established in 1672 by the Ladakhi king Sengge Namgyal. Now the monastery has more than 200 branches with more than 1000 monks.
At first we explored terrace outside and then we continued exploring what is inside the monastery. Within the monastery there are to be seen a copper-gilt statue of the Lord Buddha, temple devoted to Padmasambhava, who brought Buddhism to Tibet, stupas made of gold and silver and sacred thankas.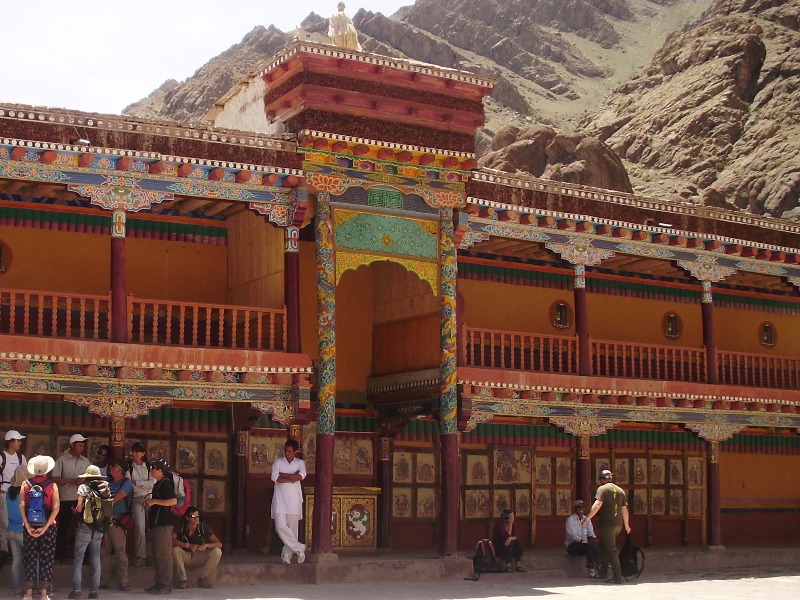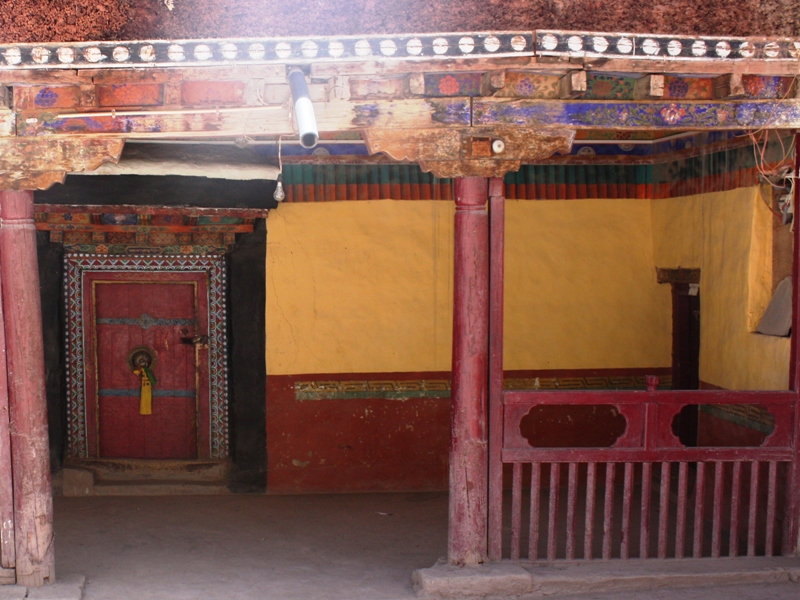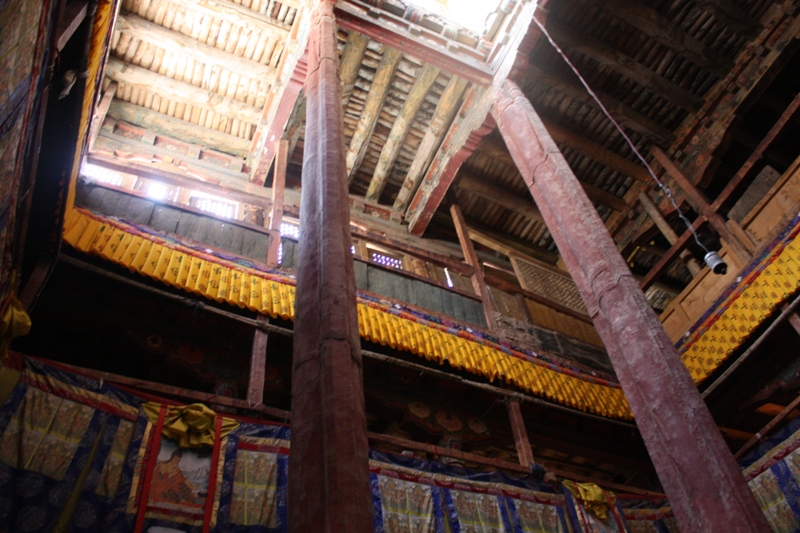 Hemis monastery includes an extensive museum with some very precious religious treasures and items like spurious tiger skins, skull vessels, swords and a bra-shaped wooden cup-case. Don't forget to visit this museum.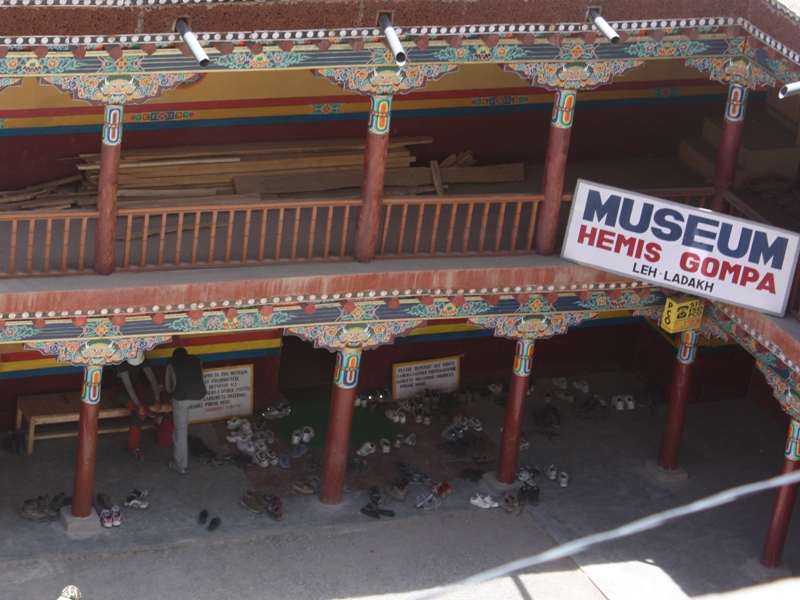 On the side of monastery we noticed small stairs. We climbed up to the roof, where are situated many of religious items. At the rooftop we admired view of the monastery from above and valley with snowy peaks of Himalayas.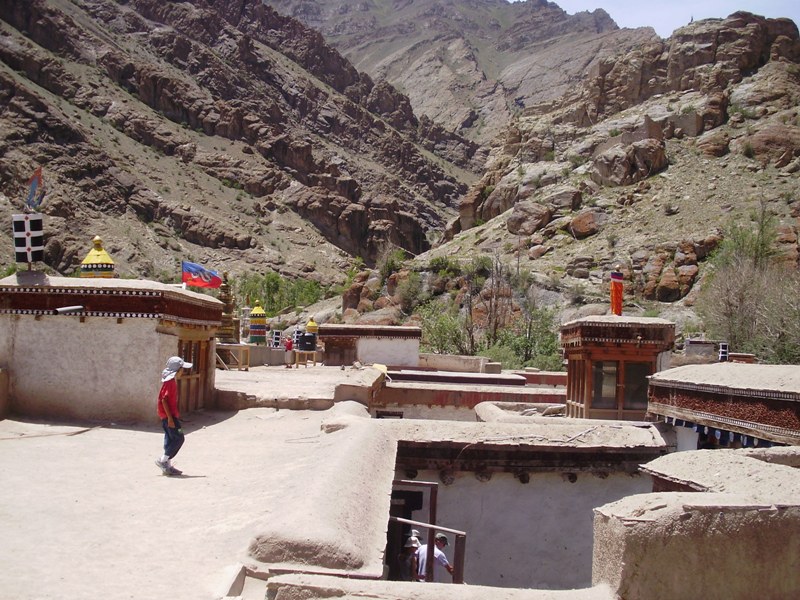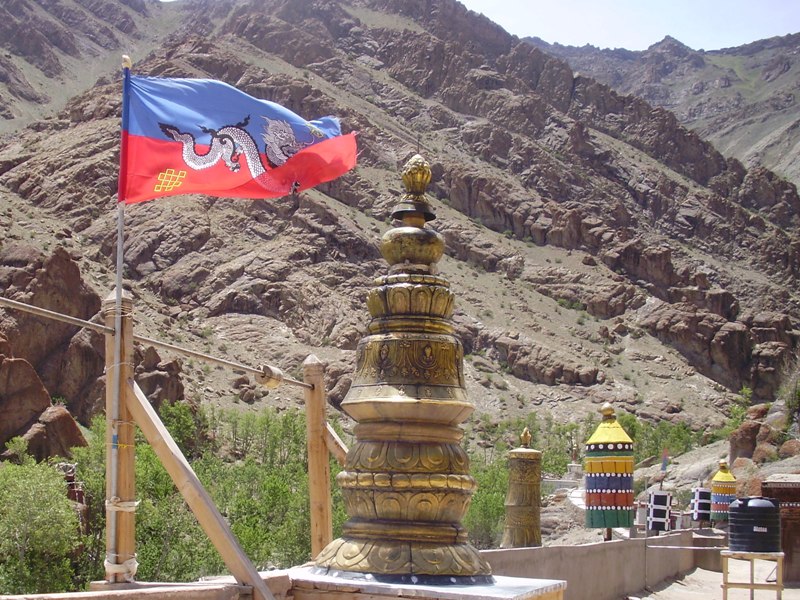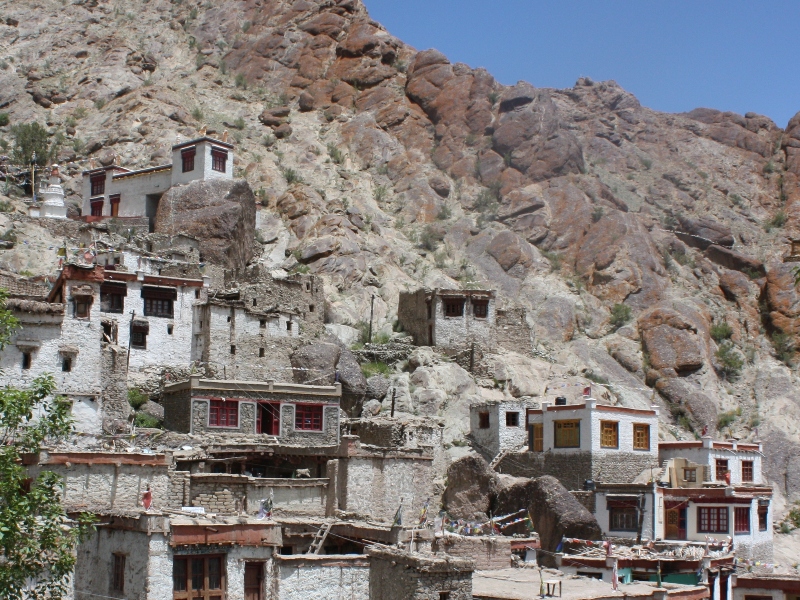 Hemis Monastery has a particular significance, those who believe that Jesus may have come to India and the Himalayas during his "lost years" between 13-30. Nicholas Notovich (Russian writer) allegedly visited Hemis Monastery, where a monk gave him a remarkable translation of a manuscript, which stated that Jesus had visited India. This manuscript has since disappeared, but people believe that it is only one of numerous manuscripts that allegedly state that Jesus visited India.
We spent in Hemis monastery few hours and then took a car that bring us to the Stok palace, but unfortunately it was close. So the driver took us to the crossroad for a few rupiah, where we waited for a bus back to Leh.
Hemis monastery is also famous for its annual buddhist festival. The festival marks the birth anniversary of Guru Padmasambhava, the incarnation of Lord Buddha. Different dances are performed by the Lamas clad in rich lobes of china silk and brocade. The dancers wear mystic masks and show performances known as chams performance. The Hemis Gompa festival is celebrated for three days from the 9th to the 11th day during the fifth month of the Tibetan calendar.