Diskit monastery, Maitreya Buddha and Khardung La Pass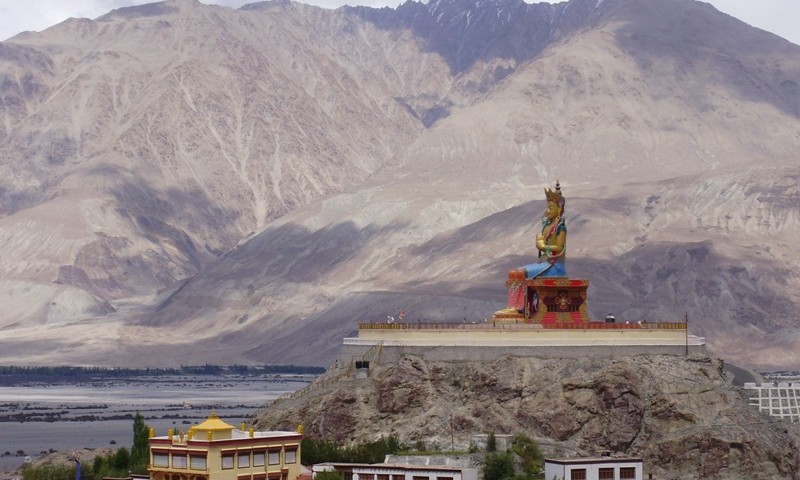 When we left the herd of Bactrian camels we had to find a car that drove us to the taxi station in the Nubra Valley, because we didn't realize that Hundar is far from that place. We found a house in the middle of nowhere between the dunes. We saw a man in front of the house so we tried to communicate with him using our hands and feet. He agreed to take us take us to the parking lot.
Upon arrival at the taxi station man who worked there scared us because he put small papers on the table and raffle driver who will take us back to Leh. I didn't know why they do that but it seemed to me that local drivers are scared to ride the road from Nubra Valley to Leh. So we got our driver, what meant that the man literally had our lives in his hands.
We got on our car and we went to the Diskit monastery from where is a very nice view of the Maitreya Buddha and Nubra Valley.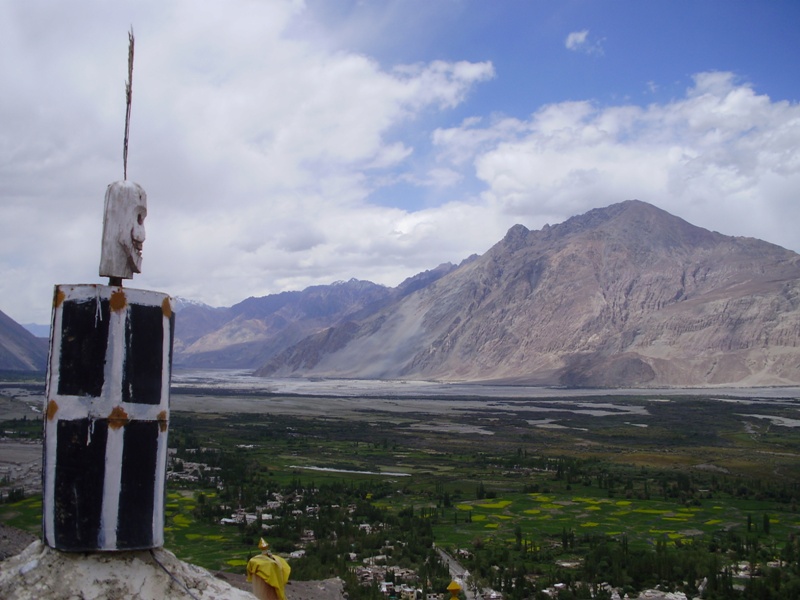 The statue's construction was started in April 2006 and it was consecrated by H.H. the Dalai Lama on 25 July 2010. The statue was built with three main functions – protection of Diskit Village, prevention of war with Pakistan and to promote world peace.
This impressive 32 meters statue on top of a hill below the monastery faces the Shyok River towards Pakistan. Most of the money for construction came from local donations. The Head of the Gelugpa, Ganden Thipa, who is the reincarnation of Tsongkhapa and Abbott of Rizu Monastery gave 8 kg of gold for its decoration.
We watched a monastery and we set off on dangerous journey to Leh which take several hours. At first I was scared, but then I realized that the car will be much more comfortable, faster and safer compared fearsome journey to Nubra by local bus.
The road has passed quickly. First we admired the beauty of the Nubra Valley. The driver showed us a place where two valleys were connected. He told us that they lead to China and Pakistan.
Then we passed through sand canyons until we got to the worst part of the road just before Khardung La pass (5359 m), world's highest motorable pass. Fortunately we didnt have to avoid any car or bus and the weather was good.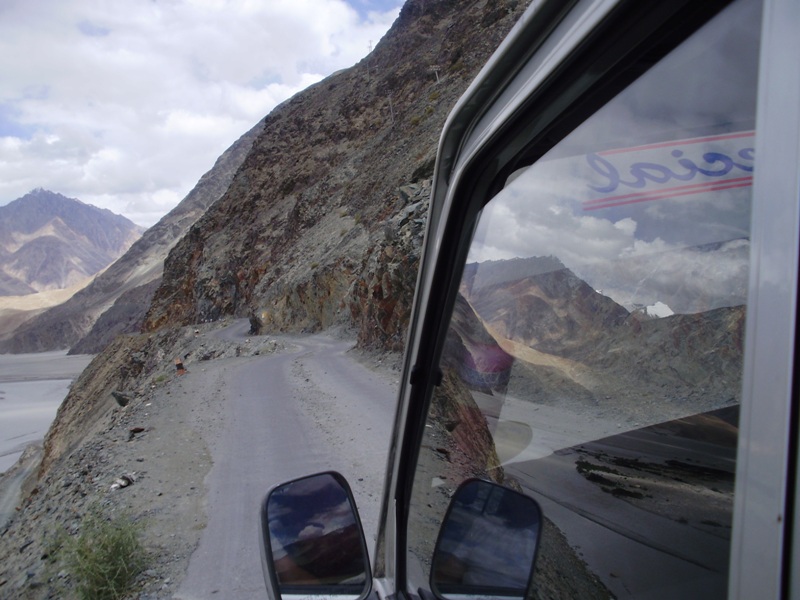 And this is the top of the hill in the Himalayas where there is this famous mountain pass.
And here we are – Khardung Pass. The driver stopped us, so we made photos and went to hang Tibetan flags. We started to climb the hill above the road where there were thousands of them. I was rising quickly the first few meters and it made me realize that I cannot breathe. I was gasping for breath for about a minute, until I repaid oxygen debt. It quite frightened me. Then I hung up my holy flag. From above was a nice look at how high we are and to the highest cafeteria in the world.
Then I did an experiment with smoking. Lighter does not work in this altitude, so I Indian tourists helped with matches. I  lit cigarette, but it was harder to smoke because it didn't burn. It was quite funny.
We sat with smiling faces to the car and went down to Leh. At a certain altitude during sharp dropping we all started to laugh a lot. It is caused by a substance that your brain secretes during rapid descent at higher altitudes. And in this good mood we arrived in Leh.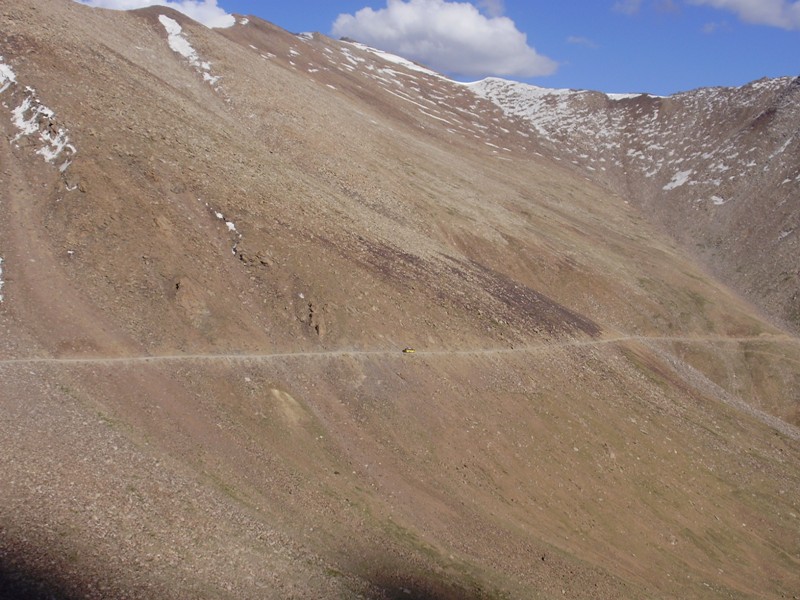 When we arrived to the Guest House, Koltos wife was pleased when she saw us. She told us that Kolto today to the bus station ask if any bus didnt fall into the abyss, because we didnt returned yesterday.
Kolto came back and his face shown that he relieved. He began to apologize to us, because he deceived us about the road conditions. When we told him our experiences from the journey, the whole situation annoyed him even more.
At the end of the day we laughed together at everything and we agreed that if Kolt didnt deceive us, we couldnt experience such an adventure. It was exactly the same situation as a few days ago, when I was deceived by Kolt about rafting on the Zanskar River.
It was my second last day in Ladakh. And it made me sad. I went to buy some souvenirs and said goodbye to people I met here. On the day of departure, I hardly reconciled with the fact that I am leaving my father, Sona and Koltos family and going travel alone to southern India.