One of the most dangerous road from Manali to Leh (Part 1)
Total length of road from Manali to Leh also known as Manali Leh highway, is 490 km.  The average elevation from Manali in Himachal Pradesh to Leh is more than 4,000 m. The highway crosses some of the highest mountain passes in the world: Rohtang La 3,978 m and three passes in Zanskar range Baralacha La 4,892 m, Lachulung La 5,059 m and its highest elevation is 5,328 m at Tanglang La mountain pass.  The Manali Leh highway consists of generally bad stretches of roads, snow crossings, water crossings and landslides. It is one of the most dangerous roads in the world.  For me road from Manalito Leh was the scariest, but the most beautiful road I have ever done.
We booked a minibus the day before in Manali. We suppose to be at the place of meeting at 2 in the morning. I couldn't sleep the night before at all because I was very nervous and scared. At the place of meeting were 3 minibuses. Minibuses tend to go together in colony for safety reason. We started our journey at 4am from Manali. When we left I asked one Indian boy in minibus, who has already done this journey, if he is afraid to do it again. His answer really calmed down me, because he answered me: Yes I am very scary!
After 2 hours of journey we almost passed Rohtang Pass. There is no rainfall between Rohtang pass and Leh even during the monsoon season in July–September as the entire region lies in rain-shadow. But because it was early July there was a landslide and huge stones fell on the road. So we had to stop for 12 hours in altitude around 3800 m. First we waited for barges, which came from Manali to get those stones out of the road. But one of stones was too huge that even barges cannot move it. So we had to wait in traffic jam on the army, which brought explosive. The explosive was placed in a stone and fired. People were afraid of that because the army said that when detonation is not done well and vibration from detonation is too strong, other stones  on unstable waterlogged terrain may fall on cars.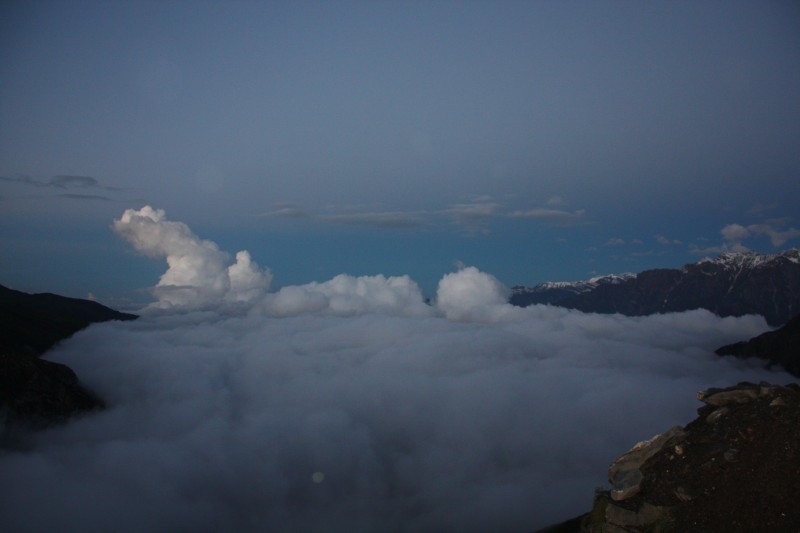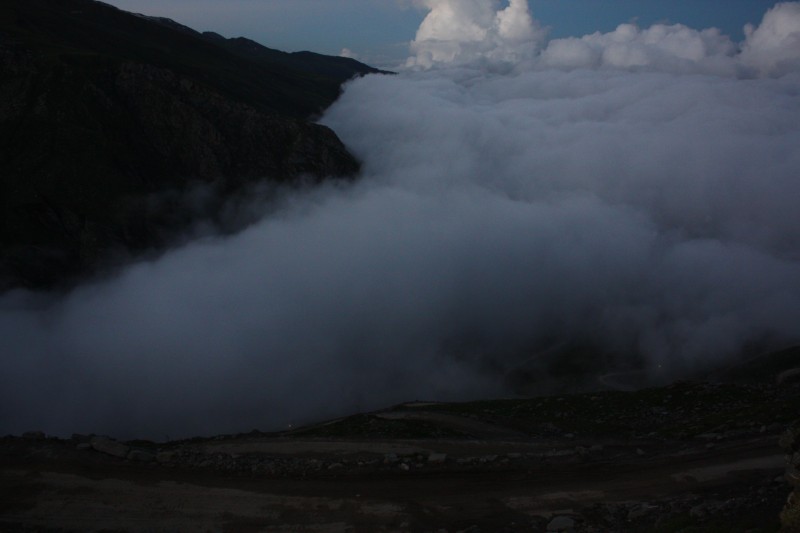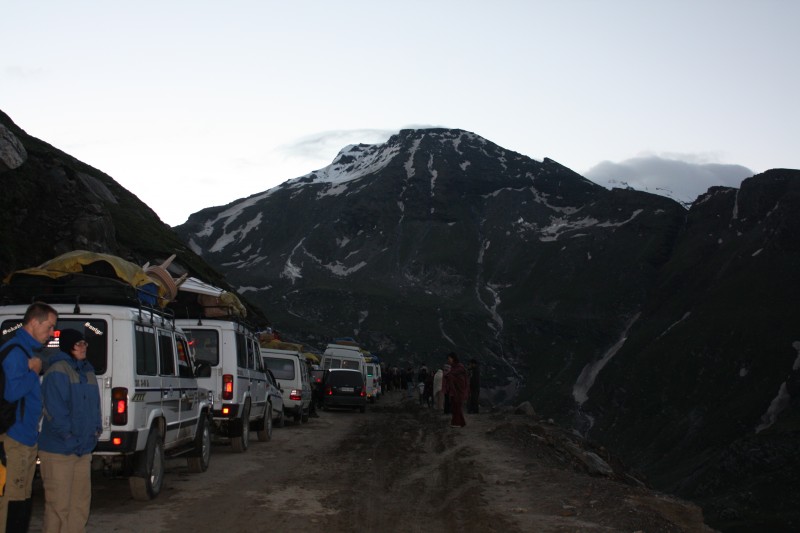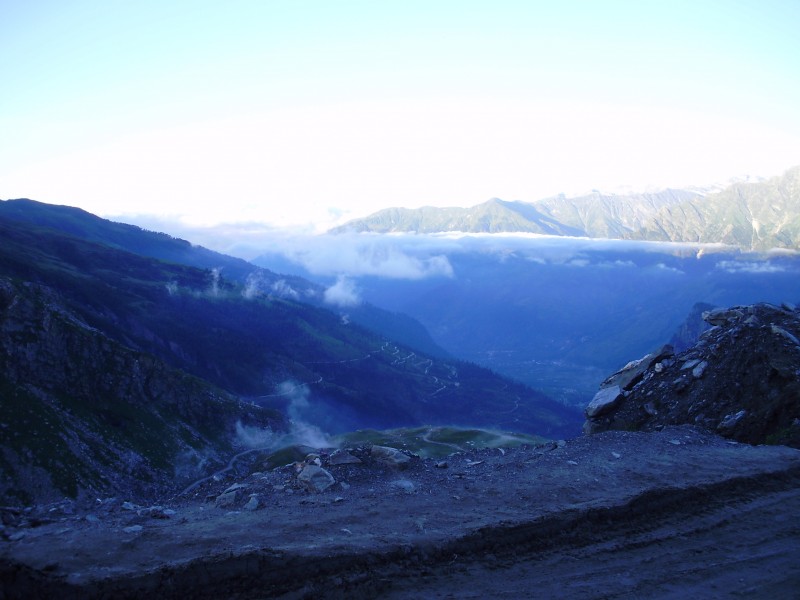 I did the latest photo from the day this morning just before we were finally moved after 12 hours. I enjoyed it for about 2 minutes and then I wanted to jump out of the minibus. We went through the muddy slippery path. On one side was the gap so deep that we almost didn't see the bottom. We could feel how unstable our minibus was. After a steep and dangerous descent we stopped for a tea break.
Before the sunset we moved on another part of journey. Driver of  the truck who drived in the opposite direction told us that a few kilometers later is landslide. Our driver decided to avoid another landside so he chose second path which he called "shortcut". The driver went extremely quickly. When we tried to tell him to slow down, he only yelled to us: Shut up! It is strange but during those moments I calm down and reconciled with the possibility of coming death. I closed my eyes and waited for what was going to happen. The biggest paradox in that situation was listening music bands such as Backstreet Boys, Spice Girls or Makarena in the minibus which were probably favorite bands for our driver. After almost two days without sleep we stopped at Darcha at midnight.
Darcha has tented accommodation run by some local residents. When we arrive there people from our minibuses went directly to the big tents and occupied space for sleeping. I with boys tried to do the same but there was space only for 2 more people. Suddenly one Indian man come and invited me and one Czech girl to his tent so boys could stay in the main tent. He was police men and he share big shelter with his coworker. He gave me bed with warm fur blanket. Czech girl slept in the floor, but when we compared our places with main tent where everybody stayed our place was like 5 start hotel. Policemen prepare tea for us and we smoke one cigarette. I thought about security of that place. But I was so tired and so grateful for the bed that I immediately fell asleep. It was probably the dirtiest bed I ever slept on but that moment it was the most appreciated place where I could be.
The next day our journey continued. We had to do longer part of the road from Manali to Leh. We had to wake up at 5 in the morning. When I came out from the tent I saw beautiful mountains around me. It was cold weather. We bought a tea and eat some cakes we bought before. Our drivers prepared minibuses. While I was staying near our minibus I noticed the inscription which was written on the window: This road is dangerous. It was probably message from the group that has done this road before us. But surpricely I felt good. Those 5 hours of sleeping helped me a lot. I didn't feel so tired and wasn't scared like the day before. So that day I really enjoyed the journey.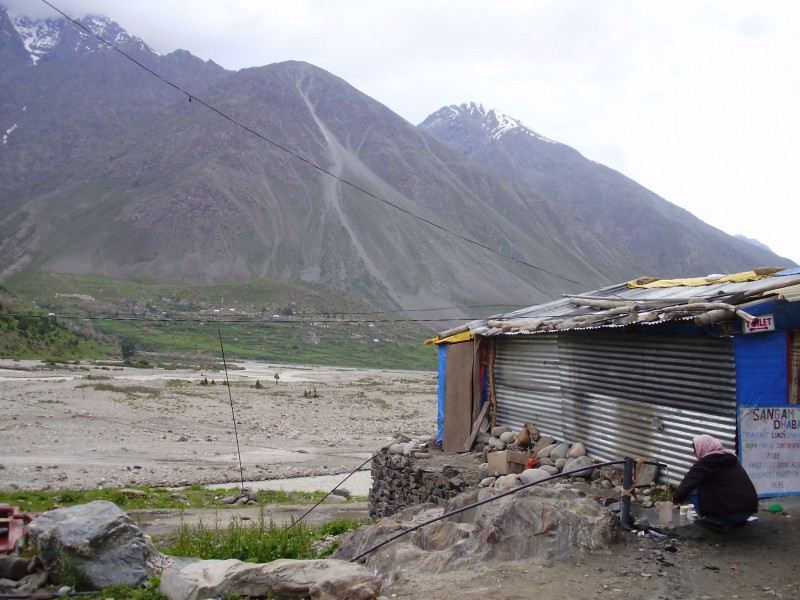 We move up and we approached to the second pass Baralacha La (4,892 m). The countryside around us was full of snow and ice. It was very cold so we had to close all windows and wore all clothes we had with us. We suddenly felt luck of oxygen. After Baralacha La pass snow was gradually losing and we began seeing deep canyons along the road.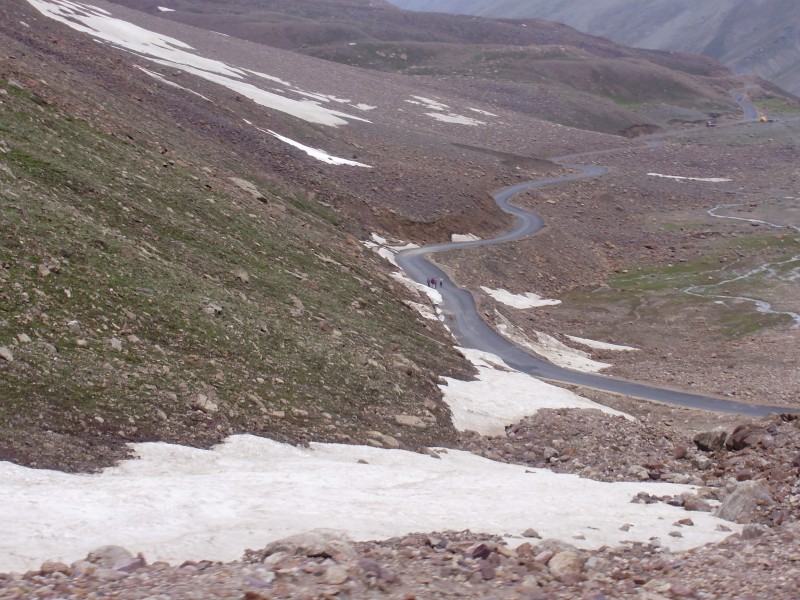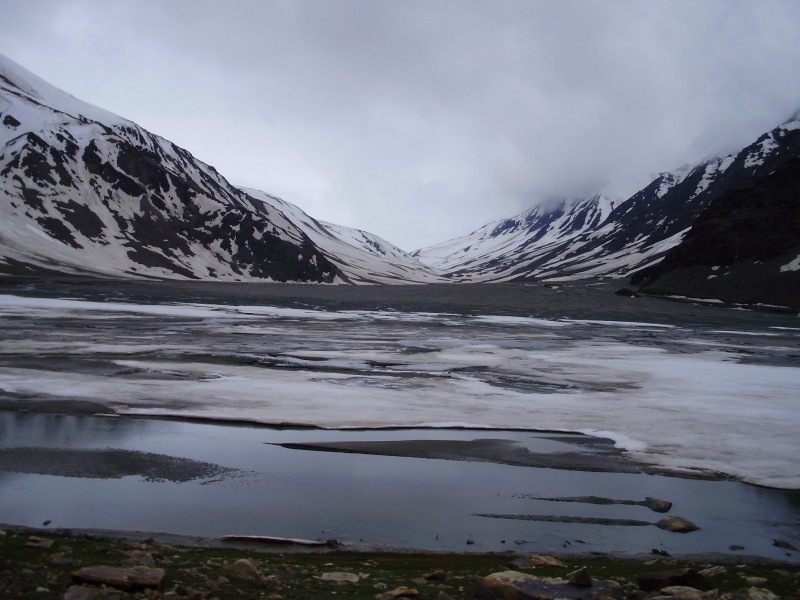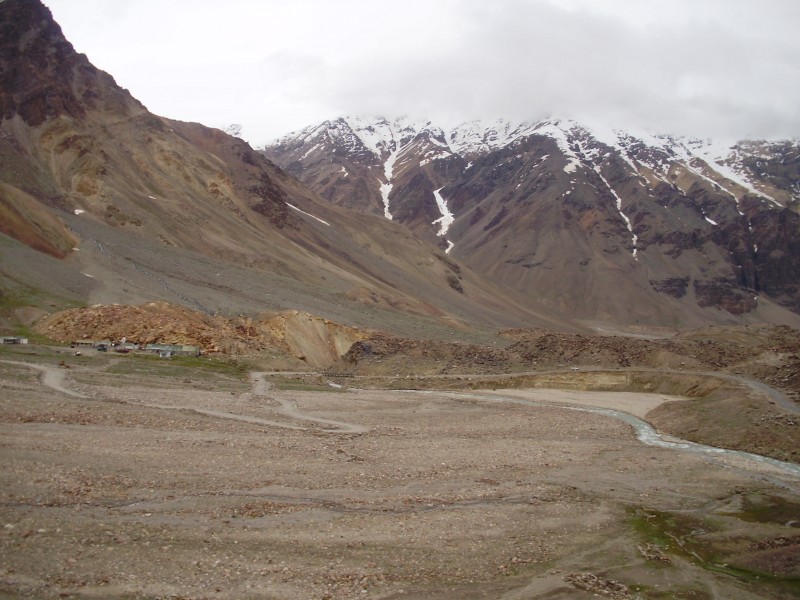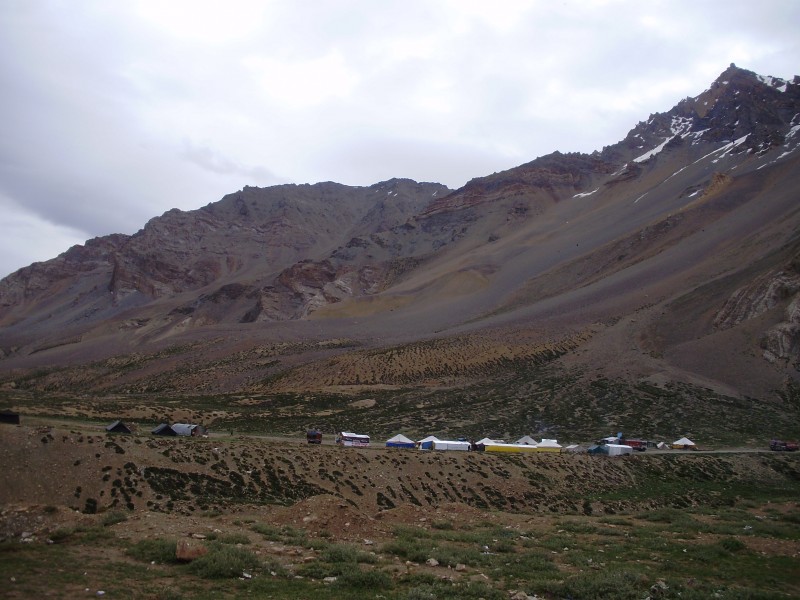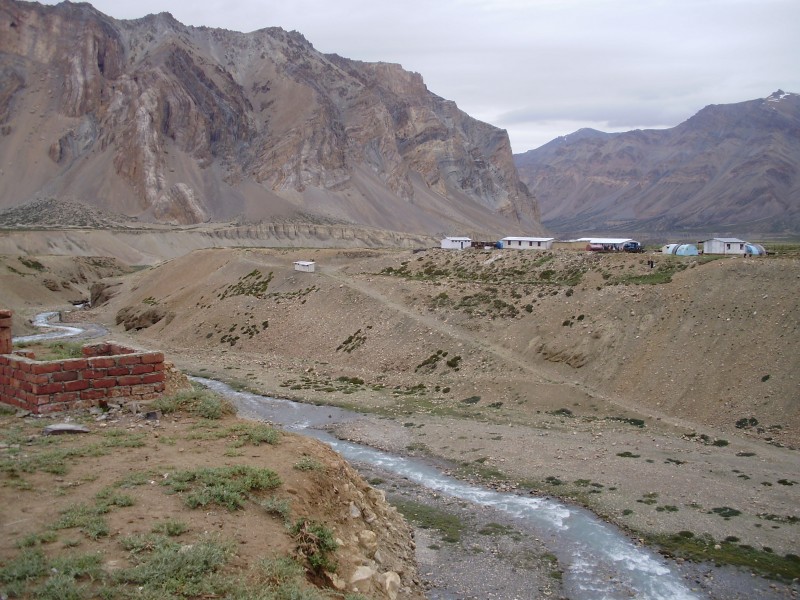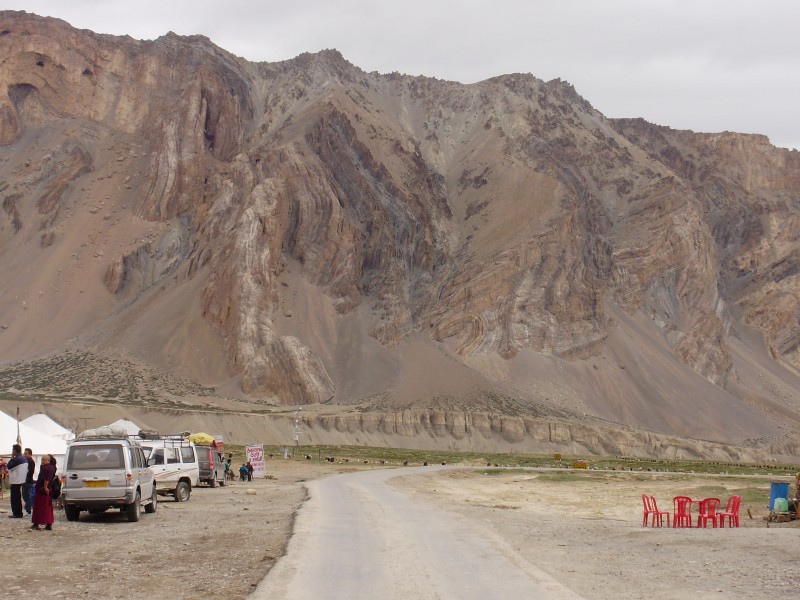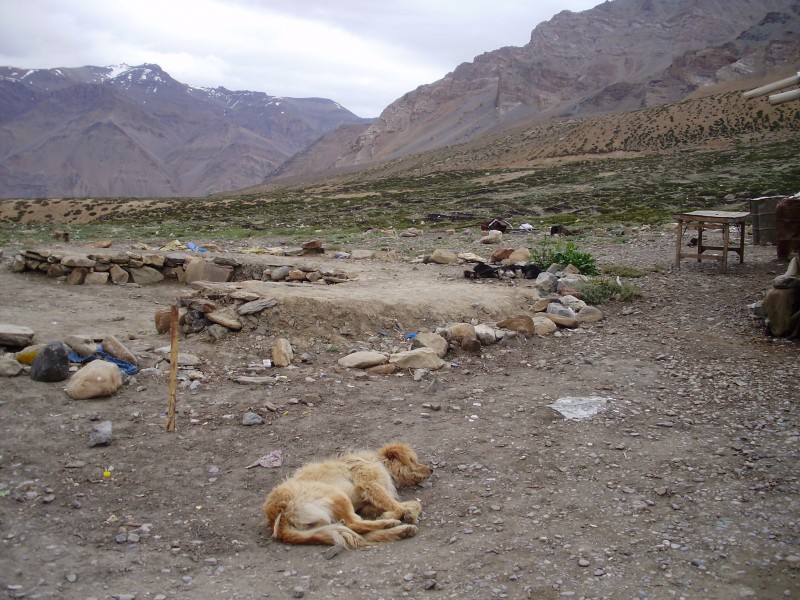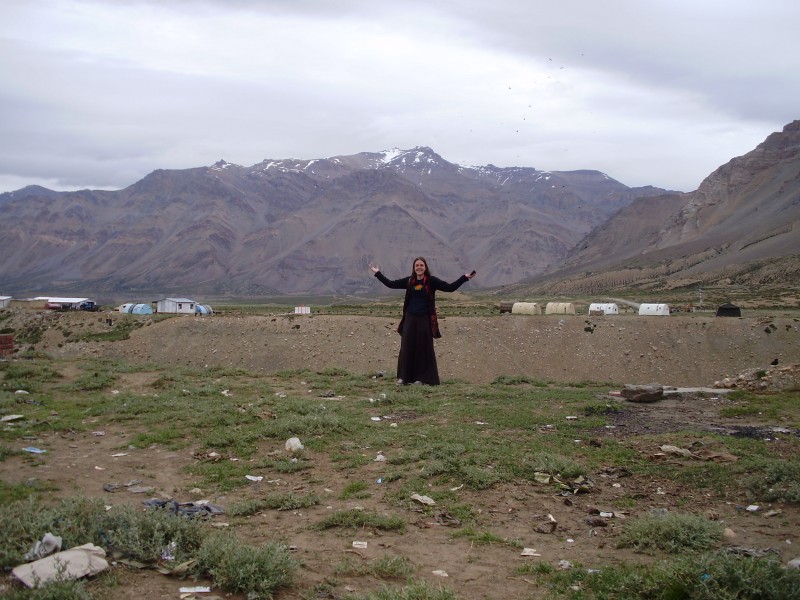 Beauty of the next part of the road was unimaginable. We walked through the desert landscape, through beautiful plateau and we climbed over the highest point of the path. See second part of the road from Manali to Leh.