Visting Ancient Stobi on the way from Bitola to Skopje
Stobi is an ancient town, which is located on the highway near the town of Gradsko and is located about 81 km from Skopje, and 97 km from Bitola. Ancient Stobi can be visited as a day trip from Skopje or as a stop on the highway that leads to Thessaloniki.
My plan was to visit Stobi, when I moved from Dihovo in Pelister National Park back to Skopje, but I had no idea how to get there. I knew that first I have to get to Gradsko and from there to Stobi … somehow.
About 7:00 in the morning taxi driver come to Dihovo and drove me to the bus station in Bitola. Bus from Bitola to Gradsko leaves at 7:30 and price is 290 DEN. But you can find plenty of buses on that way. I asked the driver whether he can pick me up somewhere close to Stobi, but he said he can't because it is highway, and I have to go to Gradsko and from there on foot or by taxi per 300 DEN to Stobi . When our bus had 10 minute break near Gradsko, driver asked the people who worked there and they told him he can stop me in one place. And it happened.
He stopped the bus and showed me the way I had to go and told me I will walk on highway about 10 or 15 minutes. I walk through the asphalt road and then I found myself on the highway. So I started my journey and this was probably the first time I was afraid in Macedonia.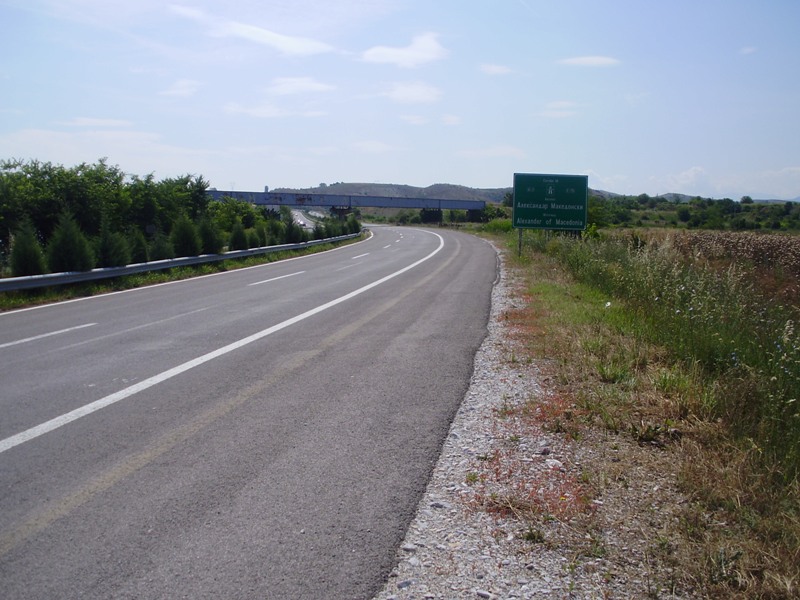 I've seen how the policemen remove the remains of my body from the road or how some car stops next to me and loaded me inside. I tried to look like a homeless man from behind. Fortunately, I had the phone navigation, so I made sure that I moving in the right direction and I saw how far it is. It was extremely hot and during the journey I found only one shadow. Under the bridge in the ditch. So I used this place for a short break. Then in about five minutes I came to motorway exit and after another 5 minutes I was in Stobi.
I was saved. The nice lady who sold the tickets per 120DEN offer to be me guide and she said that after tour she can call to the bus station to Negotino and bus to Skopje can pick me up from the highway.
Stobi is really beautiful and I think it is the most beautiful of the ancient Macedonian cities. First we went to the amphitheater, then church with amazing mosaics, a place for baptizing, spas, library.. and again I had a great feeling and I was so glad I did this challenging journey and visit Stobi.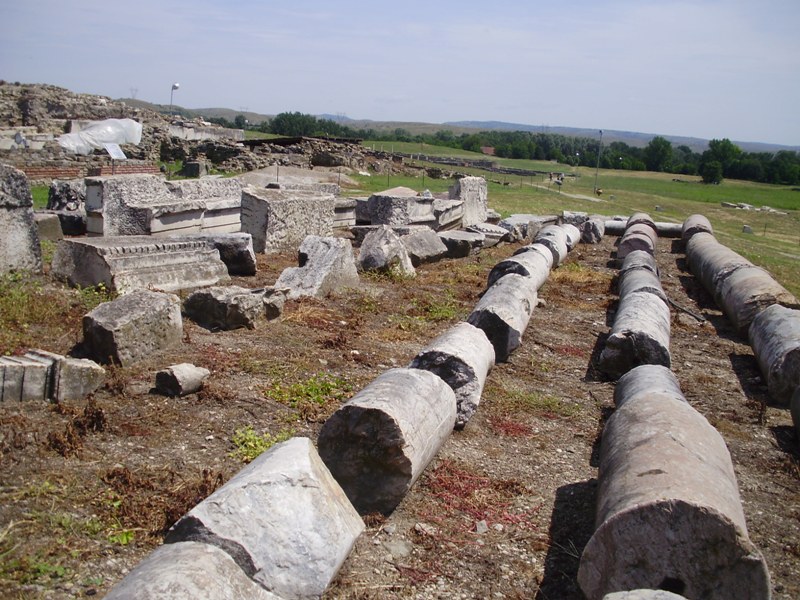 Theater. Some people had a name written on the seats.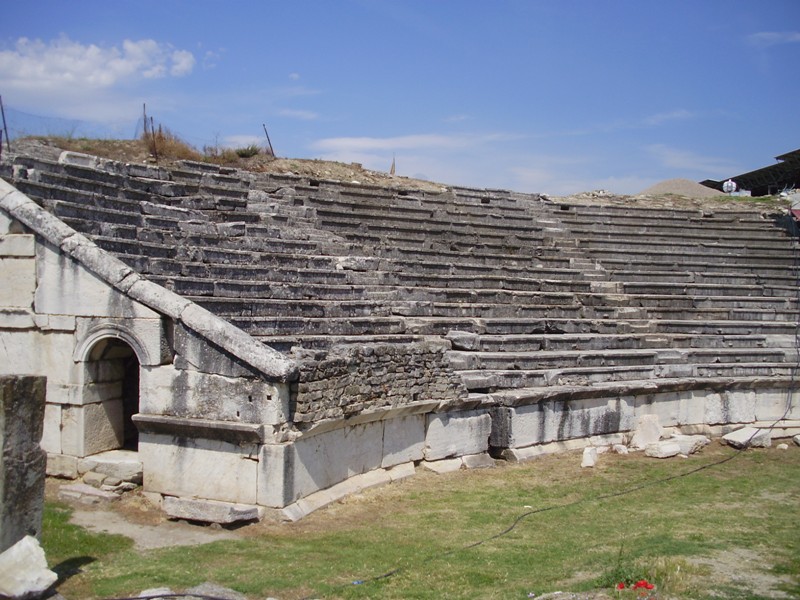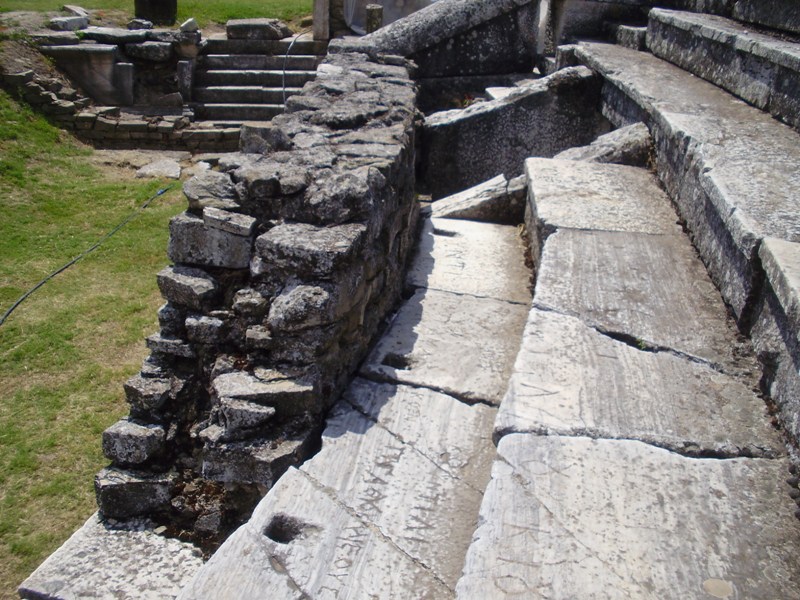 Episcopal Basilica is the most significant Christian building in Stobi, situated to the west from the theatre. The floor is decorated by a mosaic and has 3 zones. They depict geometrical ornaments, animals and saints.
This was place for baptism.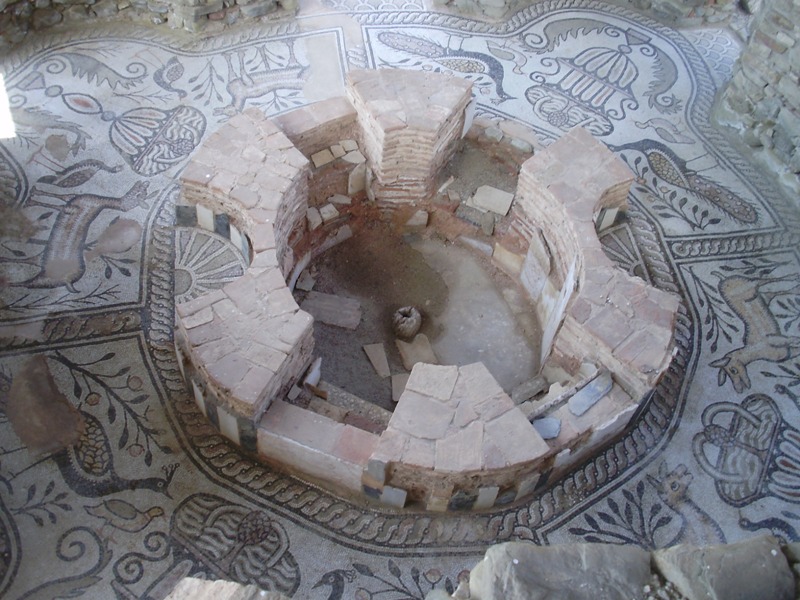 One of the main streets. This one connected Heraclea in Bitola with Thessaloniki.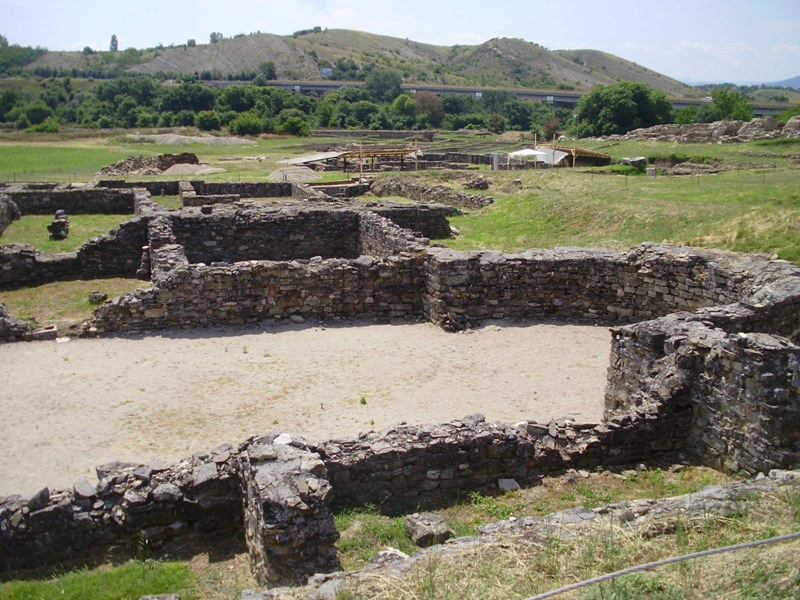 Baths.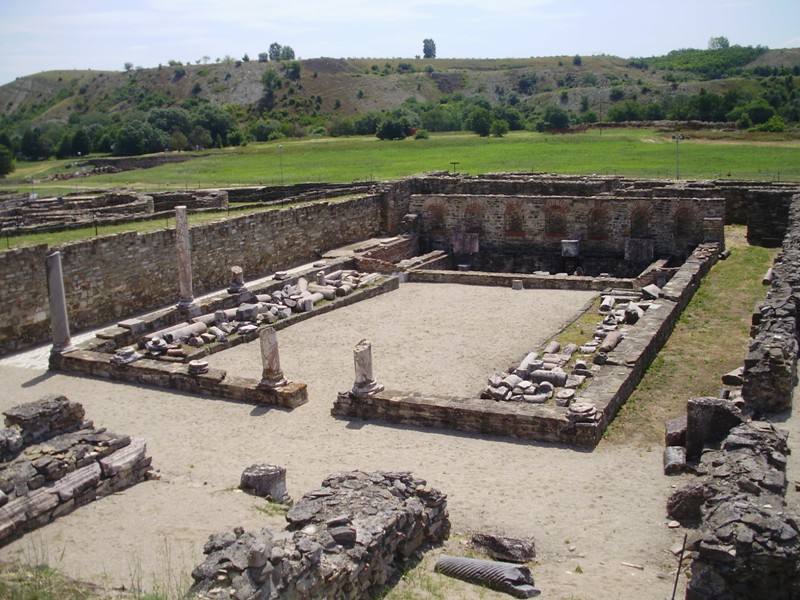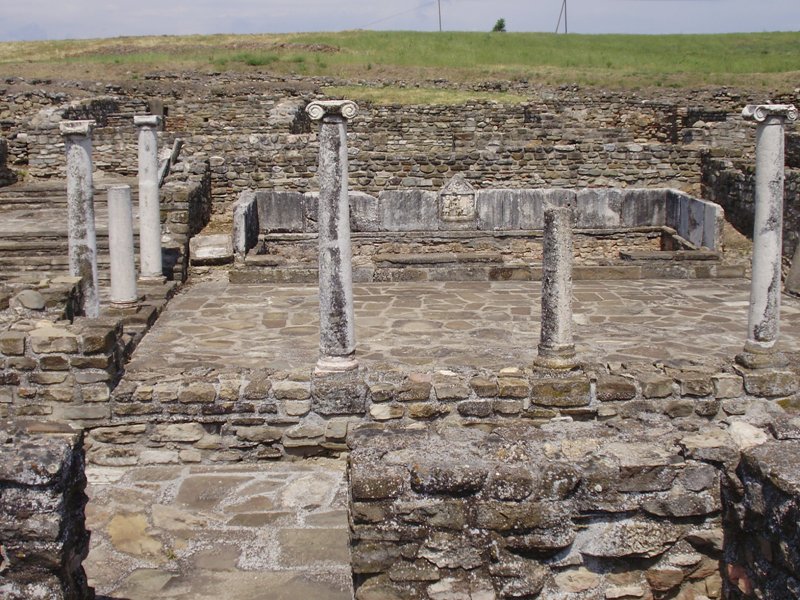 Public fountain. It was built with the use of many spolia from the older buildings. The water was supplied through a covered channel beneath the street Via Principalis Inferior as well as Large Bath. Firstly, the water was accumulated in a reservoir with several pipes.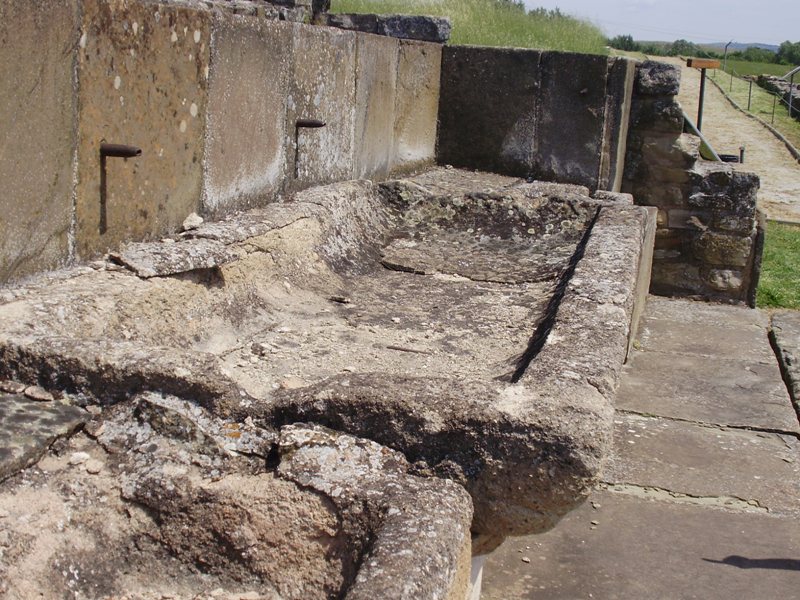 The house of Polycharos. The Porticus leads to several rooms and halls, which surround the central peristyle, which has 8 columns and in its interior it has a pool and a well. The mosaic floors of some of the corridors have geometrical motifs. Next to the peristyle is an apsidal room with fountain in the middle. The mosaic floor is ornamented with birds, vessels and other objects.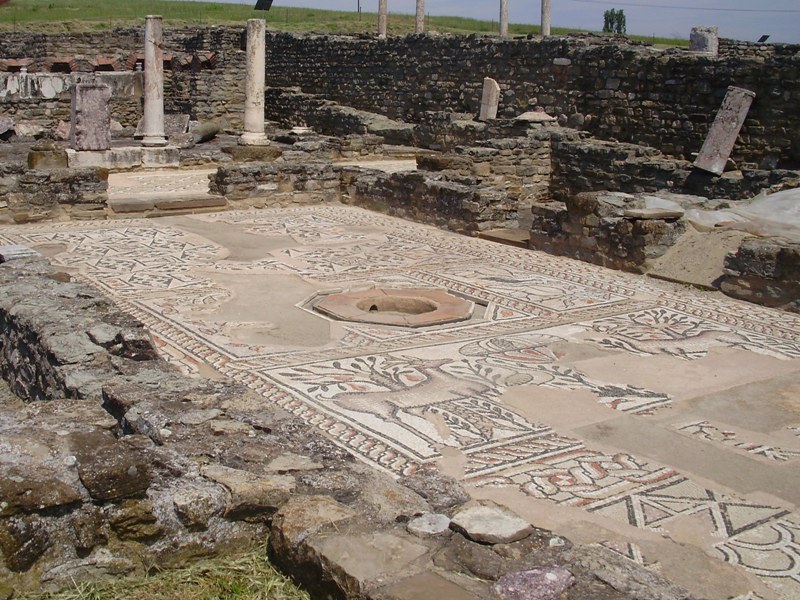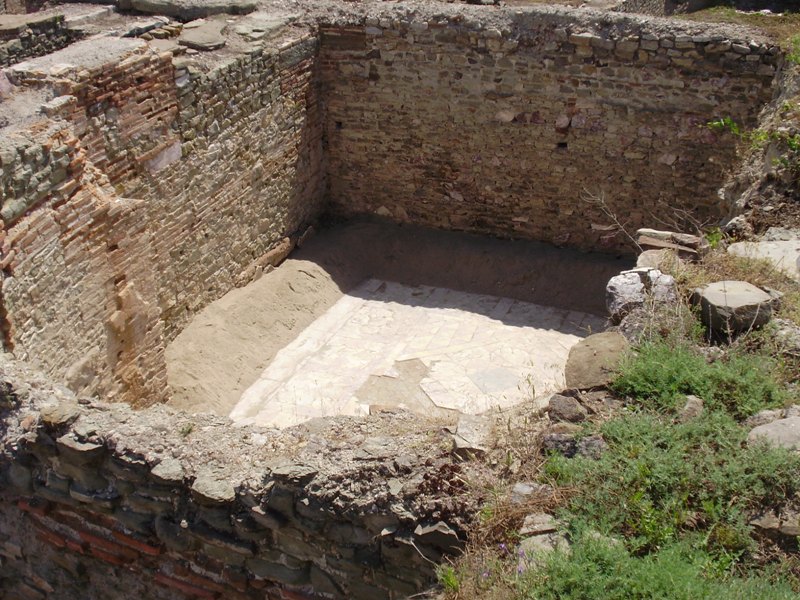 Lybrari.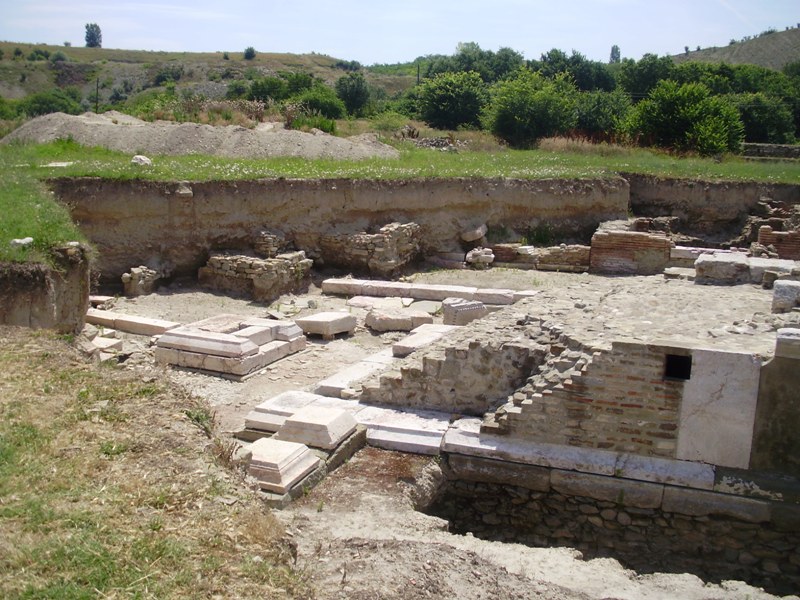 Lady called to the station and asked the number of the driver from the bus and he told her that in 10 minutes bus will be there. I said goodbye and walk one minute to highway, I smoked one cigarette and after minute I saw white air-conditioned bus and nice driver, who stopped and greeted me with a smile.