Discovering Kuklica – stone dolls in Macedonia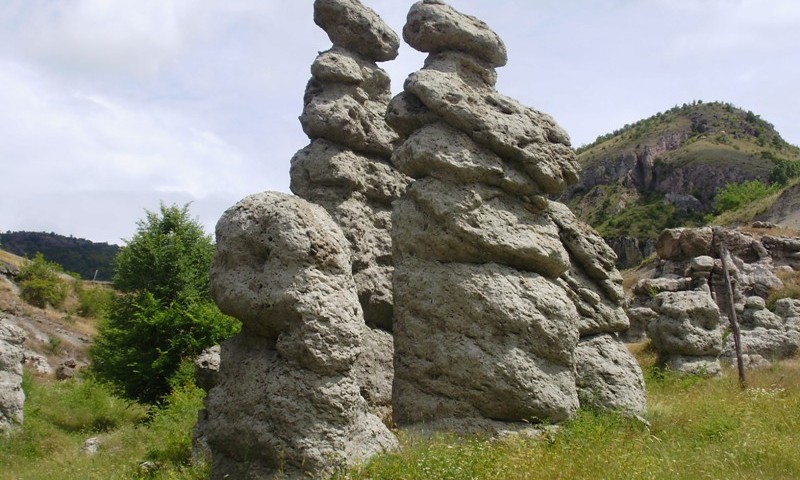 When I searched for places I want to visit in Macedonia and discovered Kuklica – stone dolls I told myself that I definitely want to get to that place.
Kuklica is the stone town consisting of over 120 naturally formed stone pillars. Kuklica was formed as a result of natural erosion processes during the past 100,000 years. Local people have legend surrounding these strange stone pillars. There was a man who couldn't decide which of two women he should marry. So, the man wanted to marry each woman on the same day, but at different times. During the first wedding, the second woman went to see who was getting married on the same day as she. When she saw her future husband marrying unknown woman, she cursed everybody at the wedding and turned them into stone.
And like usually in Macedonia even about this beautiful place there are no in formations about how to get there. So it was a challenge for me. I wanted to go from Skopje as a day trip. I found out that the easiest way is to get to Kuklica is take bus to Kratovo bus and from there taxi, which will drive me to the Kuklica. But this way seemed to me impractical, because the bus passes through the village Ketenovo where direct asphalt road leads to this interesting volcanic formations.
I suggested one girl from New Zealand in Skopje to go with me. She agreed. The next day in the morning we went to the Skopje bus station. The bus went to Kratovo at 7.30am a ticket to Ketenovo was 150DEN. The journey took about 1.5 hours.
All the way on the bus, I looked at the beautiful countryside like I usually did in Macedonia. Driver told us in Ketenovo that we are already there and showed us turning which leads to Kuklica. Bus stops next to shop on the main road and crossroad is about 100 meters away. On the crossroad is the sign that the site is a 3.5 km far away. The path begins in a small village Ketenovo. I really like these Macedonian villages and I feel comfortable and safe there. Then we walked through the abandoned area with beautiful nature. We walked across the bridge and soon we were at a crossroads. One road led to Kuklica and the other to the restaurant. We decided to first visit Kuklica and I then went for a lunch to the restaurant.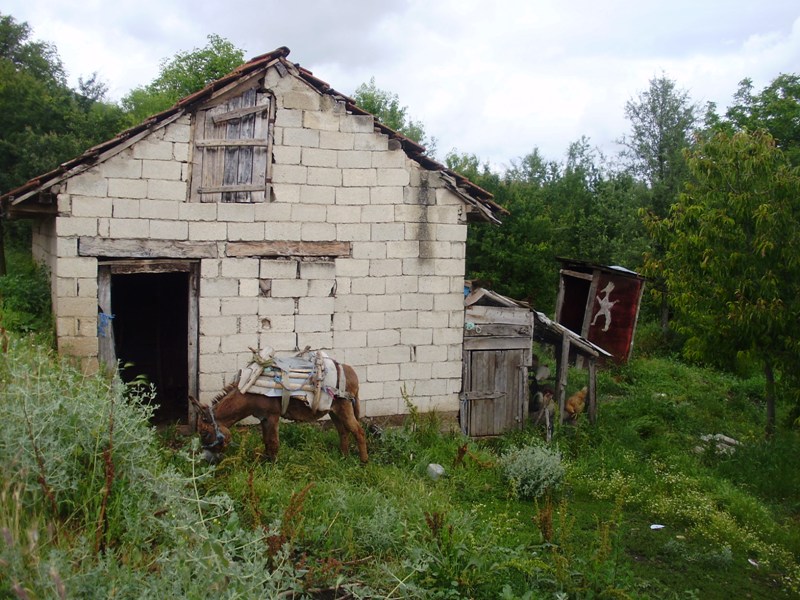 Kuklica is very interesting place and this natural phenomenon really reminds wedding. Rocks are much bigger than they seem in the photos. On the hill is shelter where we hide from strong Macedonian sun and rest up with a view to the Happy wedding.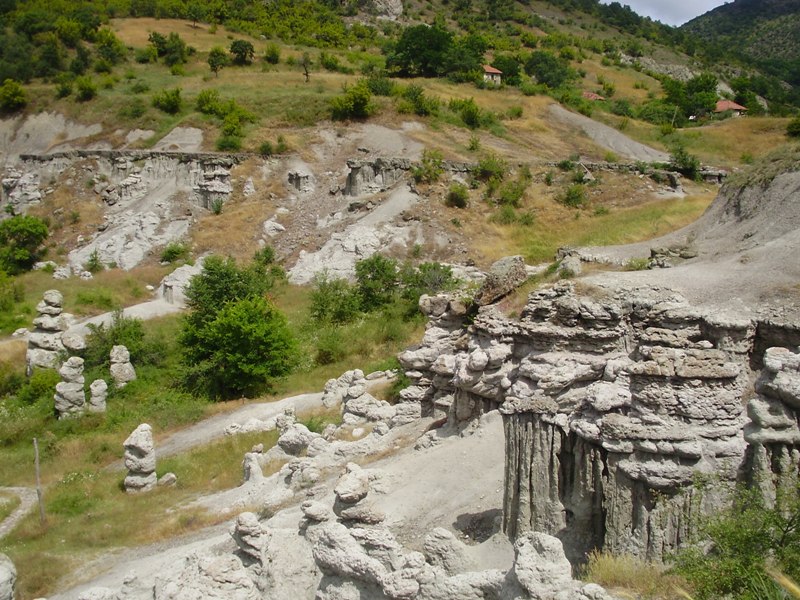 From above we saw that the stones are from the other side of the hill too, so we decided to go there as well. We couldn't find a good path so we went steeply down through small canyon. I really do not recommend it because it was sleepy and dangerous. The grass on the other side is not cut and there is huge amount of prickly plants, but we could see also nice kaktuses everywhere. At least we had some adventure in this peaceful day.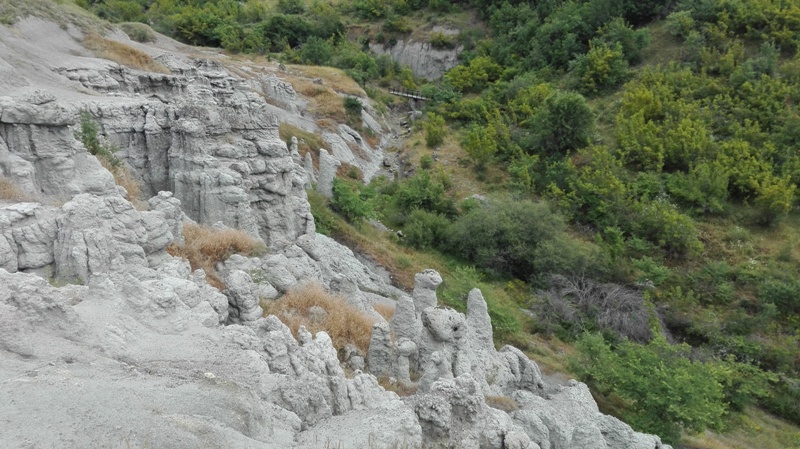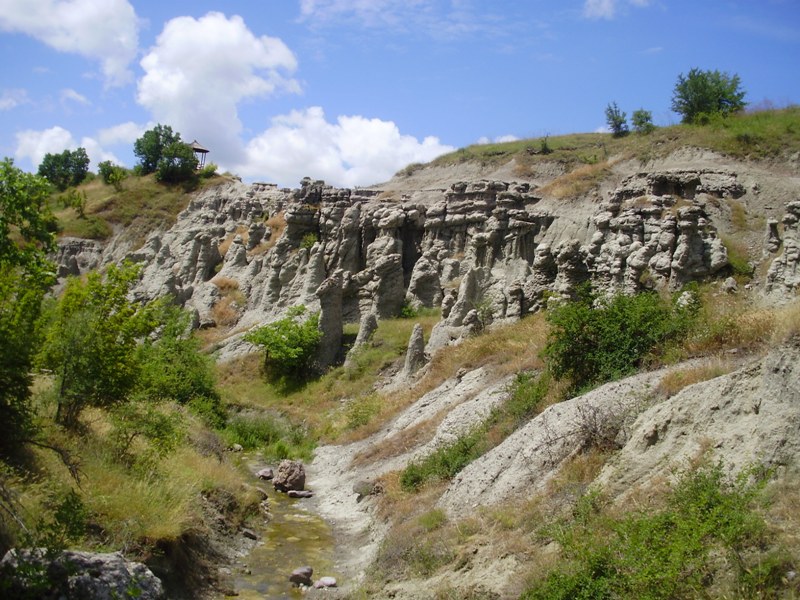 After about an hour we went to the restaurant for a well deserved lunch. Better place we couldn't even imagine. The restaurant is decorated in traditional style, has beautiful garden, nice owner and the food is very tasty.
The way back was successful as well. First we got back to the shop. There were a lot of people sitting on a bench outside the entrance. It was like a cultural center of the nearby villages. Our bus from Ketenovo started at 3pm, so we had one hour more. During this time I spoke with local people about everything. One of them even let me got on his donkey, which was for me quite a great experience (:
When our bus came and door was opened, the same drivers like in the morning welcomed us with a smile. This was another typical Macedonian amazing day.