Hiking in Mavrovo national park through beautiful meadows
Where you should stay in Mavrovo national park?
I wanted to visit all three national parks In Macedonia. On the end I planed to go to Mavrovo National Park. I made agreement with Ana, a girl with whom I met in Skopje that we will go to Mavrovo together. I wanted to go for 2-3 nights and do some hiking in Mavrovo National park and Ana only one night. From Skopje we went by minivan from the main station, which costs 250DEN and the journey takes about an hour and a half.
Next to the Mavrovo Lake there are 4 villages – Mavrovi Anovi, Marvovo, Nikiforovo a Leunovo.
Mavrovi Anovi is a village on the main road where is bus stop. There are guesthouses, hotels and restaurants, but disadvantage is that it's on the main road. There are some beginnings of hiking trails.
Mavrovo is the best village around the Mavrovo Lake because it is off the main road, you'll find a number of accommodation facilities, there are restaurants and beginnings of hiking trails. The whole village is nicely maintained and stream flowing through it. Disadvantage is that there is no bus connection to Mavrovi Anovi. If you do not have a car, the best option for you is to tell the bus driver to leave you on crossroad to Mavrovo village on the main road and from there you can easily hitchhiked someone.
Nikiforovo and Lenovo – these are villages where there is nothing, no restaurants, no shops and even from Mavrovo and Mavrovi Anovi and it's pretty far away.
When we went to Mavrovo national park with Ana we didn't know how the villages look like so we planned to stay in a hostel in Nikoforove. But because accommodation in hostel doesn't meet basic standards and my friend suddenly had to come back to Skopje that day, I moved into one nice apartment in the village Mavrovo, where I was very satisfied.
Hiking in Mavrovo national park
My goal was hiking in the Mavrovo national park. With owner son, we made agreement that we will go together the next day and take his wonderful dog , a typical Macedonian shepherd dog – serplaninec makedonsky with us.
The next day we got to the ridge of the mountains by steep climbing through the ski slope in Mavrovo, where we get to red – white marking trail.
When we got to the very top, I stood in silence. Everywhere around me were beautiful green meadows with a lot of flowers and grazing sheep on them. We were at the plane at high altitude from where we could see bigger mountains.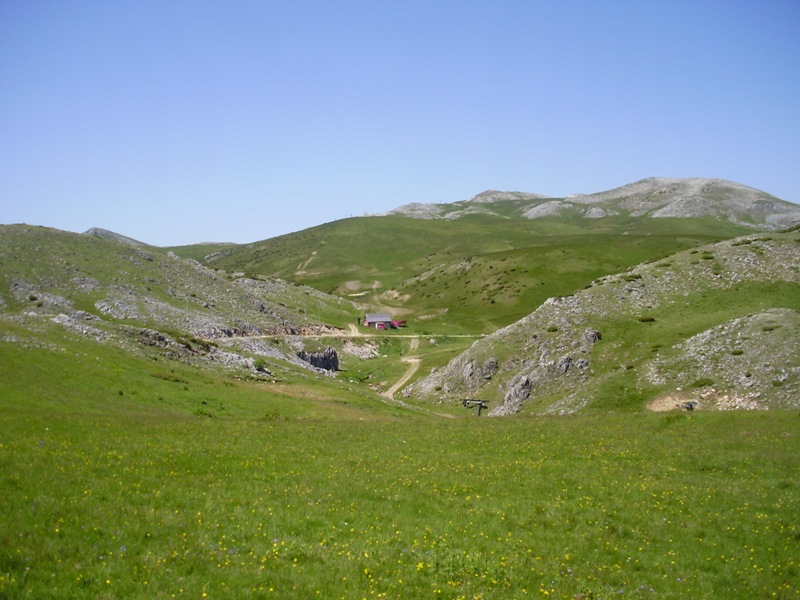 When you get up you can decide where you want to go. Maybe I can help you with these maps of Mavrovo national park, which I took.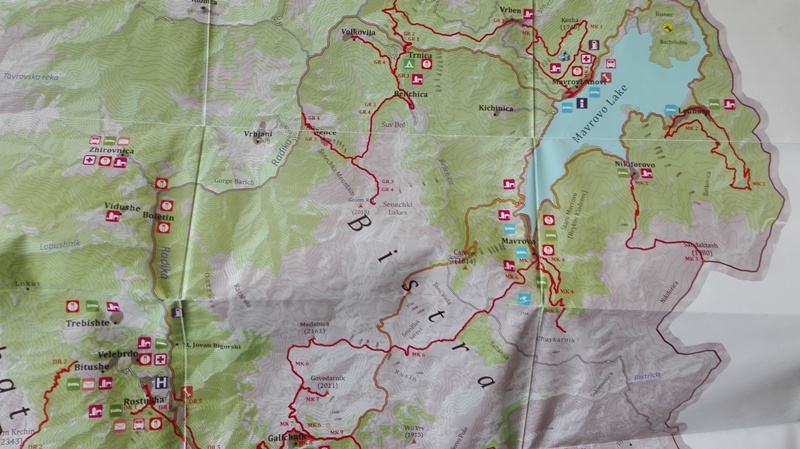 I with boy and with the dog were walking on the meadow and plains until we got to the asphalt road that leads to the famous village of Galicnik.
When you decide to come back to Mavrovo by this road at the first turn to the left from the top there is a shelter with spectacular view of the Mavrovo Lake. From there we could also see the highest mountain of Albania and Macedonia Mount Korab.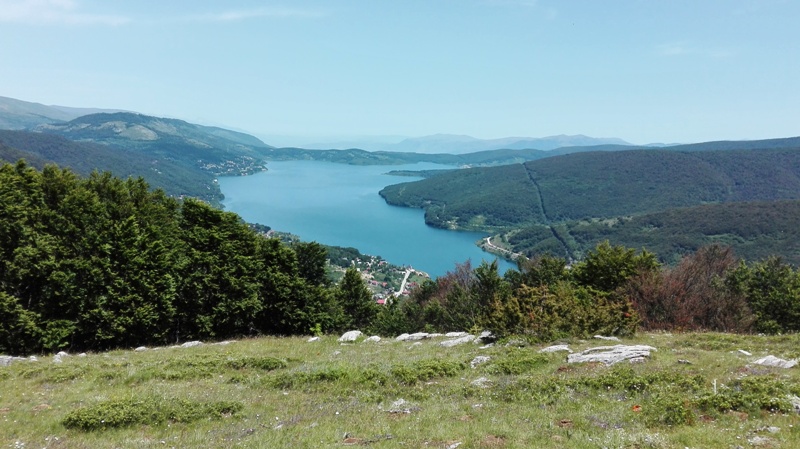 We came back to Marvovo this way. We went through the forest and looked for some mushrooms, but didn't grow that time. Shepered dog was amazing, because when I lagged in the forest behind the boy she always waited for me. In Mavrovo we sit to the restaurant right near the lake with views of the church St. Nicola, which is on the shore and took cold beer.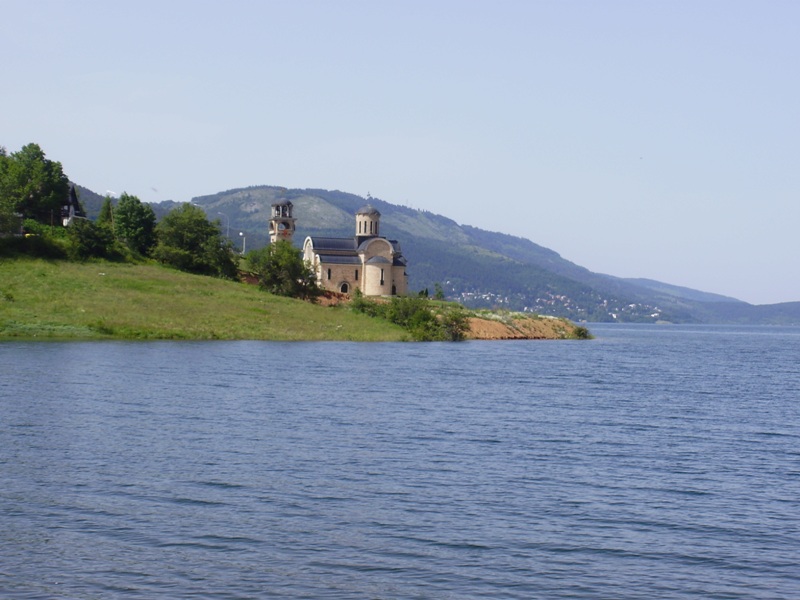 This place is also not far from the dominant of Mavrovo, sunken ancient church.
This church was built in 1850 and was submerged in the lake in 1953. Due to droughts in the 21st century it has largely appeared out of the lake.