7 Top Places to Visit in Skopje in One Day
How to get to Skopje city centre?
You can get from airport to Skopje city by taxi, which costs 20 Euros, prices are fixed or you can take a public bus like me, which will cost you 170 DEN. Buses leave airport from bus stop in front of exit according to timetable.
After breakfast I went to see Skopje city centre. It was very hot outside, it was June and around 38°C. The sun was shining so bright that blind my eyes on the places with white floor so bring your sunglasses with you during sightseeing of Skopje.
City of Skopje was recently completely rebuilt. The project consists mainly of the construction of museums and government buildings, as well as the erection of monuments depicting famous figures from the Macedonia. Around 20 buildings and 40 monuments was constructed. They built new fountains, city lighting and statues. Now there is more like 280 statues in the city! In some places Skopje looks really bizarre. The city center is not large and you can visit the city's most popular tourist attractions in 2 or 3 hours.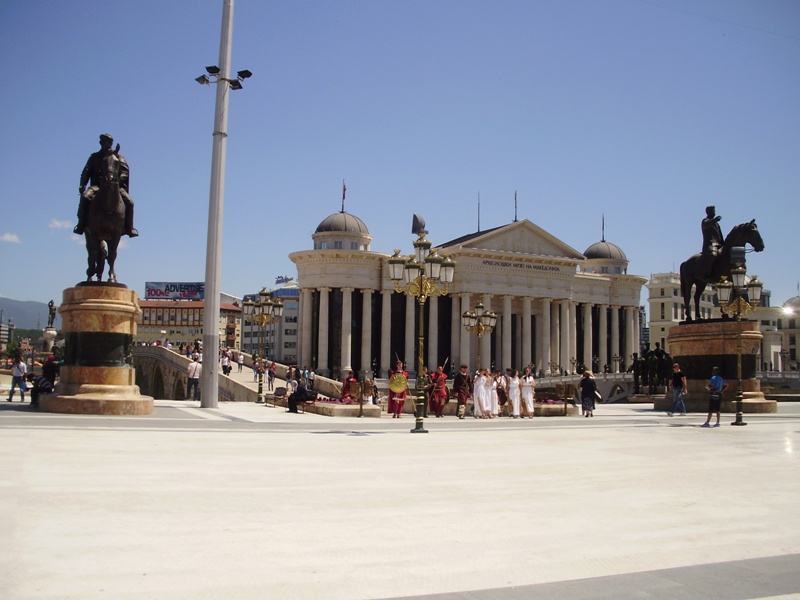 7 top places to visit in Skopje
Bridges in Skopje
I started walking at the hotel Holiday Inn through the promenade near the river. On the waterfront there are many restaurants, but in the city you'll find much more tasty food at a better price than those in the city center.
Over the river there are several bridges. Most famous are Art Bridge, Eye Bridge and Stone Bridge.
The Art Bridge features many statues of noted Macedonian artists and musicians. The bridge has 29 sculptures, 14 at each side and one in the centre. The Eye Bridge is situated between the Stone Bridge and the Art Bridge and includes 28 sculptures and the Stone Bridge is considered a symbol of Skopje. It is the main element of the coat of arms of the city. The Stone Bridge connects Macedonia Square in the center of Skopje to the Old Bazaar.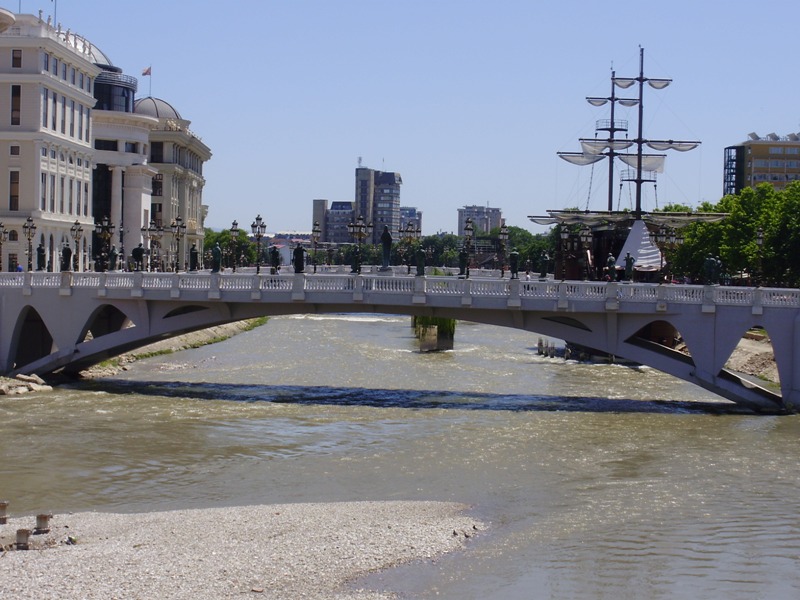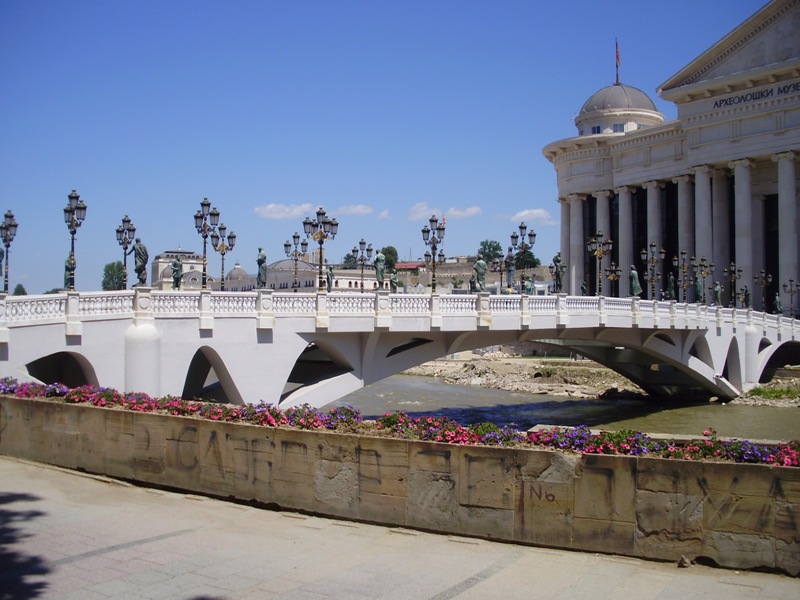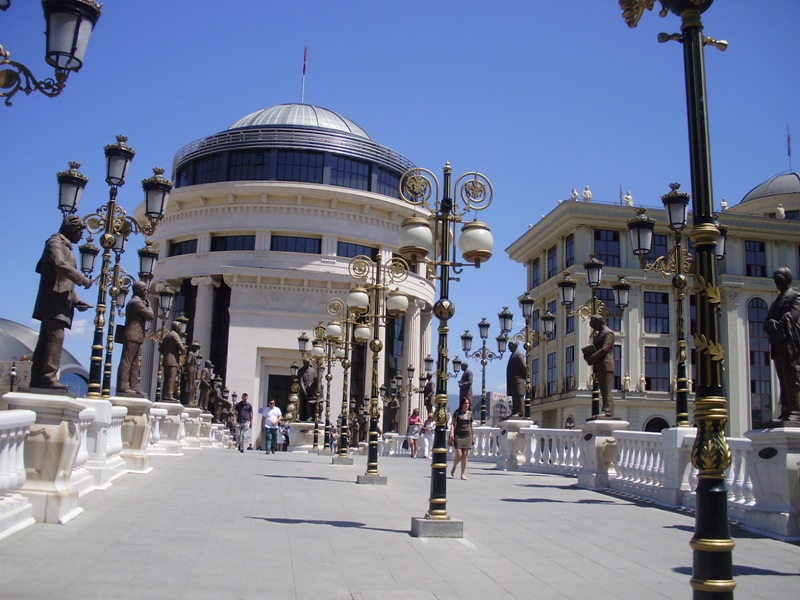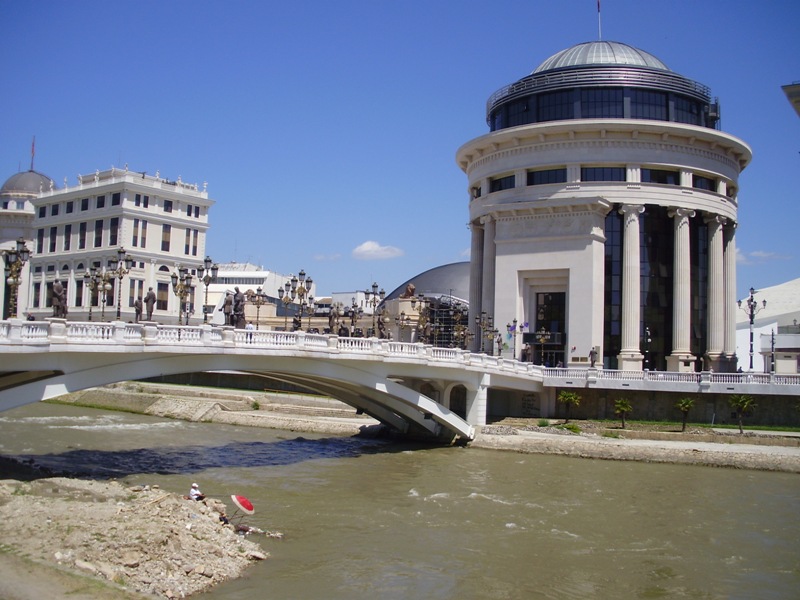 Macedonia Square
Macedonia Square is the main square of Skopje and is the biggest in Macedonia. It is located in the central part of the city, and it crosses the Vardar River. It is situated on left side of Stone Bridge. Cultural, political and other events are always held there. The independence of Macedonia from Yugoslavia was declared here as well.
Mother Teresa Memorial House
Mother Teresa's original family home was located near Macedonia Square and today along Macedonia Street is the Mother Teresa Memorial House, which features an exhibit of artifacts from her life. The Location of the museum is not randomly chosen. It is on exact place the old Catholic Church sacred heart of Jesus used to stand and where she was baptized just one day after her birth.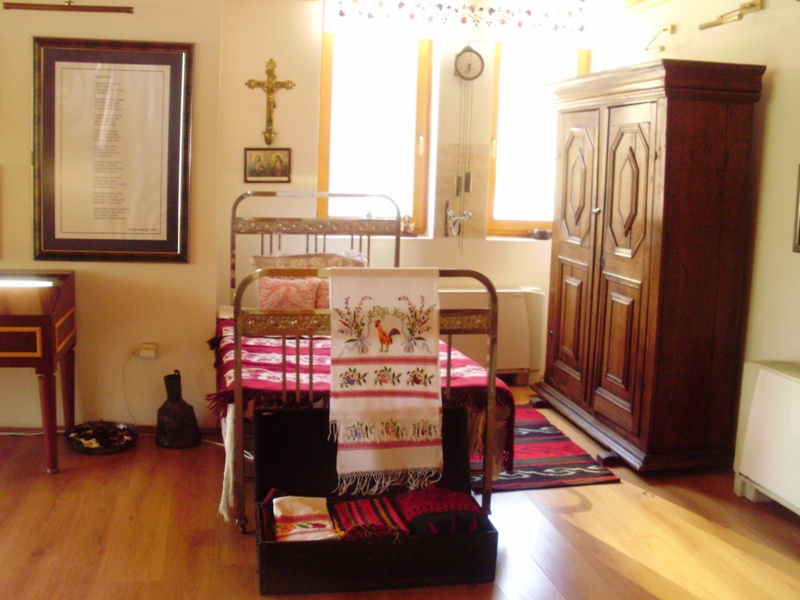 Macedonia gate
Macedonia Gate is a triumphal arch located on Pella square. This arch has reliefs carved in marbles, showing scenes from the history of Macedonia. It is 21 meters high. There are rooms inside, where you can find souvenir shop. You can use elevator and stairs to get to the roof from where is a great view of the city centre as well as a great view towards Vodno Mountain.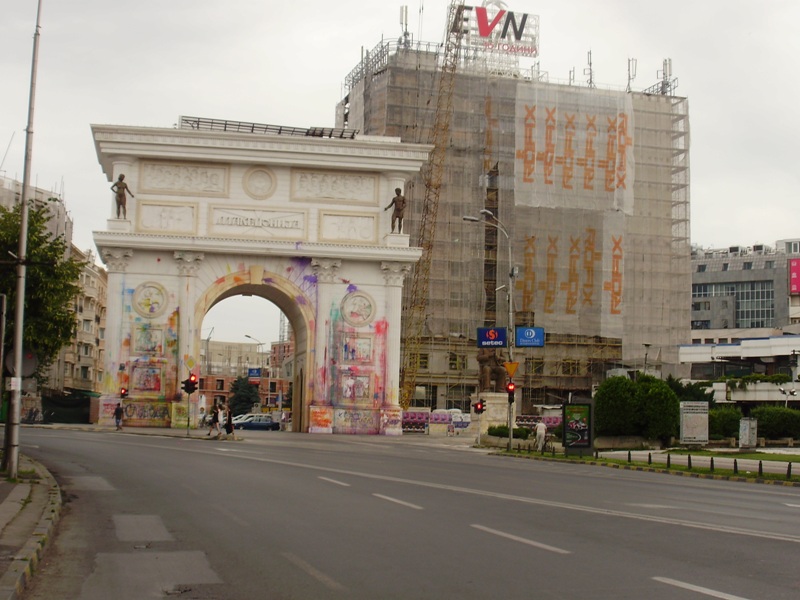 Old bazaar
The Old Bazaar in Skopje is situated on the eastern site of Stone Bridge, just a short walk from the main square. It is the largest bazaar in the Balkans. You will find plenty of restaurants, cafes and numerous shops with sleepers, bags or gold there. You can see also goldsmiths, shoemakers, coppersmiths and other skilled craftsmen.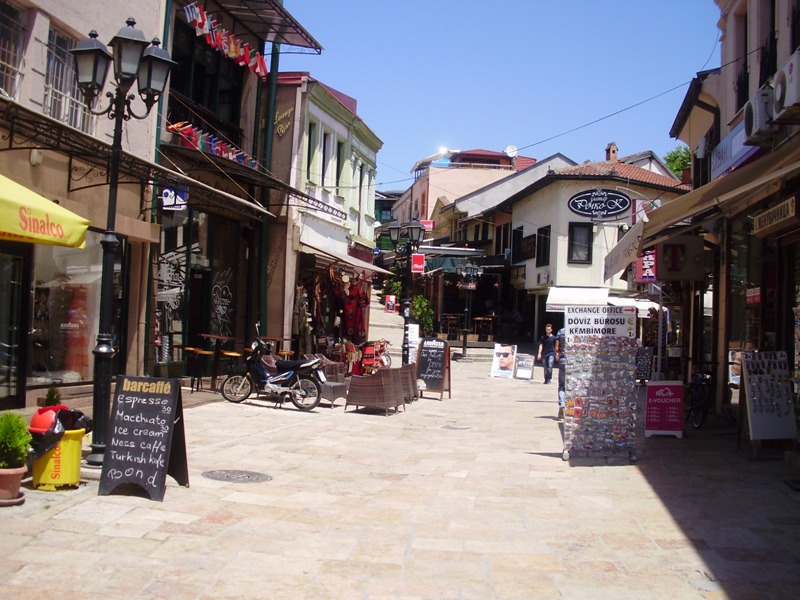 Ishak Bey Mosque
When you walk up the hill in Old bazaar you will find Ishak Bey Mosque also known as the Decorated Mosque because it has decorations, inscriptions and colored tiles found on its walls. Mosque was constructed in 1438 and its minaret rises 30 meters.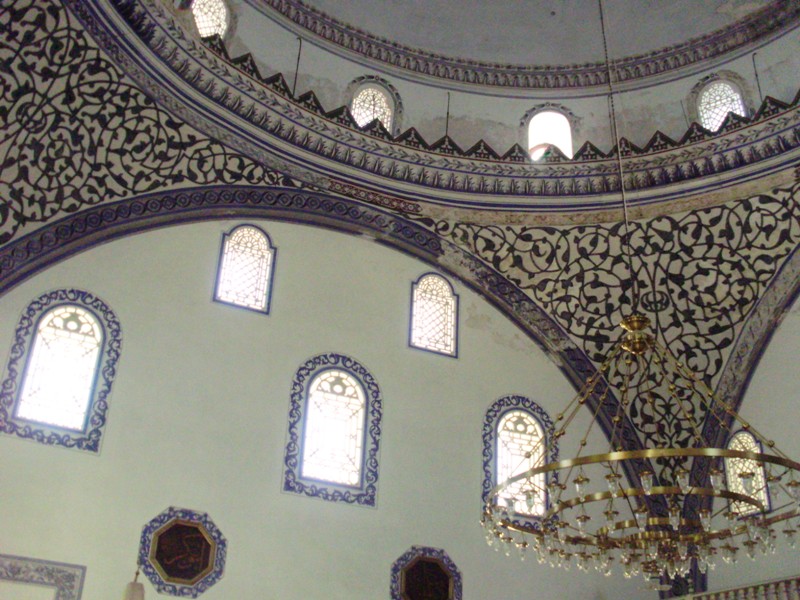 Skopje Fortress Kale
From the mosque you can walk to upper entrance of thg fortress. You can walk around the fortress wall and enjoy nice view of city Skopje. There is no entrance fee on the gate.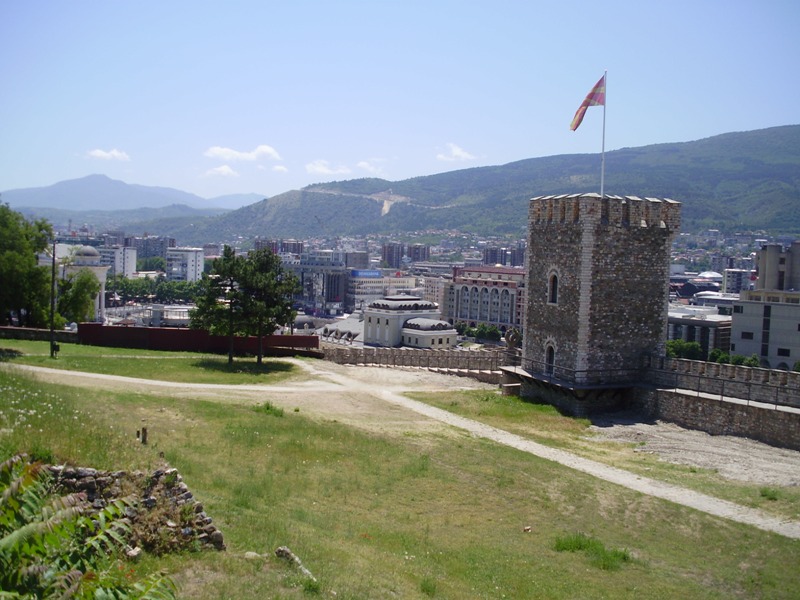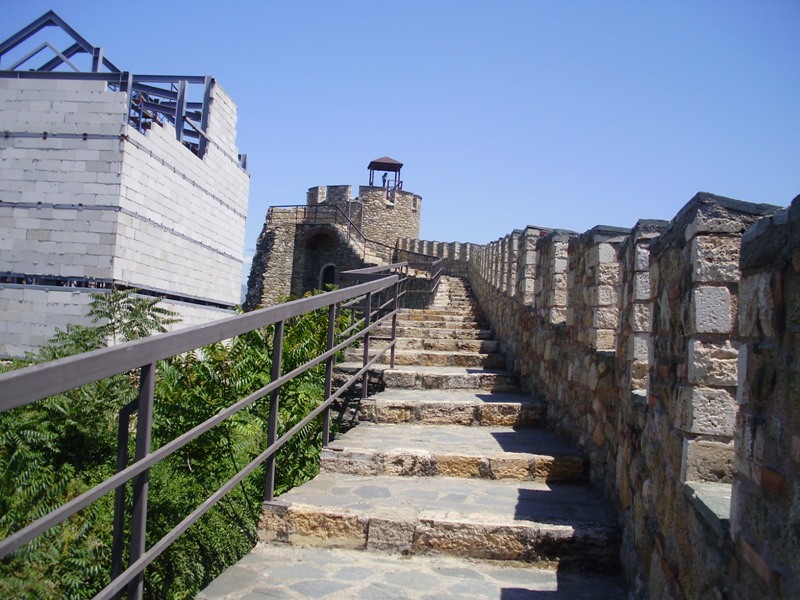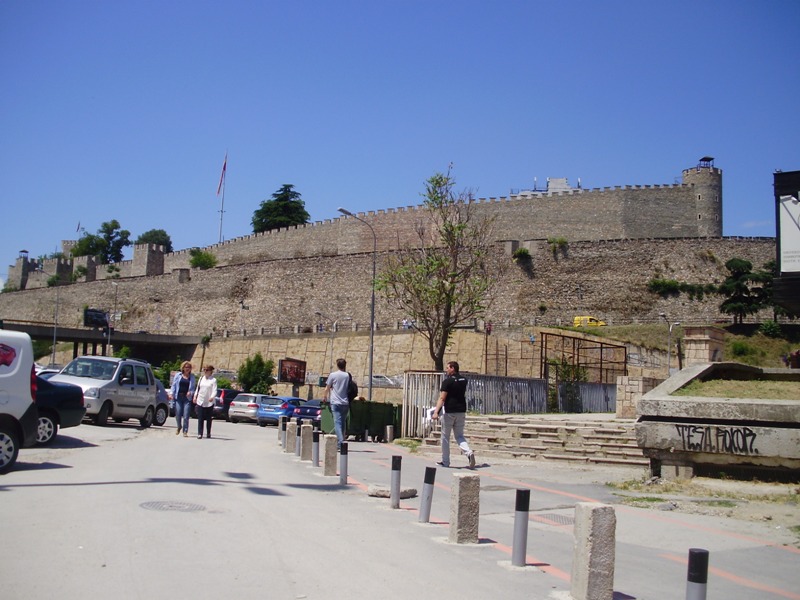 You can do some really nice day trips from Skopje to amazing places near the capital city.