Hiking in Pelister National Park from Dihovo to Pelisters Eyes
Pelister National Park is one of three national parks, which are located in Macedonia. Most famous treks are hiking to the highest peak of Mount Pelister and Pelisters lakes, also known as Pelisters eyes or Pelisterski oci.
You can find accommodations in Pelister National Park in 4 villages: Nizhepole, Dihovo, Trnovo, Magarevo or you can stay at a mountain hotel Molika.
I decided to stay in one villa in the village Dihovo and reach the Big Pelister Eye the next day, but I didn't know how and with whom, as I was alone. My journey started in Bitola. At seven in the morning the taxi driver was waiting for me in front of my amazing guest house Chola in Bitola, and drove me for 150 DEN to Dihovo. Owner of the villa told me that the path is not marked and I will need a guide, which will cost me 50 Euros. Of course, it seemed to me like a lot of money because I was alone. I had all day to figure out something about how to get there, because I wanted to spend this day in villa and surrounding and mostly relaxing.
I slept almost all rainy day and after I woke up I went to the shop to buy beer. Heavy rain started again so I waited in the shop and I asked a shop assistant on the path to Pelister eyes. She didn't understand me. But then something happened. This is why I really like Macedonia. The moment you need help, something will happen and you will find a person who is going to help you. It works for me almost all the time in the country. This time, young local boy came in to the shop. He spoke English, and began to explain me how to get to Pelister eyes. Then he suggested me, that if I want I can go with him, because tomorrow he has nothing to do and he loves nature and mountains. So I agreed.
The next morning we met at 7.00. The shop was closed, but the nice boy said he has enough food for both of us. We started our journey. First we got to the asphalt road that leads to Nizhepole. Because of the saving a time we hitchhiked a car that bring us to the place where marked path starts. The beginning is located at the smaller part of the Nizhepole behind main village, where Babin Zab is located. When you get there ask people for directions, they will help you.
The path leads first through the forest, where you will find the first spring. All together, you will pass through four springs, so you do not have to take all water with you.
Then the forest disappears and you find yourself on the beautiful meadows. The path continues still up and up. The worst part for me was just under the cross. I was so tired but I couldn't stop because everywhere was a lot of horse flies and when I stopped they started pinching. So I had to come out without break all the way. Therefore, I recommend you to take long trousers.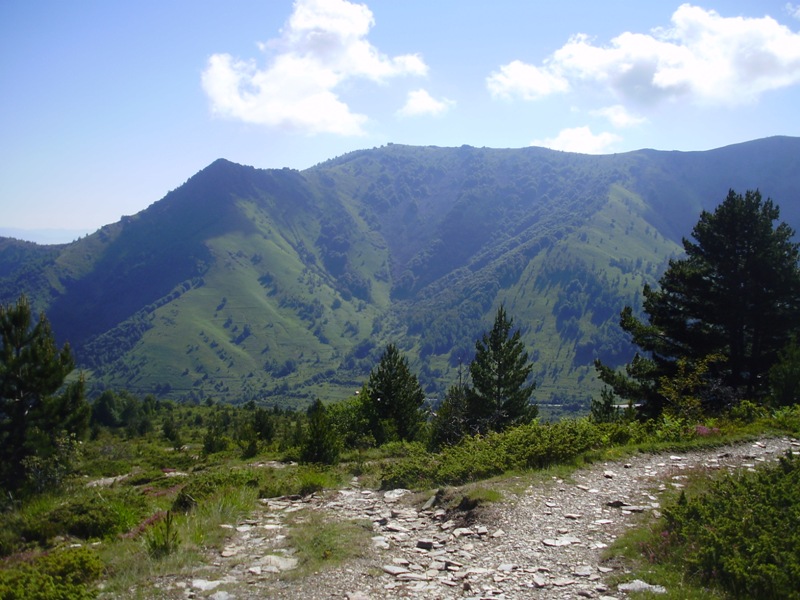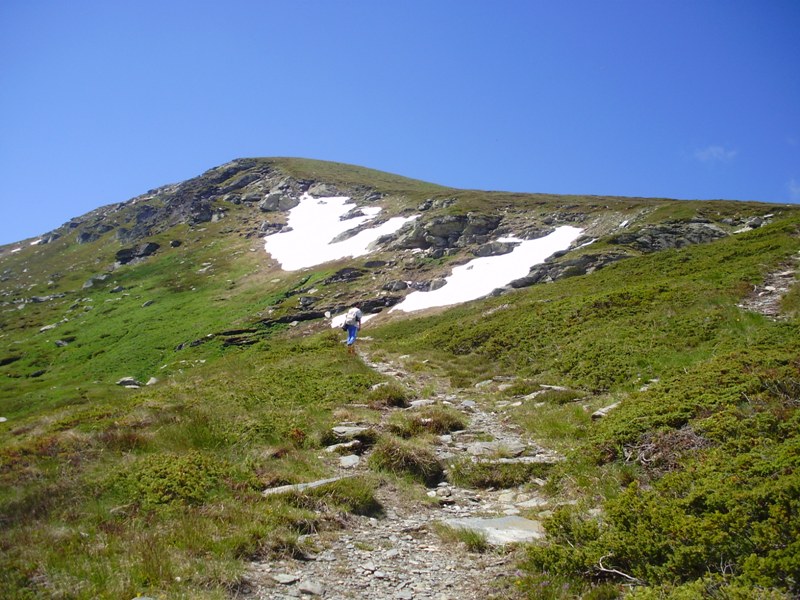 When we pass by the cross, we walk finally through the plane, and then again up and up but fortunately it was the last part. Always be aware of the red and white signs and poles, which are being stuck in the ground. And don't panic. Cottage near big pelister eye suddenly appeared before us in full size and it remained only last five minutes' walk. And here I am! My Macedonian dream is fulfilled.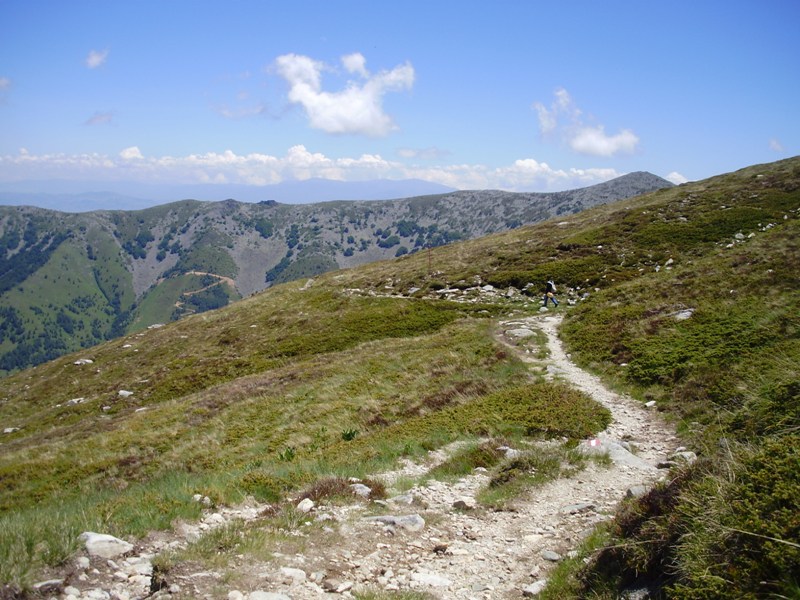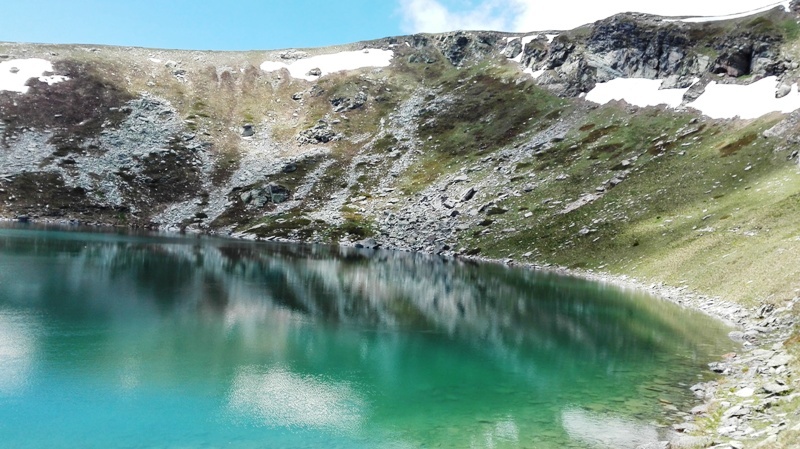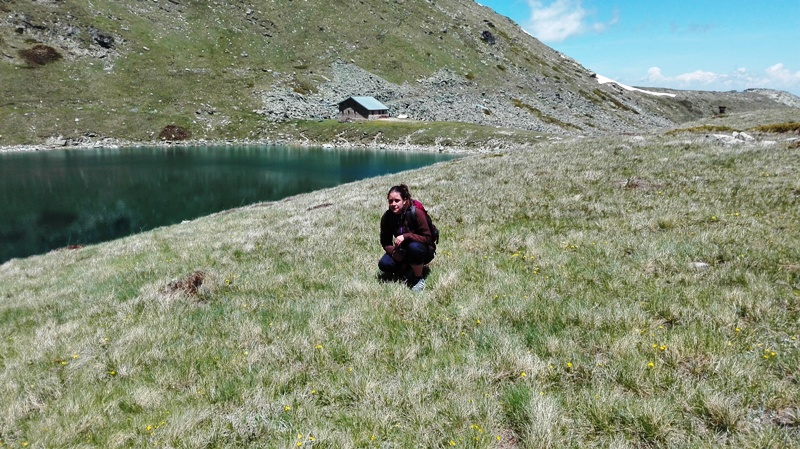 The trek is quite difficult. Although there are no very steep sections, you have to walk up almost continuously. Dihovo is located at an altitude of 830 meters and a lake at an altitude of 2218, which means that the difference is almost 1400 meters, which is quite difficult hike, but the feeling I had when I got there was amazing and worth the effort.
Cottage near lake is usually closed, but if you want to sleep there you must call the owner and he comes and accommodates you. Night there is not expensive, but don't expect any comfort. The next day you can continue hiking to the small lake and to Mount Pelister.