Funny day in the village Recica near Ohrid in Macedonia
Because like traveling outside of beaten path, I decided to go and see the village Recica, which is 17 kilometers away from Ohrid. Recica is popular place for its natural washing machines and dryers. I've never seen anything like that before. I made agreement with my Finnish friend to to go there together. We went to the bus stop, which is in the other side of the Ohrid Bank and started to ask people about how we can get to Recica. They told us there are no buses that go directly to the village but we can catch a bus to the village Kuratica and the driver can leave us at a crossroads. From that point it is about 3 km on foot to Recica. The bus to Kuratica went in about 45 minutes, so we went to the nearest pub for a beer. The bus arrived on time, we said bus driver about our plan and he nodded off with a smile. Ticket costs about 1 euro and the journey took 20-25 minutes.
The driver stopped at a crossroads where the stone-pit was and about 6 dogs came to us. We were in the middle of nowhere. We walked on the asphalt road about 40 minutes. The surrounding area is green and beautiful with stream on the side. Along the way we saw two snakes and two cars, but drivers went the opposite direction than we needed.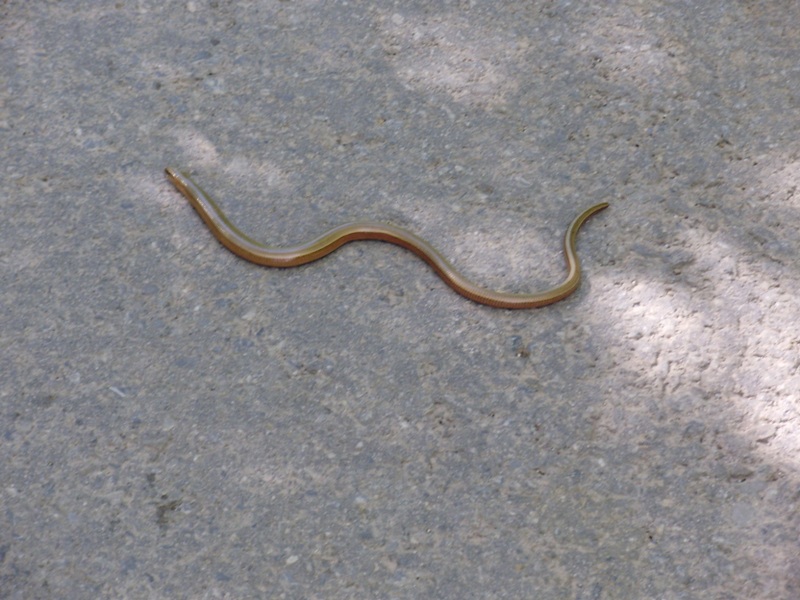 We came to the village and we didn't know what to expect. In the first house on the small crossroads were three men. We asked them if they know some place in the village where we can buy beer. They began to laugh and explained to us that Recica has officially only one resident and only few men come here on weekends to care for their gardens, so there is no shop in the village. They invited us for a beer to the house, but first we went to see the place for which we came here – natural washing machine.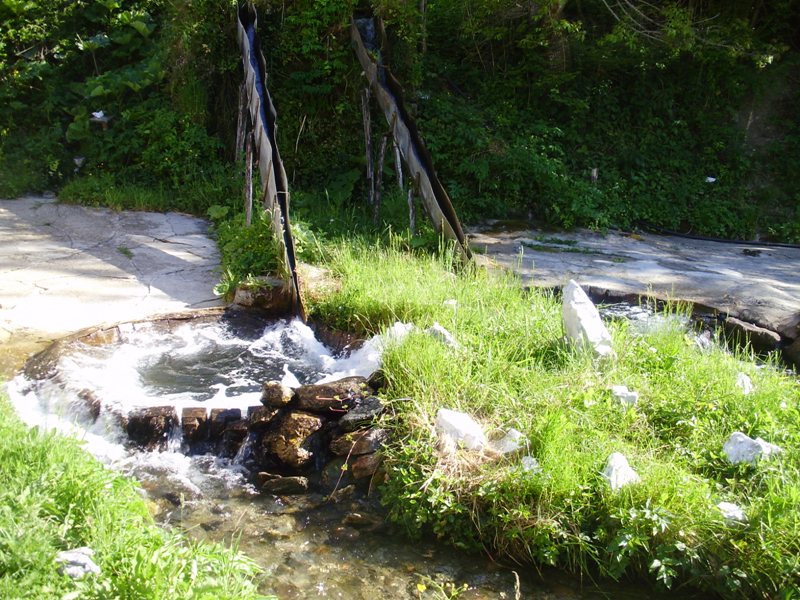 These washing machines are used mostly for washing blankets from Ohrid. They wash them in purely natural way. The stream of water trickling down to the point where the vortex is created and the vortex removes dirt from the clothes. Then the blankets are dried on the wood contructions in the sun. When we where there, there were hundreds of them and we didn't figure out how workers recognize them because blankets weren't marked in any way.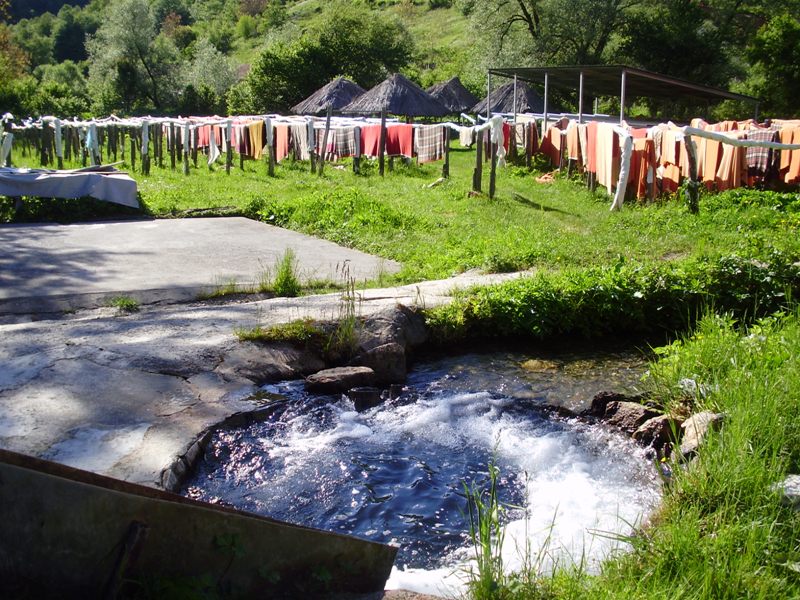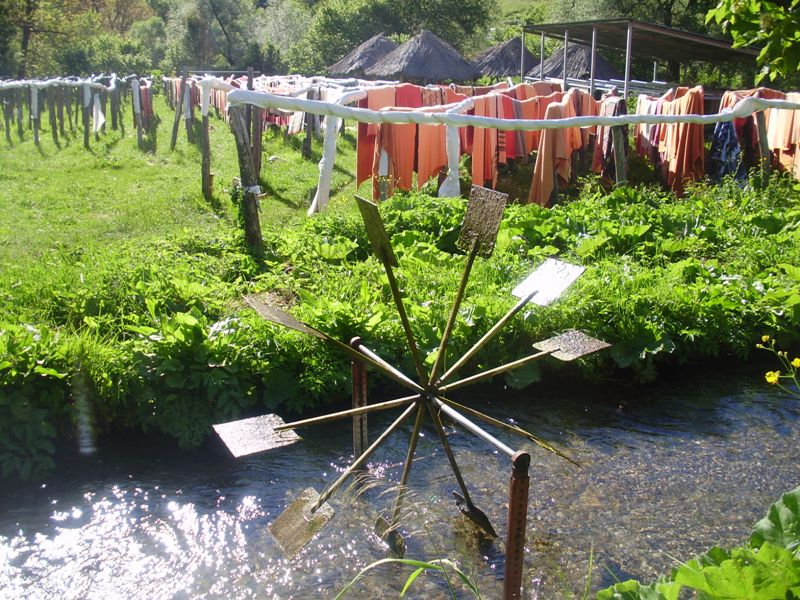 We took one blanket that was on the ground and rested. It is a very nice place where you can relax for long time. There is silence; you hear only noise of stream and birds singing.
Then we went around the house where the men were. They nodded to us and invited us home again. In Macedonia hospitality is very common. They prepared grilled chicken, bread, vegetables and of course homemade Rakia on the table and we started eating and drinking with them. We had really good time and stayed there to sit and talk for an hour, then said goodbye and decided to go back to the crossroads with stone-pit.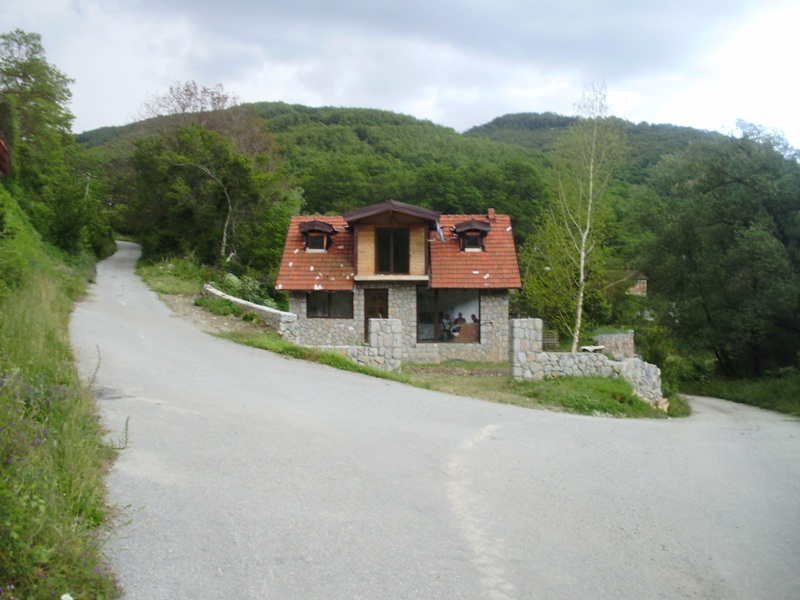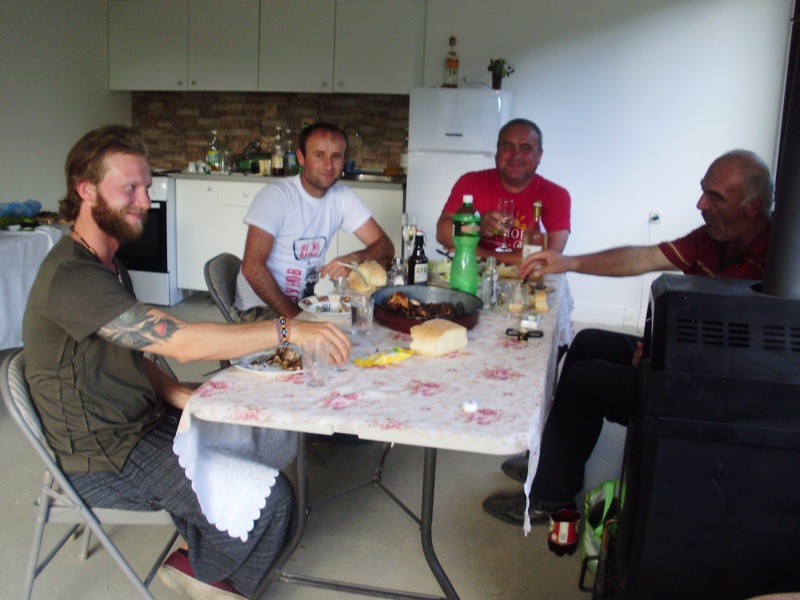 But after a while first drops of rain fell down and we decided to come back to the village and find Tome. Who was Tome we didn't know.
One man who advised us on the bus stop in Ohrid told us about him. He said if we will get to Recica we have to say hallo to him. Although we didn't know why exactly we're going to find him, we did it. People in one house were his neighbors and went with us to his house but Tome was somewhere outside the house. They tried to call, but no answer. So we waited on the porch with these three men until the rain stopped and finally went back on the asphalt road to the crossroads.
When we got to stone-pit there was a security guard, who immediately brought us chairs and we waited together for the car, which could bring us back to Ohrid, because there were no buses at that time. After half an hour went two cars, but didn't stop us. It was already dark and quite cold. We started to think about calling a taxi. Finally, we decided that we will try to wait a further 15 minutes. After a while we heard a car from the direction of Recica. We saw that it was a van. At first we were sad, because we notices from distance it was already full, but when we saw that the men sitting in front are the men who 3 hours ago hosted us, we start to laugh a lot. And they also. They took us into the back of the car and the guard of the building gave me his jacket against cold. Traditional Macedonian kindness!
So we drove into the back of the car as refugees for about 45 minutes to Ohrid. It was an unforgettable experience. In fact, the whole day was like according to movie script, where everything is connected with everything. The biggest surprise awaited us the next day at a local restaurant where we sat next to the same man who hosted us and drove us to Ohrid. When we realized this, all three of us laughed a lot and for a long time. Macedonia is really small!