Ladakh, also known as the 'Door to the heaven ', is located on the top of the world. It is famous for its high passes, snow peak mountains, azure blue lakes and green oasis. Ladakh is a land of remote villages and ancient monasteries. I have made a list of 15 places to visit in Ladakh and Leh in India that can inspire you on your next adventure.
1. Leh Palace
Leh Palace was built by King Sengge Namgyal in the 17th century. It is a former royal palace overlooking the Ladakhi Himalayan town of Leh and was modelled on the Potala Palace in Lhasa in Tibet. The roof provides spectacular panoramic views of Leh and the surrounding areas.
2. Namgyal Tsemo Monastery
Namgyal Tsemo Gompa consists of two little 15th-century temple buildings. It has a three-story high, 8m tall gold statue of Maitreya Buddha. Access on foot is by a steep, dusty path from Leh Palace or by concreted path from Chubi.  
3. Shanti Stupa
Shanti Stupa is situated at a height of 4,267 metres and is located 5 kilometres from Leh on a steep hill. The stupa can be reached by a drivable road or on foot. There are 500 steep steps to the hilltop. The stupa has become a tourist attraction for its religious significance and location, which provides panoramic views of the surrounding landscape.
4. Thiksey Monastery
Thiksey Monastery is located on the top of the hill, approximately 19 kilometres east of Leh. It is the largest gompa in central Ladakh. The monastery is located at an altitude of 3,600 metres (11,800 ft) in the Indus Valley. It is a twelve-story complex, which contains a 15 metres high statue of Maitreya, the largest statue of Buddha in Ladakh. Statue of Maitreya covers two stories of the building.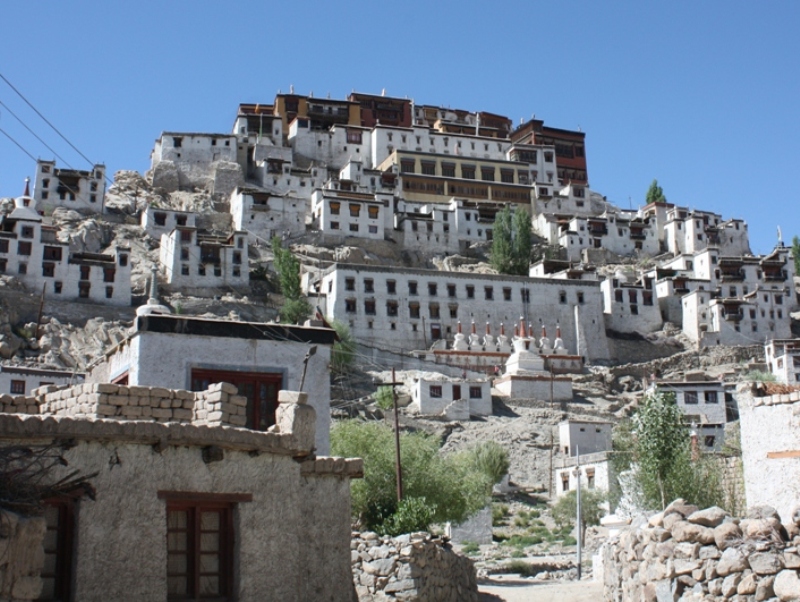 5. Shey Monastery
Shey Monastery is located in the upper Indus Valley, 15 kilometres east of the city of Leh, on the road to Thiksey Monastery. Zanskar range of hills are on its southern side in the fertile Indus River valley. It has an average elevation of 3,415 m (11,204 feet). There are two seasonal festivals held here every year.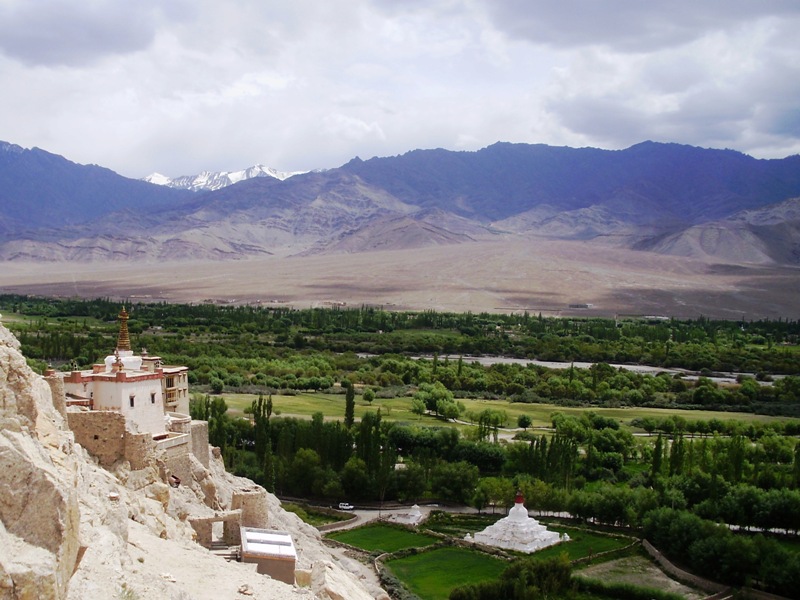 6. Hemis Monastery
Hemis Monastery is a Tibetan Buddhist monastery located in Hemis. It is situated 45 km from Leh. The monastery was re-established in 1672 and annual Hemis festival honoring Padmasambhava is held here in early June.
7. Spituk Monastery
Spituk monastery has an average elevation of 3,307 metres (10,852 feet). It is situated 8 kilometres from Leh. The monastery contains 100 monks and a giant statue of Kali, which is unveiled during the annual Spituk festival. Gustor Festival is held at Spituk from the 27th to 29th day in the eleventh month of the Tibetan calendar.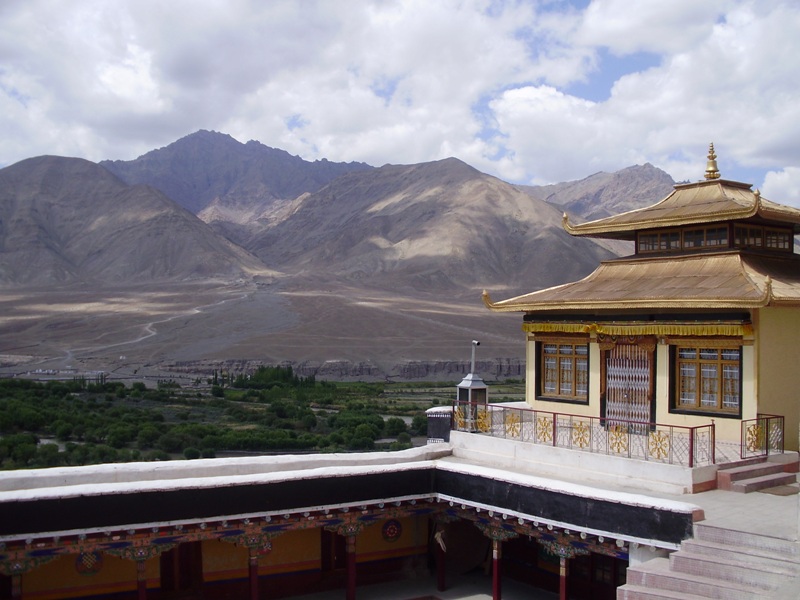 8. Khardungla Pass
The main road access to the Nubra Valley is over Khardung La pass, which is open throughout the year. Pass had status as the highest motorable road in the world (5359m), but is no longer accepted by most authorities.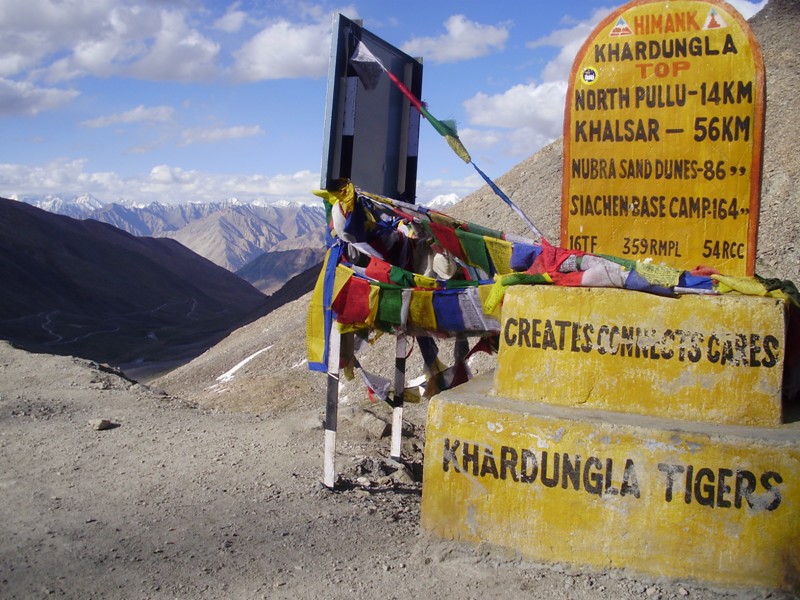 9. Bactrian Camels
Bactrian camels are native to the steppes of central Asia. Camels have two humps and were the main mode of transport on the ancient trade routes with Central Asia. Tourists can enjoy a ride of one of these unique camels near village Hundar in Nubra valley.
10. Sand dunes
High altitude Sand dunes are situated between Hundar and Diskit village. Sand dunes sit in the middle of cold desert in Nubra valley.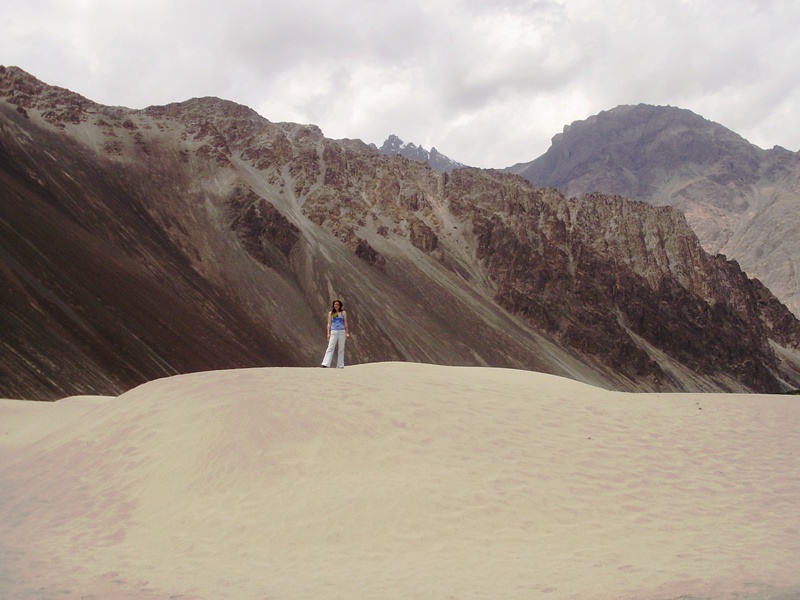 11. Matreya Buddha
Diskit town is situated in Nubra valley and is connected by road with Leh. The 32 metre Maitreya Buddha statue is the landmark of Nubra Valley and is maintained by the Diskit Monastery.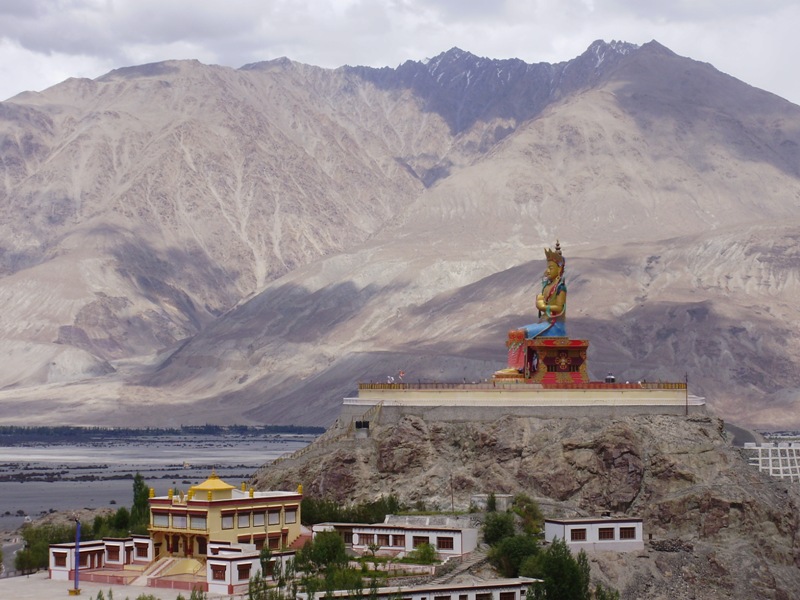 12. Zanskar Valley
Zangskar valley lies to the south west of Leh. It is surrounded by the Himalayan and Zangskar ranges and is the most isolated of all the trans – Himalayan valleys. Tourists can travel through "The Grand Canyon of the Himalaya" by raft or kayak.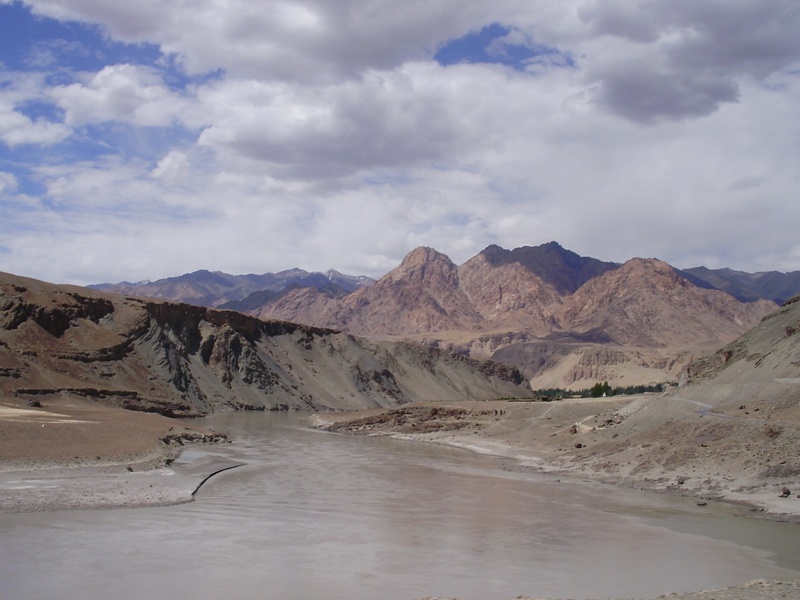 13. Tso Moriri
Tsomoriri is at an altitude of 4,595 m. It is the largest of the high altitude lakes in the Trans-Himalayan region, entirely within India. The lake sits between Ladakh, India to the North, Tibet to the east and Zanskar to the west. It is located less than 250 kilometers southeast of Leh.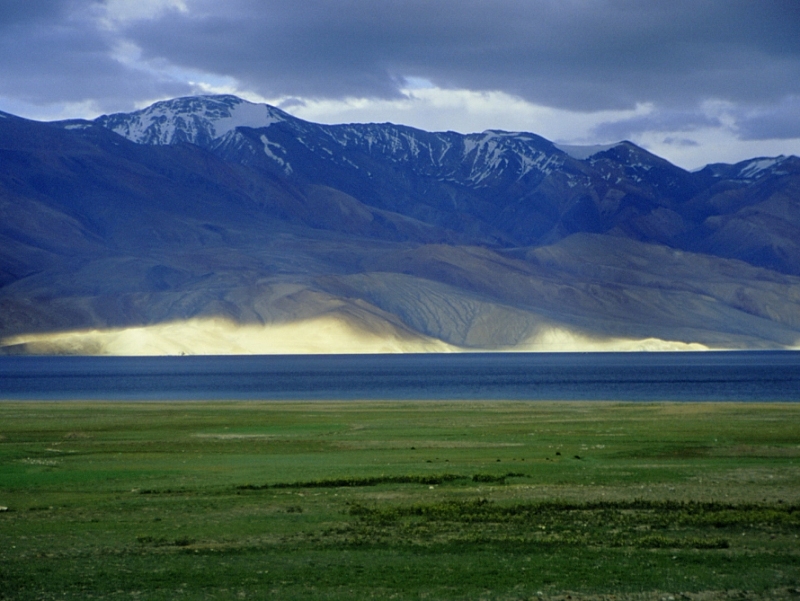 14. Pangong Tso
Pangong Tso can be reached in a five-hour drive from Leh, most of it on a rough and dramatic mountain road. Lake is situated at a height of about 4,350 m (14,270 ft). It is 134 km (83 mi) long and extends from India to Tibet.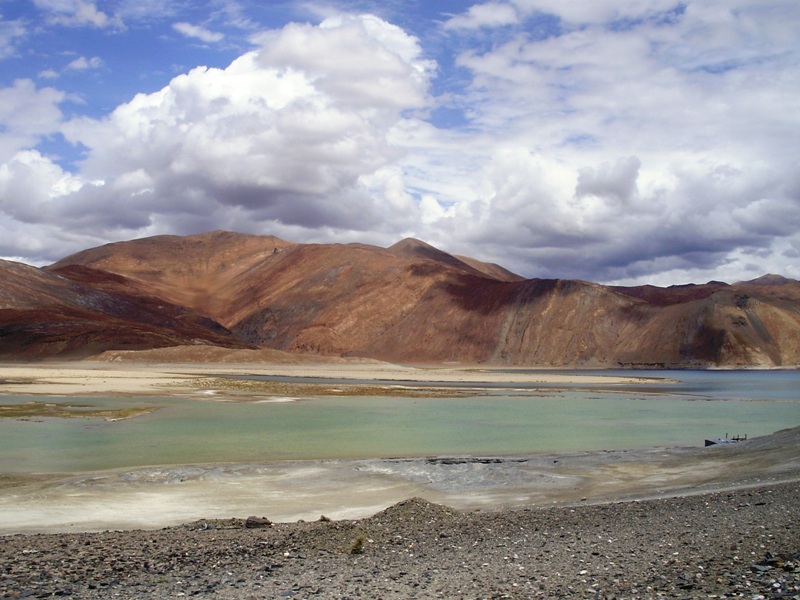 15. More Plains
More plain is  stretch of 40 km falls in between Leh and Sarchu on Leh–Manali Highway. This road has an average elevation of 4800 metres and is flanked by mountain ranges on both sides.